NCAA Tournament Results 2012: Biggest Takeaways from Top Seeds' Performances
March 18, 2012

Streeter Lecka/Getty Images
Even though the 2012 NCAA tournament has been jam packed with upsets, somehow all of the No. 1 seeds—North Carolina, Syracuse, Michigan State and North Carolina—have found their way into the Sweet 16.
Each team has slowly weathered the storm, put the talks of upsets behind them and did what they were supposed to do—win.
Here's what we've learned from each No.1 seed through the round of 32.
Syracuse: They're Going to be OK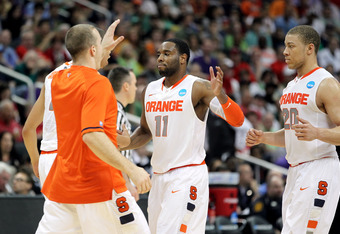 Gregory Shamus/Getty Images
The big knock against Syracuse coming into this tournament was that without Fab Melo, they were essentially not going to amount to anything.
They struggled against UNC-Asheville and almost lost in the second round, and many people felt their suspicions were correct.
Then came their third-round matchup with the Kansas State Wildcats, though, the Orange looked like their old selves in that game. They beat the No. 8 seed 75-59 and got 33 points off the bench from James Southerland and Dion Waiters. Moral of the story, they may not be national championship-caliber anymore, but they are still a great team.
Kentucky: Talent Wins Games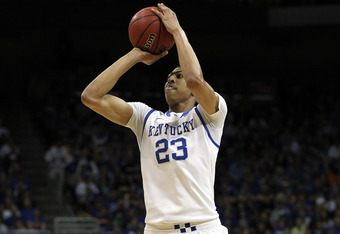 Jonathan Daniel/Getty Images
My biggest gripe with the Wildcats was that they didn't have enough depth or experience to make a legitimate national title run.
For a while, Iowa State looked like they may be able to test that theory, but then the Wildcats turned on the afterburners.
Anthony Davis became an unstoppable force down low on each end, finishing the game with 15 points, 12 rebounds and two blocks. Guard Marquis Teague lit it up from the field, going 10-of-14 for 24 points, and Darius Miller came off the bench, went 3-of-6 from downtown and finished with 19.
The Cyclones were in the game at one point, and the next thing they knew they lost 87-71.
This team has way too much talent, and they get better as each round passes.
Michigan State: Heart of a Champion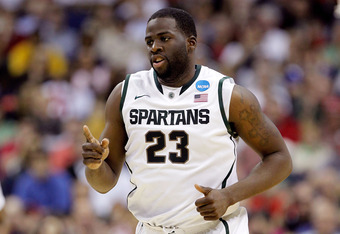 Rob Carr/Getty Images
Michigan State proved to us that it doesn't matter how you win in the NCAA tournament, all you have to do is win and have heart. That's what separates this team from the rest of the No. 1 squads in the tournament.
They aren't the flashiest, they aren't the most exciting and they certainly aren't the most talented, but when the game is on the line, they just get the job done.
They are led by senior Draymond Green—who does a little bit of everything with his play, but he still can come up big when the moment asks for it—and one of the best coaches of all-time in Tom Izzo.
The Spartans don't need to look flashy—all they care about is moving up one round at a time.
North Carolina: Taking Care of Business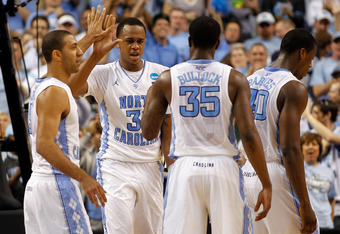 Mike Ehrmann/Getty Images
Every single one of the No.1 seeds has had at least one scary moment during this tournament besides the Tar Heels.
They are just quietly going about their business and running through the Midwest region. They beat Vermont by 19 in Round 2 and just beat Creighton by 14 to advance to the Sweet 16.
The scary thing is, with USF, Ohio, NC State and Purdue all being upsets, Kansas is the only team that may have a realistic shot of stopping them, and that wouldn't be until the Elite Eight.
The Tar Heels may make it to the Final Four without even breaking a sweat.