NCAA Women's Basketball Bracket 2012: Marist's Upset of Georgia Rocks Tourney
March 18, 2012

The Marist Red Foxes pulled off an upset that rocked the 2012 NCAA Women's basketball tournament when they beat the Georgia Lady Bulldogs
Don't be surprised if it happens again, because this is a team that is primed for a big run.
The No. 13 Red Foxes defeated the No.4 Bulldogs 76-70 and proved that they are up to the challenge of facing higher-ranked opponents. They shot a blazing .522 from the field and hit 7-of-15 from beyond the arc, while forcing Georgia into just .403 shooting.
They were also the more imposing team as far as getting to the charity stripe. They shot great from the line, completing 21-of-25 free throws, and only allowed the Bulldogs to shoot eight, in which they made six.
That right there is the formula to winning games in the tournament. Forcing your opponent to struggle from the field, keeping them off the line, and you have to be the aggressor.
This is especially true in a game in which you are the underdog. The "superior" team is going to try to play the game at their pace and essentially dictate how it will play out.
In the case of upsets, the "inferior" team works their game plan in such a way to take their opponents out of rhythm and out of their comfort zone.
The Red Foxes were able to take the Lady Bulldogs out of their game plan by enforcing their own upon the game. This is a trait that is going to make this team very dangerous, and I wouldn't be surprised if we saw another upset or two out of them.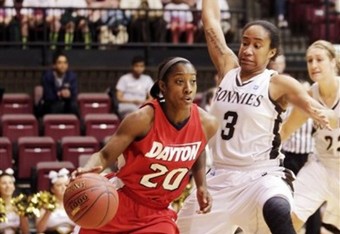 Their next game comes in the second round against the No. 5 St. Bonaventure Bonnies, a team that had won an impressive 18 games in a row earlier this season, so the Red Foxes are going to have to build off this win and hone into their game plan.
They won't have the luxury of sitting back and letting the game play out against this Bonnies team. Once again, they have to be the aggressors and play their game.
If their upset against Georgia told us anything, it's that this team is capable of doing just that.