NFL Mock Draft: Projecting First-Rounders' Best Comparison to a Current Star
March 19, 2012

Joe Robbins/Getty Images
Pro comparisons are tricky because until these guys step onto a NFL field in earnest, we're just looking at potential. We all know how slippery potential is, and how different a player's style can be after transitioning from college to the pro game.
That said, the first round is filled with guys who show you glimpses of what could be and who they might be.
With that in mind, let's kick around a few options.
1. Indianapolis Colts—Andrew Luck, QB
If you were going to reboot a franchise, Luck is pretty much the guy you want to do it with. Of course, nobody is a sure thing, but Andrew Luck is as close as you'll get. The Colts have to be overjoyed to be on the clock for him—well, as overjoyed as you can be when the team bottoms out the way the Colts did last year.
The easy comparison is Peyton Manning, but I think his ability to throw on the run is more Aaron Rodgers. I haven't heard that one before and have to say it's grown on me since I thought about it.
2. Washington Redskins (from St. Louis)—Robert Griffin III, QB
Griffin has tremendous upside and it was the right decision for the Redskins to sell the farm for the right to move up and get him.
RG3 still reminds me an awful lot of Cam Newton, though his doubters have settled down quicker than Newton's did. He lacks Newton's size, but both are quarterbacks adept at throwing on the run but willing to tuck and run if need be. Like Luck, I could also see the comparison to Aaron Rodgers when he came into the league, though Griffin is more athletic in many respects.
3. Minnesota Vikings—Matt Kalil, OT
The Vikings have to start protecting second-year quarterback Christian Ponder if they want this offense to get off the ground. You start by rebuilding an aging offensive line with the addition of Matt Kalil, who will get more than a few comparisons to his brother, Ryan, which should surprise nobody. He will also remind folks of Redskins LT Trent Williams. All three are light on their feet and both Kalil and Williams are very athletic players as well.

4. Cleveland Browns—Trent Richardson, RB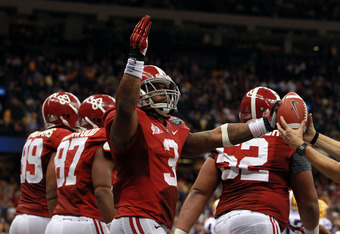 Ronald Martinez/Getty Images
It's possible Ryan Tannehill goes here (can they really be that sold on Colt McCoy?), but he's not worth a pick this high. Someone might reach for him, but the possibilities are dwindling with Matt Flynn in Seattle and Alex Smith negotiating with Miami. Kansas City? Arizona? I digress.
If the Browns aren't hell-bent on self-immolation, they'll get the weapons to make sure that McCoy has a functioning offense. Peyton Hillis went to go play Secret Agent Man in Kansas City and the next season Montario Hardesty plays 16 games in will be his first season where he plays 16 games.
There's nobody left.
Running back may not be a "premium'"position the way it used to be, but Trent Richardson is an elite back worth the pick. He's Adrian Peterson without the game-breaking speed, but he's got more than enough to make things very interesting in the AFC North.
5. Tampa Bay Buccaneers—Morris Claiborne, CB
I stay with Morris Claiborne here from the last mock as in this division, the Bucs need all the secondary they can get and Ronde Barber is still not confirmed to return.
The more I watch Claiborne, the more I agree with the comparison my friend Scott Wright of Draftcountdown.com made. Scott's tweet said it best, so I'll just quote here: "#LSU CB Morris Claiborne reminds me of Joe Haden. Naturally athletic and rangy with really long arms. Shouldn't escape the Top 5."
He won't anymore than he does in this mock.
6. St. Louis Rams—Justin Blackmon, WR
The Rams have a lot of ways to go here, but in this mock it's still Justin Blackmon, a player who reminds me of Anquan Boldin—fast, but not super-fast, unafraid to lay out for a ball and very good after the catch.
The Rams need some weapon,s and while Blackmon is no Calvin Johnson, he would be a huge upgrade over what quarterback Sam Bradford has to work with right now.
7. Jacksonville Jaguars—Quinton Coples, DE
Much like Julius Peppers, Quinton Coples is a player who has the versatility to play 4-3 or 3-4 defense, though he definitely fits better as a 4-3 end than anything else.
People either love or hate Coples—put me in the love category.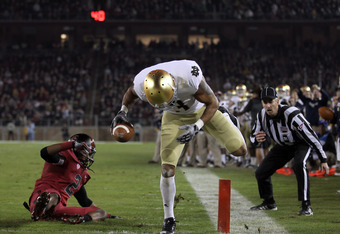 Ezra Shaw/Getty Images
8. Miami Dolphins—Michael Floyd, WR
With Brandon Marshall going away, the Dolphins are pretty bereft of playmakers at wide receiver. Don't give me Davone Bess and Brian Hartline or if you have to, and please have the good grace to smirk when you do it.
Michael Floyd has come a long way since the end of the college football season and the worries I had about his off-field issues, while not gone, have been allayed a bit. Floyd's skills remind me a bit of Marques Coltson—he can go vertical as well as make tough catches.
9. Carolina Panthers—Fletcher Cox, DT
Fletcher Cox's ability to get behind the line of scrimmage will be a big help to this defense, which struggled in 2011. Cox is a guy who reminds me of Justin Tuck, and if you help him refine his technique a bit, he will be a monster for years to come.
10. Buffalo Bills—Riley Reiff, OT
Reiff would likely start out more smoothly at right tackle, but may not get the chance when the Bills grab him given some of their issues on the offensive line. The best comparison is the Packers' Bryan Bulaga, who also started out as a right tackle.

11. Kansas City Chiefs—Jonathan Martin, OT
While the Chiefs' offensive line isn't as bad as we like to think it is, it still needs some help. Enter Jonathan Martin, who helped keep Andrew Luck upright at Stanford. Martin reminds me of a poor man's Jake Long. He might improve upon that at the pro level, but he's just not quite as good as Long was coming out of college.
12. Seattle Seahawks—Michael Brockers, DT/DE
Brockers is going to take a little time to reach his full potential but can step right in for the Seahawks and have quite the impact while the development occurs.
I loved what fellow B/R writer Matt Miller had to say about him in a recent breakdown, so make sure you read it. In the article, Miller compares him to Arizona's Calais Campbell and now I can't get it out of my head.

13. Arizona Cardinals—Dontari Poe, DT
Offensive line could also emerge as the pick here, as could Ryan Tannehill if they are ready to get off the "Kolb Train of Doom" (TM). However, the Cardinals also need defensive help and Dontari Poe would be a good fit.
Poe has been compared to Ravens DT Haloti Ngata quite a bit and I haven't found a better comparison. I did find an excellent article at Steelers Depot supporting the match, so check it out. It's very thorough.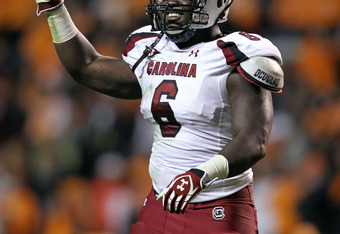 Andy Lyons/Getty Images
14. Dallas Cowboys—Melvin Ingram, OLB
The Cowboys have nobody across from DeMarcus Ware and Melvin Ingram would flourish next to him. Ingram compares himself to Ray Lewis, and who am I to argue when it fits?
I try to compare myself to Ray Lewis. I feel like he plays football the right way. I feel like there is a wrong and right way to play football and he plays the right way. He plays with such passion and energy on every play, I feel like he puts it all out on the line on every play so I try to be known as a player like him.
I say he's a bit closer to Justin Tuck in that both could get to the quarterback from either D-end or tackle.
15. Philadelphia Eagles—Luke Kuechly, ILB
This continues to be my Eagles pick until such a time as they find someone else.
Luke Kuechly is a smart, instinctive player in the vein of the Rams' James Laurinaitis. The Eagles need help in the middle of their defense and Kuechly would fit beautifully.
16. New York Jets—Courtney Upshaw, OLB
The Jets need a pass-rusher almost as bad as the Eagles need a middle linebacker. While he doesn't have just one area he excels in, Upshaw finds his way into the backfield with alarming frequency and reminds me of the Rams' Chris Long.
17.Cincinnati Bengals—Dre Kirkpatrick, CB/S
Rumor has it that Kirkpatrick didn't really interview well at the combine, but that's not the sort of thing to hold the Bengals back. I'd compare him to Antonio Cromartie in terms of potential. When Cro is on, he can be very good, but when he's off his game he's only OK. That covers Kirkpatrick.
18. San Diego Chargers—David DeCastro, OG
David DeCastro is far and away the best pure guard in this draft and the Chargers should jump all over him if he's here at 18. The fact is that this is an offensive line that cannot have enough help and DeCastro—who compares favorably to Vikings Pro Bowler Steve Hutchinson—would step right in on day one and make a huge difference.
19. Chicago Bears—Mike Adams, OT
I've said for years the Bears need to take fixing the offensive line seriously and this draft is no different. Mike Adams, who reminds me of a slightly better version of Pittsburgh's Max Starks, needs to refine his technique a bit but is a very good prospect and would be a great start to rebuilding this offensive line.
20. Tennessee Titans—Nick Perry, DE
Nick Perry seems determined to stay at defensive end, and the Titans could use some help getting at the passer. Perry could be a successful linebacker, but he's fighting it, and if you aren't committed you will fail. So it's just as well he remains a DE.
He reminds me a bit of Brian Orakpo.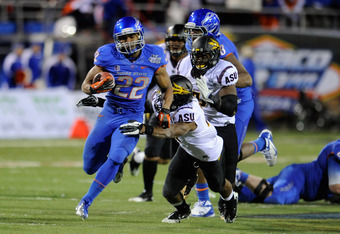 Ethan Miller/Getty Images
21. Cincinnati Bengals—Doug Martin, RB
Some will say this pick is early, but I am a big Doug Martin fan and he came out of the combine with some buzz. By the time the draft happens, expect Martin to be a guy going in the late first, early second round. He's very good, and while running backs aren't a premium position, the Bengals can afford one at this spot with their second pick of the first round.
Lots of people (including Martin) compare him to Ray Rice, but I look at him more as a Maurice Jones-Drew type. He's a bowling ball who can punish defenders as well as get outside. He can catch the ball as well.
22. Cleveland Browns—Kendall Wright, WR
The Browns went running back with pick one, now they add to the arsenal with pick two. Kendall Wright is a good receiver with some route running issues, which my good friend Matt Waldman illustrates here.
Waldman likens Wright to Mario Manningham, including the route-running issues. I agree both in the problems and potential Wright has.
23. Detroit Lions—Dont'a Hightower, ILB
Assuming the Lions need to replace Stephen Tulloch, Dont'a Hightower would be able to step in and fill that void in short order. He's got a lot of Rey Maualuga in him, though, unlike Maualuga, he won't have to take a year or so to get going. Maualuga sometimes played a bit wild, but I don't see that as much in Hightower.

24. Pittsburgh Steelers—Cordy Glenn, OG
Cordy Glenn is a versatile lineman who would start out as a guard but could transition to tackle. A reliable player who will play above what people expect, he reminds me of former New York Jet Damien Woody.
25. Denver Broncos—Jerel Worthy, DT
Jerel Worthy would add another weapon to the Broncos' ever-dangerous arsenal on defense, likely as a 3-technique. His play recalls a guy like the Steelers' Ziggy Hood, as he could become a big, penetrating nose tackle.
26. Houston Texans—Rueben Randle, WR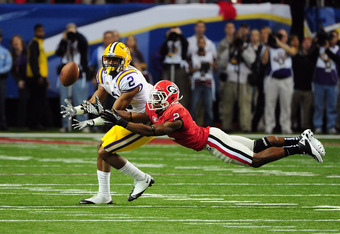 Scott Cunningham/Getty Images
Rueben Randle reminds me of a less-headcasey version of Micheal Crabtree. He's got better reach, but I'm more looking at it from an aggressive, hard-playing angle. Like Crabtree once played in college before his ego weighed down his leaping ability.

27. New England Patriots—Whitney Mercilus, DE
There is some hesitancy in embracing Whitney Mercilus for some people, as they fear he might be a one-year wonder. He gets compared to Jason Pierre-Paul a lot, and I think the comparison works on a few levels. He appears to have the raw skills like JPP did and people are hesitating to embrace him due to the lack of history like JPP. Now all he has to do is get drafted and perform like his hair is on fire like JPP and the comparison will be perfect.

28. Green Bay Packers—Jared Crick, DE
Jared Crick has bounced in and out of the first round of mocks since the process kicked off in January and he finally made it into mine. He fits for me here in part because he's such a blue-collar, hard-working guy. Though not an elite player, he's a very good player with potential. He reminds me a lot of J.J. Watt, the Houston first year player taken early in the 2011 draft.

29. Baltimore Ravens—Peter Konz, C/OL
Matt Birk is back, but Peter Konz can easily kick to guard and help shore up the hole left by Ben Grubbs. At center, Konz reminds me of the Patriots' Dan Koppen. As a guard I might liken him to a healthy Brandon Moore, from the Jets. Moore is a very solid player when he's healthy and Konz would be a great addition to this unit.
30. San Francisco 49ers—Brandon Washington, OG
This would be even more critical if Peyton Manning signs on—the Niners have a solid offensive line with little depth. Brandon Washington would step in and play quickly and learn from a guy I think he has a lot in common with, current 49ers OG Chilo Rachal.
31. New England Patriots—Mark Barron, S
As the Pats look to improve their secondary, Barron would be a welcome addition to the gang, hooking up with Patrick Chung for a solid duo at safety. Barron reminds me of the 49ers' Dashon Goldson, although Barron's ceiling is much, much higher.
32. New York Giants—Alfonzo Dennard, CB 
The Giants could look to replenish their secondary and Alfonzo Dennard would help form a solid core once Prince Amukamara rounds out. Dennard reminds me of Brandon Flowers a bit, though I think Flowers is his ceiling and it might take him a while to reach it.