NCAA Scores 2012: Georgetown's Loss to NC State Nothing Short of Bittersweet
March 18, 2012

Rob Carr/Getty Images
There's no reason to think that Georgetown's basketball team would be a bunch of happy campers following Sunday's 66-63 loss to North Carolina State in the Round of 32. The Hoyas were the ones pinned on the wrong end of an upset, a three-seed succumbing to an 11-seed for the third year in a row and Georgetown meeting its fate to a double-digit underdog for the third time over that very same span.
It seems like forever and a day ago that John Thompson III had the Hoyas back in the Final Four, with the likes of Jeff Green and Roy Hibbert leading the way. Georgetown has been back to the NCAA tournament four times since then, failing to advance to the Sweet 16 on each occasion.
That's not to say all should be doom and gloom on the basketball courts of DC. After all, Georgetown pulled down its first win in the Big Dance (74-59 over Belmont) since 2008, after two disappointing, first-round exits.
And the Hoyas nearly sent the Wolfpack packing for Raleigh rather than St. Louis despite a foul-plagued Henry Sims contributing a mere four points to the cause.
What's more, the Hoyas were hardly expected to even make it to March Madness this year. They were picked in the preseason to finish 10th in the Big East after losing all-conference performers Chris Wright and Austin Freeman.
Instead, the Hoyas rode breakout seasons by Sims, Jason Clark and Hollis Thompson to a fourth-place finish in the toughest league in college hoops and one of the top 12 overall seeds in the NCAA tournament.
So Georgetown should be even better next season then, right?
Perhaps, perhaps not. Sims and Clark will both be gone to graduation, while Thompson, a junior, could be off the NBA, especially after racking up 23 points against NC State.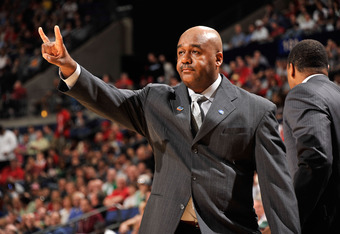 Jamie Sabau/Getty Images
Should Thompson return, he'd be the lone senior among an emerging roster that would include quality contributors like Nate Lubick, Otto Porter, Markel Starks and Greg Whittington, along with incoming freshman D'Vauntes Smith-Rivera.
That might not seem like much, but considering the outstanding job JT3 did with the team this season, it may well be enough to get Georgetown back in the tourney come next March, with an opportunity to move another step or two closer to the Final Four.