NFL Free Agency Tracker: Grading Impact of Mario Manningham to 49ers
March 18, 2012

Nick Laham/Getty Images
Former New York Giants and Super Bowl champion wide receiver Mario Manningham is the newest addition to the San Francisco 49ers offense, and he may be the most important one.
Bringing in a receiver with Manningham's abilities is going to be huge for this team, especially since there was an obvious lack of a downfield threat from the wideout position last season.
While Manningham isn't a star by any stretch of the imagination, he is an above average receiver. It's also important to note that he played in an offense that boasted the likes of Hakeem Nicks and the dynamic Victor Cruz at wide receiver. So more times than not, he was the third option.
Just how much of an impact will Manningham have with the 49ers? Let's grade it out and see.
Offensive Contribution: B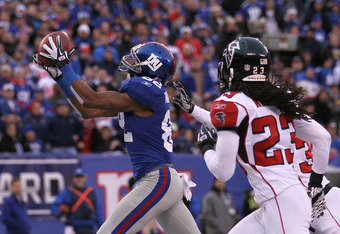 Nick Laham/Getty Images
Last season with the Giants, Manningham notched 39 receptions for 523 yards and four touchdowns. Like I said, though, he was the third option on an offense filled with a ton of playmakers both at wideout and in the backfield, so those numbers don't necessarily represent what he can bring to the table.
On a team that needed a deep threat, they found one in Manningham. He's very versatile as a receiver. He can make plays on the sideline, in the slot or over the middle and over the defense. He's got incredible hands and deceptive speed.
The X-factor here is Randy Moss. Nobody really knows what Moss can bring to the table for the 49ers, but putting a guy like Manningham across from him will make both of them better. Offenses won't be able to focus on either one. When you consider Vernon Davis and the weapon he is, the 49ers offense has instantly become great.
Clutch Ability/Experience: A
Manningham is a Super Bowl champion. He knows and understands the grind it takes to make it to and win the Super Bowl, and he proved to the world that he can come up big on the world's biggest stage with this catch:
Manningham will be bringing a sort of experience and leadership that not many on the 49ers have, and this makes him extremely valuable.
Peyton Manning Factor: N/A

We don't know many things regarding Peyton Manning and his eventual free-agency decision, but we do know that the 49ers have somehow become dark-horse candidates to sign him. 
If the 49ers bring in Manning, the signing of Manningham will have played a huge role. It goes a long ways in showing that the 49ers are very serious on making a push for multiple Super Bowls, and it gives Manning an experienced deep threat to throw the ball to.
Joe Robbins/Getty Images
Manning would instantly become the 49ers' biggest signing, but don't discount the impact bringing in Manningham would have played in the decision.
At this point, we don't really know what will happen. If Manning indeed becomes a member of the San Francisco 49ers, the Manningham signing goes from a great one to a league-changing one.