Denver Broncos 2012 Mock Draft: 7-Round Predictions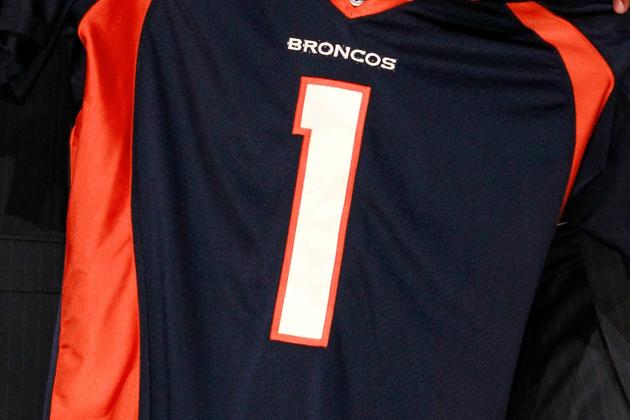 Chris Trotman/Getty Images

The 2012 NFL Draft is just over a month away. Beginning Thursday, April 26th, and wrapping up on Saturday, April 28th, the draft is a time when every team feels hopeful for the upcoming season.
The NFL Combine is complete. We are starting to see some free agent signings and player movement.
And now the draft picture is beginning to come more into focus.
The Denver Broncos have seven picks in the draft. They have numerous holes to fill on both sides of the ball.
Who will they pick?
Who will be available?
Here is my 2012 Denver Broncos mock draft:
Begin Slideshow

»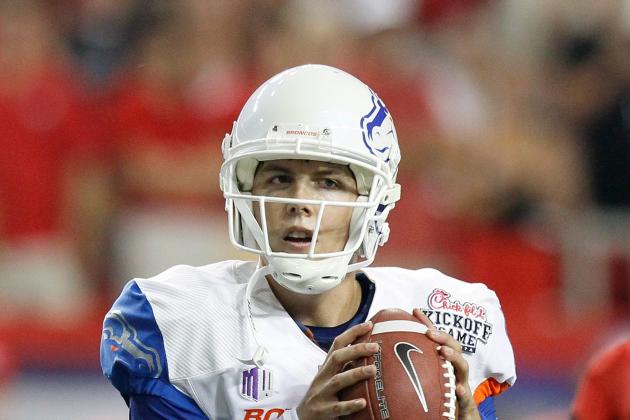 Kevin C. Cox/Getty Images

The Broncos select a Bronco.
Denver needs a backup quarterback no matter what happens in the Peyton Manning sweepstakes.
Kellen Moore out of Boise State set every school passing record and should still be available due to his size.
While he stands just 6'0", Moore is highly intelligent and rarely makes mental mistakes.
Moore is extremely accurate, and while an additional knock on him may be the talent that he faced, don't forget that he played very well against top teams when he played them.
A student of the game (he lives in the film room), and a confident demeanor (he doesn't get rattled) Moore might be an ideal fit in Denver.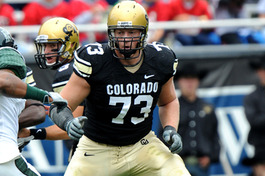 The Broncos have a solid young group on the offensive line.
They are in need of depth. Ryan Miller would fit that need. Miller is versatile enough to play either guard or tackle.
At 6'7" and 317 pounds, Miller is a powerful run blocker who uses his body well to clear holes.
He has surprisingly quick feet and can re-route a pass rusher. His long arms allow him to keep defenders away from his body.
Miller has stated that he hopes to be a Bronco.
This will be a great fit for both sides.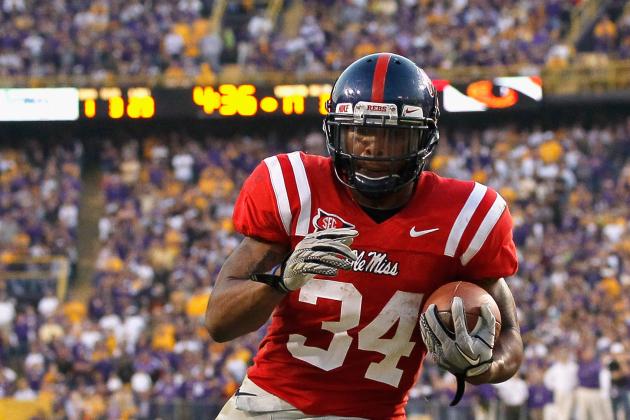 Kevin C. Cox/Getty Images

Willis McGahee ran for 1,199 yards in 2012, his third best season in his career.
He also missed two games due to injury and missed time in three other games.
With McGahee turning 31 in October, and the inconsistencies of Knowshon Moreno, the Broncos need some depth at the running back position.
The Southeastern Conference had a number of good runners in the 2011-2012 season. Trent Richardson, Michael Dyer, and Marcus Lattimore may have overshadowed Brandon Bolden but he is definitely worth a look.
Bolden is an all-purpose back that can run between the tackles as well as get to the outside. He has above average hands and is very capable of catching out of the backfield.
It has been proven that you don't need to be a top pick to be a great runner.
Bolden may be a steal for Denver in the fifth round.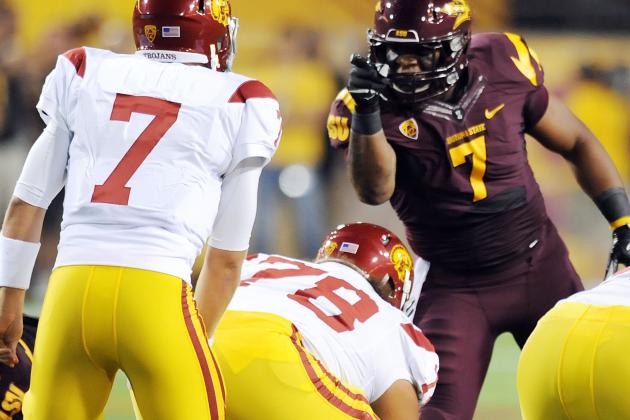 Norm Hall/Getty Images

Vontaze Burfict has some discipline issues. His play has sometimes been erratic and he has a penchant for drawing personal fouls. He was suspended a game for head butting an Oregon State quarterback.
But there is no denying Burfict's talent. An instinctive linebacker who plays at a very high intensity level, Burfict is a vicious tackler who has been compared to Ray Lewis.
In fact, Lewis has even spoken to Burfict about refocusing his aggression.
The Broncos are in need of an explosive player at inside linebacker.
If they can reign in Burfict's volatility he may have a huge upside.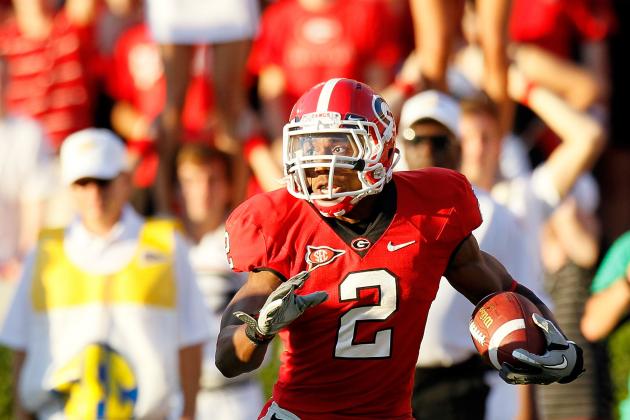 Kevin C. Cox/Getty Images

Brandon Boykin suffered a cracked fibula in the Senior Bowl. He should be available to work out prior to the draft, but he did not participate in the NFL combine or on pro day at the University of Georgia.
All of these things may help put the Broncos in a position to draft Boykin. The Broncos definitely need to beef up their defensive backfield.
Boykin had been projected as a late first rounder or early second rounder, but could fall to the Broncos in round three.
Boykin never missed in a game in four years at Georgia. In his senior season he recorded 55 tackles and three interceptions.
An added benefit to Boykin is his skill as a kick returner. He averaged 22 yards per kick return and 13 yards per punt return.
With the departure of Eddie Royal, Boykin could be a valuable selection.
Kevin C. Cox/Getty Images

Whether it's Tim Tebow or Peyton Manning, the Broncos need help in the wide receiver corps.
Eddie Royal is gone, and the Broncos were already thin.
Alshon Jeffery didn't have a great final year at South Carolina. His quarterbacks struggled. Marcus Lattimore missed most of the season with an injury.
Jeffery still managed 49 catches for 762 yards and eight touchdowns against top notch SEC defenses.
Jeffery finished his collegiate career at South Carolina with 23 touchdowns.
A big wide receiver at 6'3" and 216 pounds, Jeffery has very solid hands and excellent body control. He has shown an ability to make tough catches in a crowd.
Jeffery has also been a very good blocker which may be key in Denver.
He needs to improve his route running and because of his size he needs to stay light and quick.
Jeffery is a long strider that could pair well with current Bronco wide receiver Demaryius Thomas.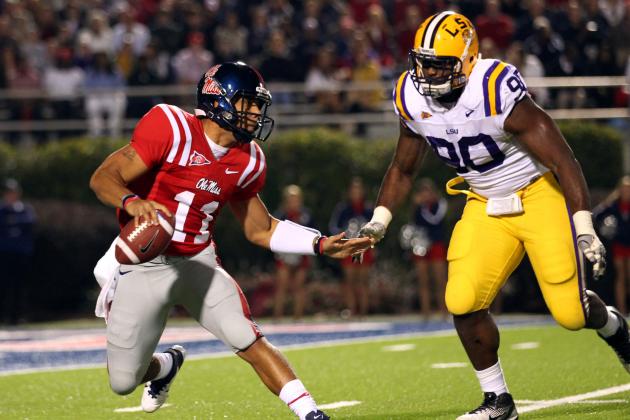 Joe Murphy/Getty Images

The Denver defense needs major improvement and a great first step will be the selection of Michael Brockers.
Brockers was a force in his final season at LSU registering 54 tackles, two sacks and a forced fumble.
Brockers is strong and fast. Standing 6'5" he is big enough to disrupt a quarterbacks' vision. Weighing in at 322 pounds he is strong enough to shut down running lanes.
Brockers will be seen as a key component in rebuilding a Denver defense that vastly needs it.