LA Marathon 2012 Results: Fatuma Sado Emerges as Sunday's Biggest Winner
March 18, 2012

Denis Doyle/Getty Images
While the weather forecast had doom and gloom in the eyes of the 2012 Los Angeles Marathon event promoters and runners, the sun came out bright and helped lead 20-year-old Fatuma Sado to the second marathon win of her career.
Sado has only entered four marathons in her short professional career, but she has won two and finished second in the other two. That's a natural if I've ever heard of it.
Not only was Sado's victory at the LA Marathon huge for the younger marathon runners trying to make a name for themselves, it was huge for the career of the young marathon runner.
The 2:25:39 time was the fourth-fastest performance by a woman in the history of the LA Marathon, and it has cemented Sado as a star in the marathon running game.
For her efforts, Sado won $125,000 and a Honda CRV valued at about $30,000. Overall, it's easy to see that the young Kenyan woman was the weekend's biggest winner.
In other news, I have seriously thought about taking up marathon running.
Top 5 Men's Results
Simon Njoroge, 2:12:11
Weldon Kirui, 2:13:41
Dereje Yadete, 2:13:45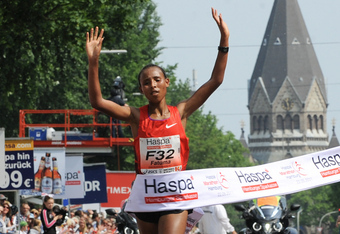 Justin Patananan, 2:13:49
Stephen Muange, 2:15:35
Top 5 Women's Results
Fatuma Sado, 2:25:39
Misiker Mekonnin, 2:28:09
Yeshimebet Tadesse, 2:30:46
Iwona Lewandowska, 2:31:17
Tetyana Mezentseva, 2:31:20