March Madness Scores 2012: Reasons Why UNC vs. Creighton Will Be Game of the Day
March 18, 2012

Kevin C. Cox/Getty Images
If you can only watch one game today—I hope for your sake that isn't true—make it North Carolina against Creighton.
Yes, it's a boring No. 1 vs. No. 8 matchup, but it goes much deeper than that. Much, much deeper.
Here's a look at why you absolutely shouldn't miss this game, which is slated to get started at 5:15 p.m ET, if you were wondering.
Harrison Barnes vs. Doug McDermott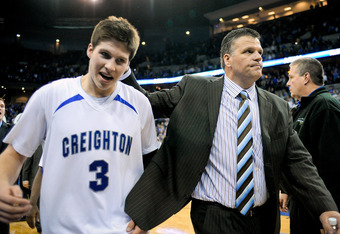 Eric Francis/Getty Images
Not only do you get two of the best scorers in the country in this matchup, but you get former Ames High School (Iowa) teammates.
Barnes is the more exciting player. He has the ability to take over a game at any moment, as evidenced by his 17.3 points per game, but he does it with fade-aways, imposing drives through traffic, and athleticism. 
McDermott, on the other hand, plays just like he's the coach's son. And he is.
The sophomore works very hard off the ball, and when he gets it he is extremely effective from everywhere on the court. He shoots 61 percent from the field, 50 percent from deep, and 80 percent from the line on his way to 23 points per game. Those are just otherworldly numbers.
If Barnes is Michael Jordan, then McDermott is Larry Bird in this matchup.
It will be fun watching the former buddies try to out-do each other. 
Points, points, and probably some more points
If you're more inclined to watch a 50-48 battle, and that's fine, feel free to watch Michigan State vs. St. Louis or Florida State vs. Cincinnati.
If you like points, however, this is your game. 
North Carolina averages 81.8 points per game and 72.7 possessions per 40 minutes. Creighton averages 79.4 and 67.6. 
As long as UNC speeds up Creighton a little bit, the over-under in this one should be, like, 600. But seriously, don't be surprised if this one gets into the 80s. 
Passing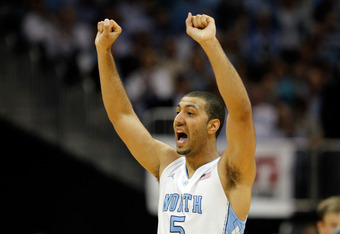 Streeter Lecka/Getty Images
Sometimes a lot of points can come from ugly play, but these teams play the game like it's meant to be played. 
They benefit from a faster pace, sure, but both schools are in the top five in the country in assists per game.
Creighton has a lot of good movement in the half-court offense, and as a result has six players who average over an assist per game, including Grant Gibbs and Antoine Young, who average over four.
North Carolina benefits from point guard Kendall Marshall, who is the best passer in the country. Marshall averages 9.7 assists per game and will make you say "ooh" at least four times per contest.