Roger Federer Quest for the No. 1 Ranking: A Numbers Game
March 18, 2012

Matthew Stockman/Getty Images
With today's convincing 7-6 (7), 6-3 win in Indian Wells over John Isner, Roger Federer has now won three straight tournaments in a row, six out of his last eight and only lost two of his past 41 matches going back to the US Open 2011.
That's quite an impressive streak for a man who turned 30 in August last year and has been judged "Roger and out" multiple times over the last four to five years or so.
The man himself seems to have unfettered belief in his own abilities on a tennis court—and why shouldn't he? Though he didn't win the most important tournament over the past six months, he has been the best player in this period winning pretty much everything else.
Federer publicly stated—before winning Dubai and Indian Wells—that he thinks he has a shot at getting back to No. 1 after the US Open. With his three recent wins, a Novak Djokovic who's looking human again and a Rafael Nadal, who hasn't won a tournament since last year's French Open, that shot is no longer a complete long shot.
If we break down the points the top four players have won since the US Open, Federer has a clear lead:
Roger Federer: 1,000 (Paris), 1,500 (WTF), 720 (Aus), 500 (Dubai), 500 (Basel), 500 (Rotterdam), 1,000 (IW), 90 (Doha) = 5,810 points (+25 Davis Cup).
Andy Murray: 1,000 (Shanghai), 720 (Aus), 500 (Tokyo), 250 (Bangkok), 180 (Paris), 300 (Dubai), 250 (Brisbane), 10 (IW) = 3,210 points.
Novak Djokovic: 200 (WTF), 2,000 (Aus), 180 X 3 (Paris, Basel, Dubai), 360 (IW) = 3,200 points.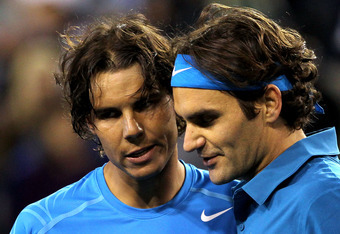 Matthew Stockman/Getty Images
Rafael Nadal: 200 (WTF), 1,200 (Aus), 90 (Shanghai), 90 (Doha), 300 (Tokyo), 360 (IW) = 2,240 points (+280 DC).
Federer, thus, has a 2,635 lead on Djokovic, a 3,310 lead on Nadal and a 2,625 lead on Murray over the past six months.
In order to get the No. 1 ranking back, he will need to stay within those respective point distances between now and the US Open result. In other words, if Djokovic only wins 2,500 more than Federer in the next six months, Federer will be ahead of him come Monday the 10th of September, when the US Open is concluded.
Given that the difference between a slam win and a slam quarterfinal is a massive 1,640 points, and there are three slams to be fought out between now and then, that is a very big if. An especially big if given that Federer has only been to one slam final for two years now, and that Djokovic and Nadal have been in five and seven of the last eight finals.
Moreover, over the next few months, there are 5,000 points or so to gain for the player (if any), who can sweep the clay season. Both Nadal and Djokovic must be expected to gain on Federer in this period. 
Nevertheless, with an almost clean six-month sweep, the 30-year-old veteran has once again made it seem, if not plausible, then at least somewhat realistic that he can once again climb the pinnacle of men's tennis.
Murray's partnership with Lendl may help him in this respect, if Murray can make a Slam final and knock Djokovic or Rafa out from time to time in either Slams or Masters. Furthermore, as we speak, Federer is only 825 points away from Rafa's second place.
Another win for Roger (an extra 640 points) and semifinal loss for Rafa at Miami (minus 240 points), would see Roger surpass Rafa at second and could open up for more Djokovic-Rafa semifinals during the clay swing, with one of them losing points as a result. 
At this stage of his career, a second place in front of a 25-year-old, injury-free and in his prime Rafa would be an accomplishment in and of itself. But for the Maestro, the only ranking that really matters is No. 1. Everything else is already second place.