New York Giants: Why Getting Healthy Is More Important Than Free Agency
March 19, 2012

Al Bello/Getty Images
The New York Giants will be a much better squad in 2012-13 than they were this past season when they won Super Bowl XLVI.
While the G-Men have made some moves this offseason—most notably releasing Brandon Jacobs and signing ex-Dallas Cowboys tight end Martellus Bennett—it's more important for them to get healthy for the upcoming season.
New York lost a handful of players last season due to injury, mostly on the defensive side of the football.
Those injuries led to the Giants owning the 29th-worst pass defense, surrendering 255 yards per game, and more than 121 ground yards per game.
But the offense suffered as well, as Ahmad Bradshaw battled a stress fracture in his right foot for the entire 2011 season.
That resulted in the Giants sporting an NFL-worst 89.2 rushing yards per game, which is why Eli Manning almost threw for 5,000 yards last season.
That said, an offseason of rest and physical therapy for some notable Giants is more important than free agency.
The New York brass believes in the players they have—as evident by the re-signing of players coming off injuries—and the Giants don't have a load of cash to burn in free agency anyway. 
Here are some New York Giants players who are coming off an injury and will pay large contributions this upcoming season:
Jim McIsaac/Getty Images
Terrell Thomas
After missing the entire 2011 season with a torn ACL, the Giants re-signed Thomas to a four-year, $28 million deal, with $11 million guaranteed.
This was a great move for the Giants. Thomas was New York's best corner in 2010, recording 101 tackles, five interceptions and four forced fumbles.
Thomas will join a cornerbacking group that already includes Corey Webster and Prince Amukamara.
On his goals for the upcoming season, ESPN's Ohm Youngmisuk quotes Thomas as saying:
"Comeback player of the year and get to the Pro Bowl. I am not going to sell myself short. A lot of people are doubting me or saying that you know, coming off your second ACL injury, you are going to have an off-year. My goal is to prove all that wrong. Without a doubt ... I'll be ready for training camp."

 
Jonathan Goff
Goff was another guy the Giants lost for the entire season, as he also tore his ACL after working during the summer to remain the Giants' starting middle linebacker.
He's back and healthy for 2012, and although he hasn't officially been re-signed, The Star-Ledger's Mike Garafolo writes:
"Here's another guy the Giants probably thought they'd have locked up by now. But like Thomas, he's coming off an ACL injury so his value is a bit muddled. A good guess would be he's back with the Giants."
Ahmad Bradshaw
Following the Super Bowl victory, Bradshaw wasn't supposed to need any offseason surgery on his right foot.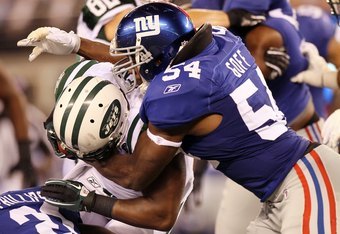 Jim McIsaac/Getty Images
But ESPN's Ohm Youngmisuk is reporting that Bradshaw had some work done on his foot to aid the healing process.
"Bradshaw missed four games last season because of a stress fracture in his foot that was related to a screw that had been placed in his right foot from previous surgery done in 2010. He played in the final nine games, including the postseason, with the fracture and told reporters toward the end of the postseason that he would not require any additional surgery."
A healthy Bradshaw will provide a nice spark in the backfield for Manning and the offense.
Michael Coe
Coe suffered a shoulder injury against the Philadelphia Eagles in Week 11, sending him to the IR.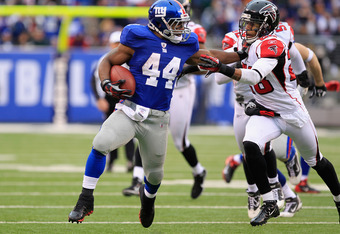 Chris Trotman/Getty Images
The Giants have re-signed Coe to add depth at the cornerback position.
Justin Tryon
Justin Tryon was brought in mid-season when a clump of Giants DBs went down. And then he went down.
Tryon broke his arm in a win against the Miami Dolphins in Week 8, sending him to the IR.
Like Coe, the Giants re-signed him to add depth at the corner position, something they can use after last season.
Jake Ballard
Despite tearing his ACL in the Super Bowl XLVI victory over the New England Patriots, Jake Ballard will be back in blue this season.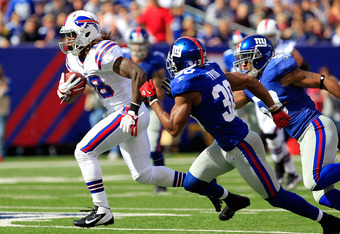 Chris Trotman/Getty Images
With Ballard starting the season on the PUP list, the Giants went out and signed Martellus Bennett to a one-year, $2.5 million deal.
When Ballard returns, the Giants will sports a nice two-headed tight end monster to help out in both the passing and blocking game. 
Marvin Austin
Like so many other Giants defenders, rookie defensive tackle Marvin Austin missed the entire 2011 season after tearing his pectoral muscle.
The former UNC standout missed his entire 2010 season due to multiple suspensions, meaning he's two years removed from playing football.
Austin is supposed to be anchor at defensive tackle for the Giants. Only time will tell if those projections are true.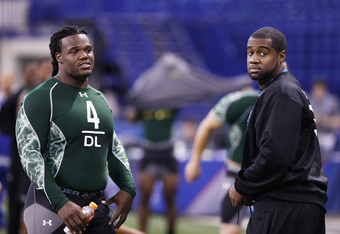 Joe Robbins/Getty Images
Will Beatty
Giants offensive lineman Will Beatty was placed on IR following the Week 11 meeting with the Philadelphia Eagles, where he suffered a detached retina.
New York's offensive line struggled at times during the regular season, so having a healthy Beatty back in 2012 should help.
Follow Pete Schauer on Twitter @Pete_Schauer.