NCAA Scores 2012: Kentucky Will Cruise to Final Four Following Iowa State Win
March 18, 2012

Jonathan Daniel/Getty Images
The No. 1-seeded Kentucky Wildcats have ignited another winning streak and will cruise to the Final Four in New Orleans after their crushing defeat of No. 8-seeded Iowa State on Saturday night in Louisville.
The Cyclones of Iowa State could not make a shot from beyond the arc on Saturday night (3-of-22), easing Kentucky's road to the Final Four and setting them up for two more favorable matchups en route to the national semifinal.
The victory sends John Calipari's ballclub to Atlanta for the Sweet 16, where they will play the No. 4-seeded Indiana Hoosiers, who looked very beatable on Saturday night, needing a 7-0 run late to top the No. 12-seeded VCU Rams by two points in Portland. 
The Wildcats will have extra incentive to destroy the Hoosiers considering the two teams met in what was Kentucky's only regular-season loss, a 73-72 buzzer-beating defeat in Bloomington, Indiana on December 10.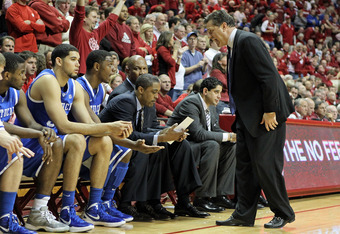 Andy Lyons/Getty Images
There will be no home-court advantage for Indiana this time around, however, as the South region's No. 1 seed will arrive in Georgia with an overwhelming amount of crowd support. The revenge factor could turn this game into a blowout early if the Hoosiers are not careful and fail to find Doron Lamb and Darius Miller on the three-point line.  
The exceptional play of Marquis Teague as of late has turned the Kentucky Wildcats into an entirely different monster, a more vicious one capable of embarrassing opponents. Anthony Davis' ridiculous 4.6 blocks per game have been an additional game-changer for Calipari. The freshman deflects everything from floaters in the lane to three-pointers taken from three feet beyond the arc. 
In the Elite Eight, the Wildcats would face off against either No. 3 Baylor, No. 10 Xavier or No. 15 Lehigh. Kentucky would have little trouble with either of the double-digit seeds. As for the Baylor Bears, Kentucky's length in the paint would prove to be key.
The Wildcats' defensive effort and talent would allow them to run against Baylor and use their speed and shooting prowess to overwhelm the Bears, who relied on 6'2" Brady Heslip to get them past No. 11 Colorado in the third round with his spectacular shooting. 
Kentucky's length and size negates that strength though, and Heslip would be a marked man in that potential matchup. The sophomore sharpshooter is averaging 22 points per game this tournament for Baylor, so if he can be disrupted by the Wildcats' pressure, the Bears will be in trouble like all the others.
There doesn't look to be a team remaining in the field suited to take down Kentucky. Their rematch with Indiana will be uglier than most people think, and no other South region team will stop Terrence Jones and company from winning their bracket and stomping into New Orleans two weeks from now for the Final Four.