NFL Free Agency: Peyton Manning Is No Guarantee of a Super Bowl
March 18, 2012

Andy Lyons/Getty Images
Over the last few days, a bunch of sycophants have gone nuts over a hot new idol.
No, we're not talking about the gaggle of giddy girls who went gaga over the newest British boy band, One Direction.
Or about the March Madness fans who cheered on Cinderellas like Norfolk State, Lehigh and Ohio.
We're talking about the other March madness, NFL free agency; the other giddy girls, NFL owners and coaches; and the One Direction in which they want to go at quarterback, Peyton Manning.
Manning has been a great quarterback, but the interest in him has been over-the-top ridiculous. No fewer than seven teams have fallen all over themselves trying to get Manning's attention, like guys fawning over Sports Illustrated cover girl Kate Upton or teenage girls who have caught Bieber fever.
All we're missing is John Elway, Jim Harbaugh, Bud Adams, Ken Whisenhunt, Stephen Ross, Pete Carroll and Scott Pioli creating their own boy band and serenading Manning with a rousing rendition of Justin Bieber's "Baby."
All this for a guy who will be 36 a week from today and whose ability to play football is still in question—despite reports that he threw the ball well for the three apparent finalists: Denver, San Francisco and Tennessee.
Too many people think it is a no-brainer that Manning will lead his new team -- reportedly the Broncos -- to a Super Bowl win in his first year.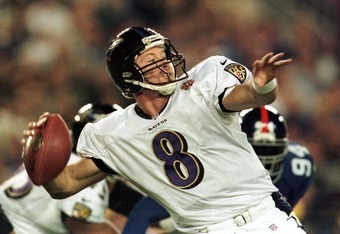 Andy Lyons/Getty Images
Why would anyone think that?
Only one guy ever has, and Trent Dilfer was not exactly the reason the Baltimore Ravens won Super Bowl XXXV. Heck, he wasn't even the starter for the first eight games of that season.
Only two other QBs have taken their new teams to the Super Bowl in their first year: Daryle Lamonica with the Raiders in 1967 and Craig Morton with the Broncos in 1977.
Neither won.
At 34, Morton was closest in age to Manning. Morton led the Broncos to a Super Bowl loss against his former team, Dallas, in 1977, but he couldn't get the Broncos back in four more years as the starter.
Granted, Morton was not one of the greatest QBs ever to play. But he also was not coming off four neck surgeries and a season away from football.
The most recent precedents for the kind of move Manning is making have been Brett Favre and Joe Montana. Some would list these three at the top of the NFL's all-time QB depth chart, so these are probably better comparisons.
Everyone knows Favre's story, since it just happened.
After being traded from the Packers to the Jets in 2008, he played one injury-riddled season in New York and then "retired."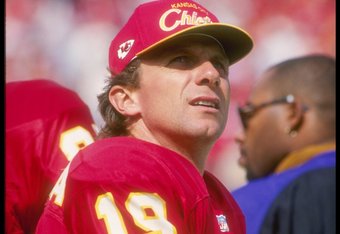 Otto Greule Jr/Getty Images
But the Vikings pulled him back before the 2009 season started, and at age 40 he helped lead them to the NFC title game.
But the Super Bowl eluded him.
The same thing happened to Montana when the Chiefs traded for the 49ers' four-time Super Bowl-winning QB in 1993. Montana is a more apt comparison than Favre because he was about the same age (37) as Manning and was coming off an injury of his own—elbow surgery.
While Favre stepped into an offense that was the same one he had run in Green Bay, Montana came to a team that had to switch to the West Coast offense to accommodate him. Montana started only 11 games that season, and he did lead the Chiefs to the AFC title game.
But not the Super Bowl.
He got the Chiefs to the playoffs the next season, too, but they lost in the first round. And then Montana retired.
It appears from all reports that Manning is healthy and throwing well again. But will he stay that way from age 36 on? And how long will it take him to jell with his new teammates? Even if the Broncos install plays he likes, the rest of the offense will have to learn them.  
Brian Billick, the man who coached Dilfer's Ravens to the Super Bowl title, talked about this to reporters at the combine last month.
"When you bring in Peyton Manning, it's, 'Peyton, bring me your playbook, because that's what we're going to put in,' " Billick said. "Why would you not put Peyton Manning in an environment in which he's most comfortable? So you're going to wrap your entire offense around what he wants to do, and then for whatever time you've rented him—is it two years? Is it three years?—hopefully (he's) very productive."
Billick also addressed the idea that any team bringing in Manning would be intentionally creating a short-term offensive plan and then would have to adjust once he retires. Even a healthy Manning probably has only four good years left.
"You then have to go back and start over," Billick said. "Yeah, there's a huge upside, but there's got to be a part of you that says you're anxious to get on with what you want to do and the structure that you put together."
Of the Chiefs and Montana in 1993, Billick said, "That was Joe Montana's offense, and they had some success. It wasn't the ultimate success, but they made the playoffs, they did a nice job. But then they had to transition, and what did they transition to?"
As we just illustrated, only a handful of times in the Super Bowl era have new quarterbacks come in and led their teams deep into the playoffs immediately.
While Manning might be good enough to lead the Broncos to the conference title game, as Montana and Favre did, it's another thing to get to the Super Bowl (something Manning did only twice with a team he knew intimately). And another thing entirely to win it (something Manning did once in Indy).
But plenty of teams seemed willing to make that gamble, even if it's only to open a short-term window.
We live in a society full of star-struck sycophants and hero worshippers, and in that respect, NFL owners and coaches apparently are no different than teenagers.