Letters from an Angry Fan Whose Bracket Is Six-Feet Under
March 18, 2012

Kevin C. Cox/Getty Images
Hi, I'm Sean McDermott. My bracket has blown up to a million of itsy-bitsy pieces. These past few nights I've been on my basement floor screaming at my television and slamming things off the floor. I am very upset, so I decided to write letters to the teams that hurt me. So here they are. I hope you enjoy
Dear Duke,
Duke! Oh my god, Duke! Basketball royalty, 15 Final Fours, four National Championships and the great coach K. Tell me this…How can you lose to Lehigh!
The Mountain Hawks have been to five NCAA Tournaments. You've appeared in 36. For goodness sakes, you were a No. 2 seed. I figured you guys would lose early, but not a round-of-64 exit. I guess you can say that Duke's mascot is the BLUE Devils because all they do is give their fans the blues. Coach K, you better come home to the United States in August with an Olympic gold medal.
Sincerely,
Sean McDermott
Dear Missouri,
Mizzou, holy cow, talk about chokers. Missouri, this was your time to shine. You guys had one of your best seasons in school history, you're relocating from the Big 12 to the SEC and left the Big 12 with its conference championship. How'd you lose. Ugh, you literally grabbed a dagger and stabbed fans' brackets.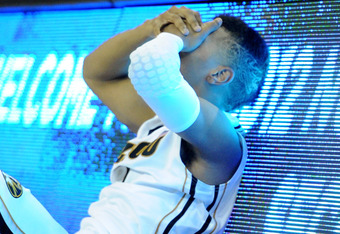 Eric Francis/Getty Images
In Norfolk State, you lost to the sad little cousin of the Michigan State Spartans. According to ESPN's tournament-challenge bracket, 98.8 percent of people picked Missouri to win the round of 64. A whopping 84.8 percent had the Tigers winning the round of 32, 64.8 percent had them winning the Sweet 16, 40.8 percent had them winning the Elite Eight. Even worse, 13.5 percent had the Tigers making it to the Final Four and 7.1 percent had the Tigers winning the championship. (http://games.espn.go.com/tournament-challenge-bracket/en/whopickedwhom?entryID=0)
I'm glad you're leaving the Big 12, Mizzou. I can't wait when you guys falter in conference play and struggle against top teams like Kentucky, Florida, Alabama and Vanderbilt. I can't wait until they run up and down the court all over you guys. Look for a low seed next year if you even make it to the tourney.
Sincerely,
Sean McDermott
Dear Vanderbilt,
I legitimately hate and despise you. You guys made a believer out of me. Despite a terrible beginning to the season, you guys came out to play in the SEC tournament. You beat Georgia and Ole Miss, then beat Kentucky, the No. 1 team in the nation, to win the SEC.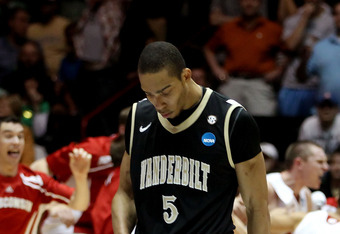 Christian Petersen/Getty Images
Watching you guys play, I felt confident putting you in the Final Four. I'm at a loss of words here. You gave Wisconsin 10 points off turnovers in the second half. Festus Ezeli couldn't sink a free throw, and you couldn't get a rebound to save your life in the final 49 seconds.
Another thing, stop taking so many shots behind the arc. I'm fed up with you living and dying off three-pointers. In the first half you went 3-11 and in the second half you went 2-8. You guys had a horrendous three-point field-goal percentage of 26.3. Why in the world would you continue to shoot from beyond the arc?
There were plenty of opportunities to drive to the hoop.  I bet if you did a little more driving instead of forcing three-pointers, you would have advanced to the Sweet 16. I personally want to thank you for killing my bracket.
Sincerely,
Sean McDermott
Dear VCU,
Thank you first of all for killing my bracket last season and now hurting my bracket this year. I go out on a limp to pick you to beat Wichita State and Indiana and you failed me miserably.
You had two chances to put the Hoosiers to sleep. At one point in the first half you were up 42-33, then Indiana's Christian Watford scored the final eight points of the first half to make it a one-point deficit.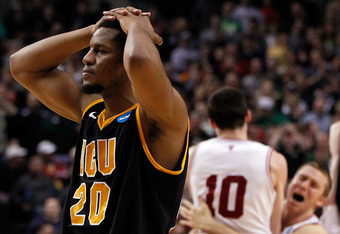 Jonathan Ferrey/Getty Images
Even more frustrating was how you were up 57-48 and were held to just four points in the final 12 minutes. How can you score just 4 points! Anyway, with 12.7 seconds left, you blocked the ball right to Indiana forward Will Sheehey, who put up an easy shot from 15 feet away and lost the game 63-61.
The main problem with you guys was your three-point shooting. Shaka Smart, what was your game plan? Continue to shoot threes, no matter what?
Indiana gave up 22 turnovers. Why couldn't VCU play in the paint? You guys went 9-30 beyond the arc. Another thing that enraged me was your free throws. You guys shot a measly 46.2 percent. What is that?
Coach Smart, if you leave VCU and go to Illinois, drop the three-point game and focus on free throws and points in the paint.
Thanks,
Sean McDermott