2012 NFL Free Agents: Which Team Got the Best Value at Wide Receiver?
March 18, 2012

Ezra Shaw/Getty Images
One of the most surprising developments in the 2012 NFL free agency market has been the large contracts that have been handed out to wide receivers.
But which teams got value for their money, and which ones may have overspent?
On ProFootballTalk.com's list of the top 100 free agents, eight of them are wide receivers who've signed contracts in 2012. 
These wide receivers have been evaluated on four criteria based on performance over the last two seasons: games, receptions, yards and touchdowns.
Each receiver was compared with the statistics for the No. 32 receiver in each category over the two seasons. A player who scores at the league average on each category over the two seasons will have a score of 80.0; higher production scores mean better production over the two seasons (Note: for purposes of determining the No. 32 receiver, tight ends and running backs are included).
"Bang for the buck" is taken by dividing the production score by the average value of the contract, in millions.
No. 3: Vincent Jackson, Buccaneers, Production Score: 58.8, Bang for the Buck: 5.3
Jackson was relatively unproductive in 2010 because of injuries, but bounced back nicely in 2011, with nine touchdowns and over 18 yards per catch. The Buccaneers rewarded him with a five-year contract worth over $55.5 million. Jackson will be 29 going into the 2012 season; so this contract takes him through age 33.
No. 10: Brandon Lloyd, Patriots, Production Score: 94.7, Bang for the Buck: 23.7
Lloyd made no secret of his desire to play for the Patriots; according to the Boston Herald, he told his future teammates he'd be "reasonable" in his contract demands. And, perhaps to the consternation of agent Tom Condon, he was.
Lloyd's deal is, according to ESPNBoston.com, $12 million over three years. Two years ago, Lloyd led the NFL in receiving yards in Josh McDaniels' offense. The Patriots are obviously hoping to recapture that magic in 2012.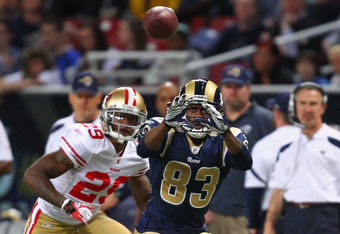 Dilip Vishwanat/Getty Images
No. 19: Marques Colston, Saints, Production Score: 91.6. Bang for the Buck: 11.5
The Saints got a steal with Colston when they drafted him in the seventh round of the 2008 draft out of Hofstra. He has 15 touchdowns on 164 catches over the last two seasons. Given their current free agency woes, the Saints prioritized Colston over his teammate Robert Meacham, rewarding him with a five-year, $40 million contract.
No. 23: Robert Meachem, Chargers, Production Score: 64.5, Bang for the Buck: 10.0
Based on production, it seems like the Saints made the smart choice in choosing Colston over Meachem, their first-round pick in 2007: Meachem has had about half Colston's production over the last two years. But the Chargers didn't cut the cash in half; they gave Meachem a four-year deal worth almost $26 million.
No. 44: Reggie Wayne, Colts, Production Score: 90.9, Bang for the Buck: 15.6
Wayne is the oldest receiver on this list, at age 33, but also one of the most productive. His 186 catches are tops on the list, although his touchdowns have declined a bit over time.
Although the Colts have been cleaning house recently, they decided that keeping Wayne was a good idea for whatever quarterback they draft this year. They gave him a three-year deal worth $17.5 million, which seems like a good risk-vs.-reward scenario.
No. 57: Pierre Garçon, Redskins, Production Score: 78.4, Bang for the Buck: 9.2
After showing that his production wasn't merely a product of playing with Peyton Manning, Garçon cashed in this offseason, signing with the Redskins with a five-year, $42.5 million contract; his $8.5 million average cap hit is the second-highest of any player on this list.
No. 62: Josh Morgan, Redskins, Production Score: 34.4, Bang for the Buck: 5.7
The Redskins went on a mini-binge at wide receiver this offseason, as they also added Josh Morgan. In terms of production, this was certainly the more questionable signing. Thankfully, the Redskins only gave Morgan a two-year deal worth $12 million, but $6 million a year seems a lot for a player who's missed 16 games over the last two seasons and has totaled less than 1,000 yards over that span.
No. 81: Laurent Robinson, Jaguars, Production Score: 65.0, Bang for the Buck: 10.0
Robinson emerged as a potent weapon for Tony Romo and the Cowboys in 2011, after two lackluster years with the Rams. After the Cowboys locked up almost $10 million in cap room to franchise Anthony Spencer, the Jaguars pounced, signing Robinson to a five-year, $32.5 million deal. The Jaguars are hoping that Robinson will continue to play as he did in 2011.
Of course, this analysis comes with the standard caveat that past production does not guarantee future production. Nevertheless, judging from "Bang for the Buck", the three best high-profile signings have been the Patriots' signing of Lloyd, the Colts' re-signing of Wayne and the Saints' re-signing of Colston.
On the other hand, the Buccaneers seem to be taking the biggest risk with their signing of Jackson.
Since front offices can only rarely divorce emotion from the free agency process, it's not surprising that the correlation here between production and pay; it is surprising, though, that there is a slight negative correlation. In other words, the more productive receivers were actually likely to receive a little less than expected. It will be interesting to see how these signings work out in 2012.