Peyton Manning Rumors: Why the Quarterback Needs to Sign with the 49ers
March 18, 2012

Joey Foley/Getty Images
Can we just take a look at this situation realistically? What team of the three involved in the Peyton Manning situation gives him the best chance at winning a Super Bowl Championship in 2012?
Really, think hard about it.
Of course the answer to this question is the San Francisco 49ers, who came an overtime loss away from going to the Super Bowl in January. 
This is a team that is built on defense and a strong running game. Two things that Manning has not had an opportunity to play with for the majority of his career.
Instead, the teams that he has been on relied a great deal on the future Hall of Fame quarterback. Just look at what the Indianapolis Colts did in 2011 without him.
Now imagine Manning going to a team that has one of the best defenses in the NFL, a strong foundation in terms of the running game and a major threat at tight end. He would come to a team that already had the foundation in place to win a championship.
The same cannot be said for the Denver Broncos or Tennessee Titans.
Sure, both of them would be contenders to grab the conference crowns in 2012 with Manning. However, they wouldn't be clear-cut favorites to win the Super Bowl like the 49ers would be with No. 18.
The additions of both Mario Manningham and Randy Moss to the roster has to further entice Manning to come to the Bay. This is a quarterback that got it done with Pierre Garcon and Austin Collie in Indianapolis. Just imagine what he would do with Moss, Manningham, Vernon Davis, Michael Crabtree and Frank Gore.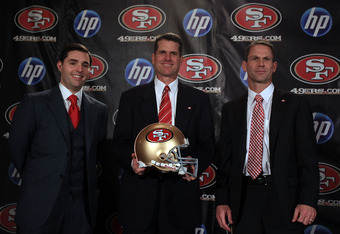 Ezra Shaw/Getty Images
He has to be drooling at that possibility, I know Alex Smith is.
In reality, Manning needs the 49ers more than they need him. This is a team that will contend for a Super Bowl in 2012 with or without the future Hall of Fame quarterback. Their offseason hasn't stopped because they are in the chase for his services.
Instead, San Francisco has gone on with business with the understanding that there is a possibility that he won't sign with them.
If Peyton Manning's ultimate end goal is to win a Super Bowl he better make the smart decision to sign with the San Francisco 49ers.
If his end goal is to make more money, he can exist in mediocrity for the next couple of seasons to end what has been a Hall of Fame career.