Power-Ranking the Bellator Champions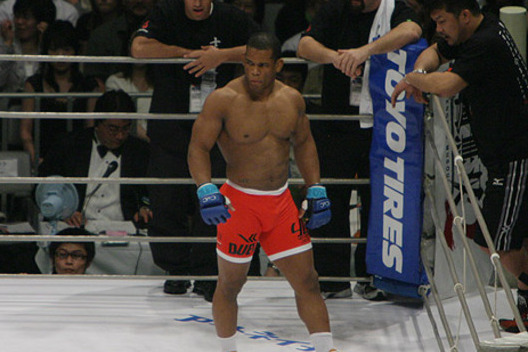 Hector Lombard/ Scott Petersen for MMAWeekly.com
Bellator Fighting Championships have been able to cultivate a promising batch of fighters through their unique tournament formats.
Though many notables have graced the cage, fighters like Pat Curran, Cole Konrad and Michael Chandler have been able to use the organization to spearhead their respective careers and become mainstream successes in the world of mixed martial arts.
Their paths to the top have come through the grace of the aforementioned tourney, as well as acquiring some championship gold along the way.
Begin Slideshow

»
The Congolese-French fighter M'Pumbu became the organization's first light heavyweight champion thanks to his dynamic striking skills.
Though he's consistently been the smaller man each time he steps into the cage, "Tonton," under the Bellator banner, was able to stop all but one of his opponents before the final bell.
A measured attack against Richard Hale earned M'Pumbu the 205-pound title, though a subsequent non-title affair against Travis Wiuff followed, where M'Pumbu succumbed to defeat via decision.
M'Pumbu is the only champion to have recorded a loss in these special attraction "super-fights."
A former Olympic hopeful, Ben Askren supplemented those dreams with a promising career in MMA.
The undefeated Askren has since amassed victories over the likes of Ryan Thomas, Dan Hornbuckle, UFC vet Nick Thompson and dethroned former champion Lyman Good for the 170-pound title.
In the first defense of his belt, Askren earned a controversial victory over Jay Hieron, whom many believed deserved the nod after five rounds of action.
Nonetheless, Askren remained undefeated with the split-decision verdict and looks to be improving with each bout.
A four-time NCAA Division I All-American wrestler and two-time champion, Konrad had high expectations surrounding him when he entered the MMA scene.
He has not disappointed.
In just a little over two years as a professional, Konrad has been able to capture Bellator's heavyweight title, and in his last two outings with the promotion he has defeated UFC veterans Neil Grove and Paul Buentello.
Though undefeated at 8-0, Cole is still a work in progress.
With his steady progression, he can one day become of the world's best in his division.
Bellator's only female champion, Gurgel has been able to make a name for herself with the Chicago-based promotion and become one of the leading ladies as far as pound-for-pound recognition is concerned.
Zoila first made waves in the cage with an emphatic knockout victory over veteran Rosi Sexton, using the win to help usher herself into the 115-pound tourney.
From there, Gurgel rattled off win after win, defeating Jessica Penne and Jessica Aguilar before meeting with the world renowned Megumi Fujii in the finals.
After five hard-fought rounds of action, Gurgel edged the Japanese star, becoming the organization's first female champion.
Zoila has since earned a decision win over Karina Hallinan and is currently mending from a torn ACL.
If it wasn't for Mauricio Rua and Dan Henderson on that very same night, both Eddie Alvarez and Michael Chandler would be a shoo-in for next year's World MMA Award's "Fight of the Year."
Chandler earned his shot at the 155-pound belt when he rattled off consecutive victories over Marcin Held, Lloyd Woodard and Patricky Freire.
Cashing in on his title shot meant that Chandler would face the heavy-hitting Eddie Alvarez, who at the time was one of Bellator's most dominant fighters.
In a rousing back-and-forth battle, Chandler managed to rock and drop Alvarez on several occasions.
In the fourth round, however, Chandler was able to mount significant offense, cinching in a fight-ending rear-naked choke which earned him the tapout and the Bellator title in the process.
Bellator's 135-pound champion, Makovsky has remained undefeated with the promotion, all the while becoming of its most dominant and imposing figures.
Though he is a relatively mild-mannered man, there's nothing quiet about the way Makovsky fights—so-called "Fun Size" uses his relentless pressure, tempo and mix of strikes and takedowns to wear down his opponents.
Victories over Nick Mamalis, Bryan Goldsby and Ed West earned Makovsky Bellator gold, though he has since partaken in two non-title affairs, finishing Strikeforce vet Chad Robichaux and ex-UFC fighter Ryan Roberts.
A two-time tournament winner, Curran has become one of the most successful fighters to grace the Bellator cage, having been competitive in both the lightweight and featherweight class.
His endeavors at 145 pounds eventually led him towards his shot against champion Joe Warren, who fell at the heavy hands of Curran 85 seconds into the third round, cinching the title in the process.
There's just no comparison.
Of all the champions under the Bellator banner, none have been more impressive or more dominant than Hector Lombard.
An undersized middleweight, Lombard has been able to use his speed and innate knockout power to level his foes, having finished six of his seven opponents in Bellator.
In his last outing, Lombard used his heavy-hands to vanquish UFC and Strikeforce vet Trevor Prangley in a dominant performance, further cementing his legacy as a bad, bad man.