NCAA Scores 2012: Live Game Tracker and Highlights for Round of 32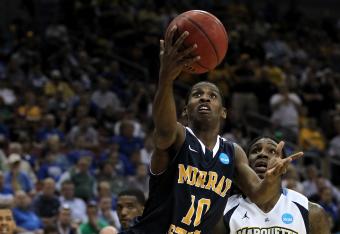 Jonathan Daniel/Getty Images
The first half of the Round of 32 was all about the chalk. The higher seed won all eight games on Saturday, but it was not without some seriously close calls.
Most of the games were in doubt up until the closing moments. Three of the games were decided by three points or less and only three had a differential that broke the double-digit point barrier.
The second half of this round has a tough act to follow, but they don't call this March Madness for nothing.
North Carolina State started the day off by giving us all the upset we didn't get yesterday by taking down Georgetown 66-63. Michigan State followed that up with a narrow 65-61 victory over St. Louis.
North Carolina proved to be too much for Creighton and pulled out an 87-73 victory.
Follow this live blog for updates and results on every game of the day.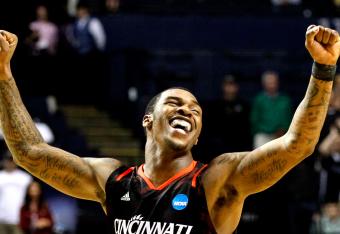 Final: Cincinnati 62, Florida State 56
Bearcats head coach Mick Cronin described the game as "World War III" and he wasn't far off.
The two teams played incredibly physical with every rebound coming at a price. Both teams shot an identical 19-of-50 from the floor (38 percent) and the main difference was on the free throw line, where the Bearcats were 19-of-23 (82 percent) and the Seminoles were 12-of-15 (80 percent).
Sean Kirkpatrick led the 'Cats with 18 points and six rebounds while Dion Dixon put up 15 as the Bearcats make their first Sweet Sixteen appearance since 2001.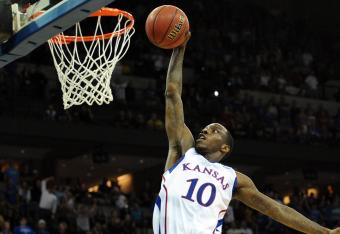 Final: Kansas 63, Purdue 60
An Elijah Johnson steal and dunk with under three seconds remaining capped off a double-digit comeback that ended the collegiate career of Robbie Hummel.
The senior scored 22 points in the first half, but the offense went in a different direction in the second half and that was all she wrote for the Boiler Makers star.
Johnson finished with 18 points and the play of the night.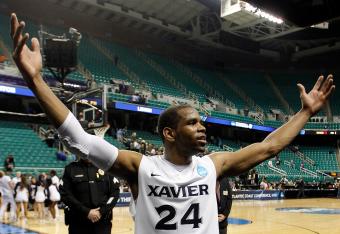 Final: Xavier 70, Lehigh 58
The Muskies got an unbelievable performance from Kenny Frease (25 points, 12 rebounds) to overpower Leigh in the second half.
Tu Holloway finished with 21 points and was a big reason the Mountain Hawks were held to a shooting percentage of 32 (21-of-64).
After falling behind 37-33, the Muskies dominated the second half by a 37-21 count.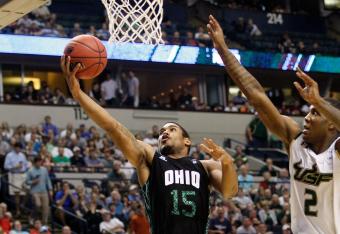 Final: Ohio 62, South Florida 56
The Bobcats scored 41 second half points to pull out the win in what was a tight game from start to finish. Walter Offutt drilled all four of his three-point attempts in route to 21 points while star guard DJ Cooper had 19 points, seven assists and six rebounds. The big difference in the game was the three-point line, where Ohio was 9-of-18 and South Florida was only 2-of-15.
The win marks the first time Ohio has made the Sweet Sixteen since 1964.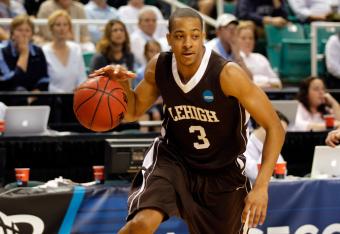 Halftime: Lehigh 37, Xavier 33
Lehigh is attempting to take Cinderella places she's never been. They are one half away from being the first No. 15 seed to advance to the Sweet 16.
They will be best served not to think about that though as they are only four points up on the gritty Xavier team.
Lehigh's Mackey McKnight leads all scorers with 14 points. Center Kenny Frease has 12 for Xavier and is a perfect 6-6 from the field.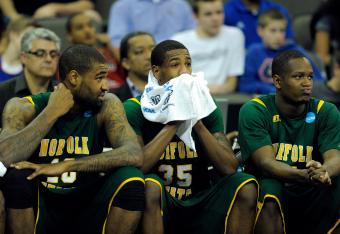 Final Score: Florida 84, Norfolk State 50
It seems silly to say that a game with a 34-point margin of victory wasn't as close as the score indicated, but that is the case here.
No. 15 Norfolk State was blown out of the gym as soon as the tip-off started coming down.
No. 7 Florida completely overmatched them and looked impressive in doing so, and they have to have No. 3 Marquette a little worried.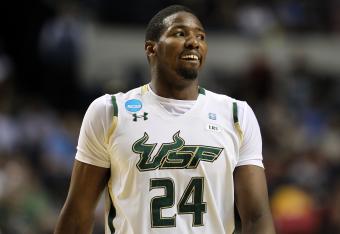 Halftime: South Florida 27, Ohio 21
It is a defensive battle in the Rond of 32 Cinderella showdown, and South Florida is playing superior defense.
They have held Ohio to just seven field goals in the first half, and limiting them to 30.4 shooting percentage from the field.
The Bulls aren't exactly lighting up the nets themselves as they've hit only 40.7 percent from the field, but that is more than enough to give them the lead in this one.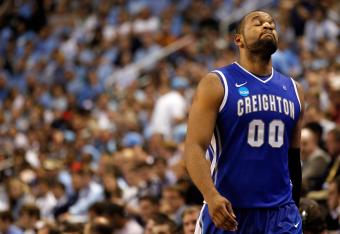 Final Score: North Carolina 87, Creighton 73
Creighton made a nice run to get this game competitive at halftime, but in the end the Tar Heels were just too much as they outscored Creighton 43-38 in the second half.
Creighton's Doug McDermott led all scorers with 20 points. Kendall Marshal scored 18 for the Tar Heels and Harrison Barnes pitched in 17.
North Carolina now awaits the winner South Flordia-Ohio game.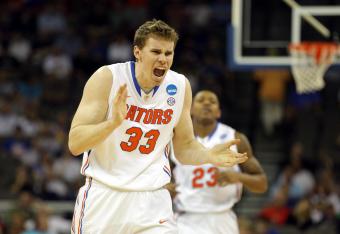 Halftime: Florida 47, Norfolk State 19
Well, at least Norfolk State got an historic upset because they are laying a big egg in this one.
This game is as over as a game can be at halftime. Barring the Norlfolk State outscoring Florida by 29 in the second half they will not win. That seems like a long shot given that that total is just over 1.5 more points they managed to score in the first half.
Florida's Erving Walker leads all scorers with 11 points. No player for Norfolk has more than three points, but eight players have scored. So they got that going for them.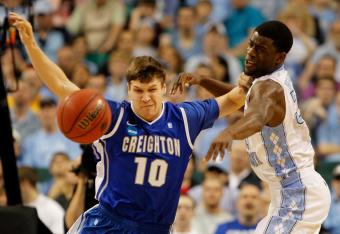 Halftime: North Carolina 43, Creighton 35
North Carolina looked like they were going to run Creighton out of the gym. But instead of backing down they fought back.
Creighton has done a solid job of not panicking and running their offense to get back in this game. They are led by Doug McDermott's 11 points.
North Carolina's Kendall Marshall leads all scorers with 13.
Final Score: Michigan State 65, St. Louis 61
Michigan State opened up a big lead in the second half and then watched it slip away. They were lucky to escape this game with a victory.
Had the Billikens shot better that 7-25 for the game this would have been a far different outcome.
Keith Appling had a big second half for Michigan State and finished with a game high 19 points. The Spartans will now take on No. 4 Louisville in the Sweet 16.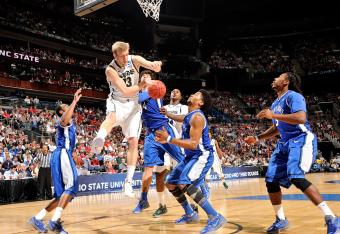 Halftime: Michigan State 26, St. Louis 21
The ninth seeded Billikens are not going to lay down for the rough and tumble Spartans. They are taking everything they can throw at them and hanging in there as they trail by only five at halftime.
And they have done this despite going 2-11 from beyond the arc. A lot of that is due to good defense, but if they can get more of those looks to fall in the second half, this one is going to get very interesting.
The Spartans' Brandon Wood leads all scorers with eight points.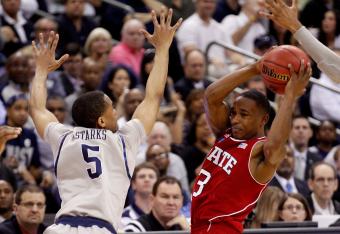 Final Score: North Carolina State 66, Georgetown 63
After a Saturday where there was not one upset, the first game on Sunday saw No. 11 NC State take down No. 3 Georgetown.
The Wolfpack used a balanced attack and had three players score 14 points. They also got a big lift by winning the battle on the boards.
The Hoyas had a chance to tie this one up late, but Jason Clark's attempt rimmed off.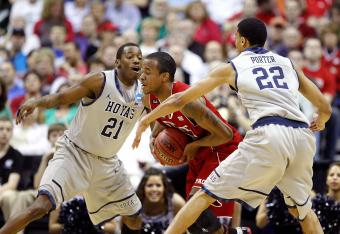 Halftime: NC State 30, Georgetown 27
After trailing the majority of the first half, the Wolfpack ended with a 15-2 run and a lead going into the locker room.
NC State's CJ Williams leads all scorers with nine points.
Neither team is shooting the ball well. Georgetown is hitting 40 percent of their shots and NC State is hitting just 34.5 percent of theirs.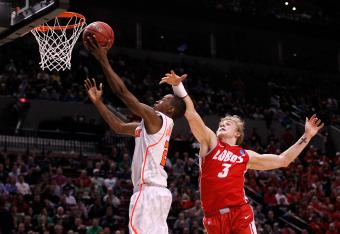 Final Score: Louisville 59, New Mexico 56
The Lobos waste a brilliant effort from Drew Gordon—21 points, 17 after halftime, to go with 13 rebounds—by shooting 5-for-23 from long range and committing 13 turnovers. Russ Smith put in a monster game off the Cardinals bench, scoring 17 points along with three steals.
Also noteworthy was the dreadful free-throw shooting on both sides: the two teams combined to attempt only 20 foul shots, but missed seven of them.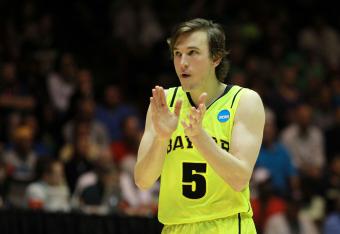 Final Score: Baylor 80, Colorado 63
Too much Brady Heslip, as the Baylor guard nailed nine three-pointers in 12 tries to score a game-high 27. Colorado did get 13 points, eight boards and four steals from Andre Roberson, but the rest of the offense couldn't get the job done against the Bears' zone.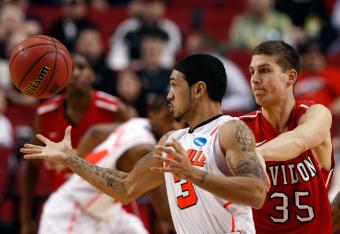 Halftime: Louisville 26, New Mexico 25
Both teams have had bouts of sloppiness in the first half: point guards Peyton Siva and Hugh Greenwood have combined for zero points and four assists. Lobos scoring leader Drew Gordon needs to pick it up after totaling just four points so far.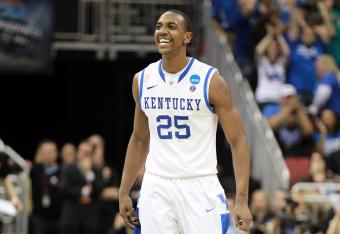 Final Score: Kentucky 87, Iowa State 71
As usual, Kentucky's defense locked up the victory, holding Iowa State to 3-for-21 shooting from three-point range. Marquis Teague had a monster game on offense, scoring a game-high 24 and dishing out seven assists in a Wildcat romp.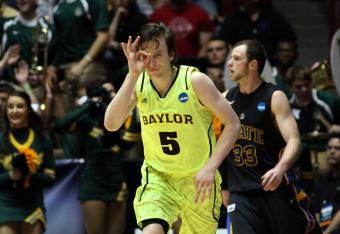 Halftime: Baylor 37, Colorado 35
For the second game in a row, Baylor's backcourt is bailing out the underachieving forwards, with Brady Heslip pouring in 18 points in the first half (all of them on three-pointers). Buffs star Andre Roberson is keeping his side in the game, leading the team with 11 points, four boards and three steals.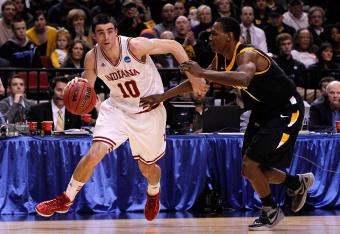 Final Score: Indiana 63, Virginia Commonwealth 61
The Rams had every chance to win this game, but Rob Brandenberg missed the open three-pointer that would've won it in the final seconds. Will Sheehey nailed what proved to be the game winner from the baseline seconds before Brandenberg's miss, sending the Hoosiers to the Sweet 16 for the first time since 2002.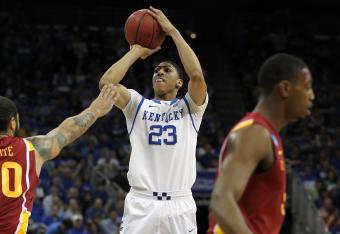 Halftime: Kentucky 38, Iowa State 27
As usual, Royce White has done everything for Iowa State (10 points, three boards, two assists, two steals and a block), but he's the only Cyclone doing anything tonight. Kentucky's freshmen have dominated, with Marquis Teague and Anthony Davis combining for 23 points and six assists by. themselves.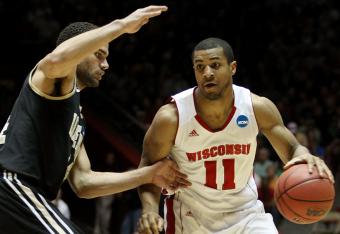 Final Score: Wisconsin 60, Vanderbilt 57
Wisconsin breathes a sigh of relief as a deflected inbounds pass foils Vandy's bid for a game-tying heave. The Badger D held John Jenkins to a mere 13 points on 3-for-13 shooting, while Jordan Taylor's 14 points led five Wisconsin players in double figures.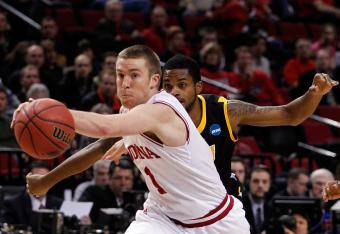 Halftime: Virginia Commonwealth 42, Indiana 41
The Hoosiers are shooting a ludicrous 66.7 percent from the field, but nine first-half turnovers by the No. 4 seeds have kept VCU on top. The Rams' Bradford Burgess hasn't attempted a two-point shot yet, but he has 12 points on three-pointers and free throws to lead all scorers.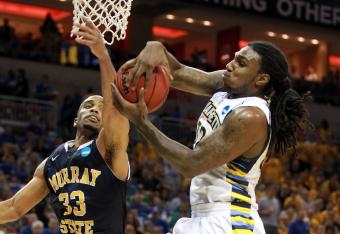 Final Score: Marquette 62, Murray State 53
Big East defenses continue to shine as Marquette holds the Racers to .313 shooting from the field (down from .477 in the regular season). Murray State actually won the battle on the boards, 41-37, but Jae Crowder still muscled his way to 17 points and 13 rebounds in the victory.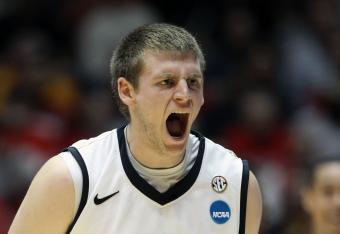 Halftime: Wisconsin 32, Vanderbilt 31
Brad Tinsley's buzzer-beating trey gives Vandy some much-needed momentum heading into halftime. Defense has been the story of the day (19 missed three-pointers between the two teams), but Wisconsin's Jordan Taylor is getting some unexpected offensive help from the frontcourt, especially Ryan Evans (10 points on 4-for-4 shooting).
This article is
What is the duplicate article?
Why is this article offensive?
Where is this article plagiarized from?
Why is this article poorly edited?