Philadelphia 76ers vs. Chicago Bulls: Live Blog, Analysis and More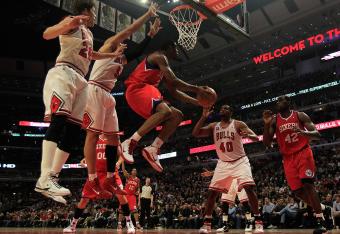 Jonathan Daniel/Getty Images
C.J. Watson scored 20 points and paced the Chicago Bulls to a 89-80 victory over the Philadelphia 76ers tonight at the United Center.
The 76ers led by 13 at the end of the first quarter, but the Bulls outscored them by 22 points over the final 36 minutes. Chicago had 50-plus rebounds for the 16th time this season, and their 17 offensive rebounds helped them to pull out a hard-fought homecourt victory on St. Patrick's Day.
With the win, Chicago improved its record to a league-best 37-10, and are now 10 games up on the Indiana Pacers in the Central Division. After an 18-7 start, Philadelphia is now 25-20 and is only one game up on the Boston Celtics for the top spot in the Atlantic.
Thanks for following along tonight—be sure to check out the Bleacher Report NBA page for the best basketball coverage around.
Philadelphia 76ers CEO Adam Aron after the loss (on Twitter): "That one really hurt, like a very hard punch in the gut. Wins are sweet in this league, but losses like that are agony."
15 assists to 15 turnovers for Chicago. Not efficient, but good enough for Tom Thibodeau's 99th career win.
Philadelphia gave up 17 offensive rebounds to the Bulls, and lost the battle on the glass 53-39. The 76ers haven't won a season series against Chicago since 2007-08.
Thanks to the victory, the Bulls haven't lost back-to-back games since February 5 and 7 of last year, and haven't dropped two in a row at home since March 2010.
The 30 points is a career high for Holiday, and is the first time that any 76ers player has scored 30 or more since Elton Brand scored 33 against the Knicks on February 4, 2011. For those of you counting at home, that's 407 days.
Bulls 89, 76ers 80, Final: It wasn't the prettiest game for either team, but Chicago pulls out a nine-point win without the services of Derrick Rose. C.J. Watson (20 points) gets "player of the game" honors, while Jrue Holiday led all scorers with 30 points.
Bulls 89, 76ers 77, 31.2 left in 4Q: A loose ball foul is called on Andre Iguodala, but it's all pretty much over at this point. Exhibit A? The crowd is cheering for the "Human Victory Cigar" Brian Scalabrine to check in for the Bulls.
Bulls 85, 76ers 77, 1:29 left in 4Q: Less than 90 seconds to go, and the Bulls have an eight-point lead and the basketball. Joakim Noah is flirting with a double-double (9 points, 10 rebounds) as Philadelphia needs to get stops in defense if they want to avoid their third straight defeat.
Bulls 83, 76ers 77, 2:25 left in 4Q: Two Noah free throws bump Chicago's lead back to six. On the resulting possession, Iguodala throws a fantastic alley-oop to Lou Williams who misses the dunk.
27 points on 25 shots for Jrue Holiday. No other 76ers player has more than nine shot attempts.
John Lucas III airballs a three-point attempt, but Joakim Noah grabs the "rebound" and slams it home. That pretty much sums up the fourth quarter so far for the 76ers.
Bulls 79, 76ers 73, 4:04 left in 4Q: Holiday sinks one of two free throws to make it a six point game. Holiday now has a season-high 25 points.
Free throw attempts tonight: Chicago - 27, Philadelphia - 13
15 offensive rebounds for the Bulls so far, four on their last offensive possession alone.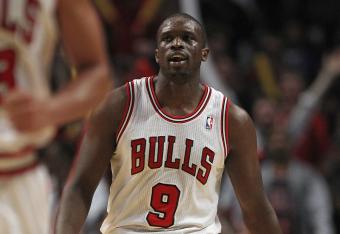 Bulls seemingly beating the Sixers to every loose ball here in the second half. Chicago's rebounding edge is now plus-15 for the night (48-33).
Sixers: 1-for-9 from beyond the arc so far. Chicago, meanwhile, is 6-for-19 from three-point range.
Bulls 78, 76ers 67, 7:00 left in 4Q: The Bulls have their largest lead of the game at 11 points. The 76ers now have 12 turnovers, slightly more than their average of 10.7 per game.
10 points and six rebounds in 19 minutes for Spencer Hawes.
Now Evan Turner draws a technical foul after he doesn't get a call following a hard drive to the basket. The referees are letting the contact go on both ends here in the fourth quarter.
Spencer Hawes checks into the game, wrestles with Omer Asik and immediately draws a technical foul. If there was an "Omer Asik Drawing Fouls" drinking game, people would be feeling pretty good right now. Then again, there's no need for an excuse to drink tonight - it's St. Patrick's Day!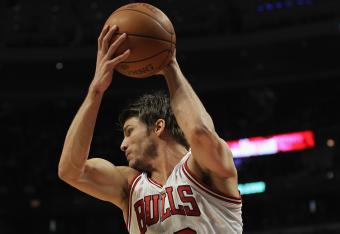 Bulls 71, 76ers 63, 10:09 left in 4Q: Five points in the past 90 seconds for (former 76er) Kyle Korver, and Chicago is looking like a team poised to pull away. Korver is the third Bull in double figures (Watson 18, Boozer 11).
Omer Asik only has four points, but has done a great job by drawing two fouls on the 76ers in the past two minutes. Not everyone can be LeBron James, I guess...
39-27 rebounding edge for the Bulls so far tonight.
Fun fact: Joakim Noah leads all players in assists. He has four.
Since the first quarter, Chicago has outscored Philadelphia 53-35. Jrue Holiday (20 points) is the only 76ers player in double figures through 36 minutes.
This article is
What is the duplicate article?
Why is this article offensive?
Where is this article plagiarized from?
Why is this article poorly edited?

Philadelphia 76ers: Like this team?