Dallas Cowboys Free Agency: Why Nate Livings?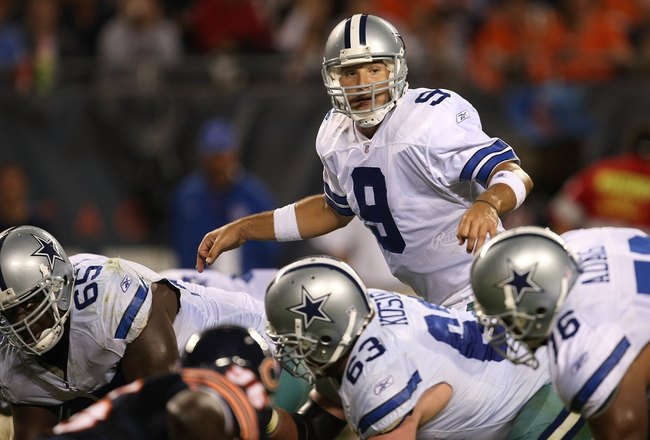 Jonathan Daniel/Getty Images
Many Dallas Cowboys fans are troubled by the signing of Nate Livings to a five-year deal, given that he was ranked the 56th-best guard in league by ProFootball Focus.
After what many believe to be a stellar start to free agency by the Cowboys, this signing looks to be a blunder to the average fan.
Why on earth would you sign a linemen (who was originally an un-drafted free agent, mind you), with no apparent record of even average performance at the pro level, to a long-term deal and pay him starter money?
A few possible explanation come to mind, but not many.
1) It is possible that new offensive coordinator and offensive line coach Bill Callahan likes the potential in Nate Livings and believes he can coach him up to be a competent guard within his system.
2) Perhaps Pro Football Focus and their method of grading offensive linemen is considered a joke by actual NFL coaches. It is true that NFL teams have access to innumerable statistics on every player who has ever suited up in the modern era. Is it possible that the Cowboys are looking at different statistics that they consider to be far more valid than what is available to layman and the media? If so, obviously those hidden stats tell them a very different story than the rest of us are getting.
3) The Cowboys are taking into consideration the level of competition that Livings was facing while those statistics were compiled, and they believe that resulted in an unfavorable ranking.
4) Maybe its some combination of the above.
Lets take each of these possible explanations one by one and see what makes sense.
Bill Callahan likes what he sees in Nate Livings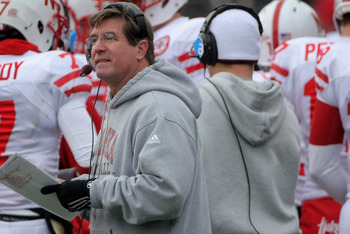 Doug Pensinger/Getty Images
Callahan is known throughout the NFL to be perfectionist when it comes to offensive linemen technique. He is also known to be an excellent teacher and a real stickler.
It is most likely true that Callahan has analyzed quite a bit of tape on Livings, and it seems unthinkable that the Cowboys as an organization would go against his wishes and sign this guy if Callahan didn't think he could get him to play at a much higher level.
In this scenario, it's likely that Callahan has seen several correctable errors in Livings' technique as a guard. He must believe that in one offseason he can drill Livings repeatedly on the technical adjustments he needs to make and get better pad level, better leverage and better footwork out of him while he is on the field. Lets hope he's right.
Pro Football Focus May Not Rank Offensive Linemen in a Way Dallas Finds Relevant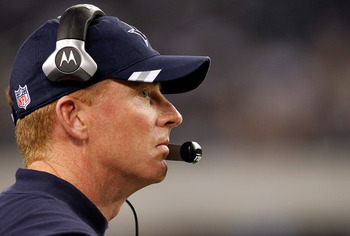 Tom Pennington/Getty Images
It is entirely possible that Nate Livings is considered to be a perfectly decent guard by many NFL teams. It's highly improbable that many teams consider him to be above average, otherwise there would have been competition to sign him and there is no evidence that was the case.
Pro Football Focus has their own specific formula for grading offensive linemen. A number of statistics go into this formula, and the final numbers are then "normalized" using a different formula for each position on the line:
All players on the offensive line are graded using the same methodology, but the final numbers cannot be compared directly because the normalization factors for each position differ radically. This means that a player's raw, un-normalized grade will have a much different figure added or subtracted to it to normalize it depending on the position that player plays."—Pro Football Focus website
Each NFL team employs their own statisticians to sift through the reams of NFL data that are available for each player. If you have seen the movie Moneyball, you understand how individual that process can be and how different teams can value the various statistics differently.
Level of Competition Livings and the Bengals Faced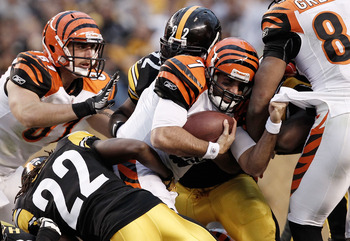 Jared Wickerham/Getty Images
I went back and looked at who the Cincinnati Bengals faced in 2011 to see if they might have had an unusually tough schedule with regard to defenses faced.
Bingo.
The Bengals faced the first-ranked defense twice (Steelers), the second ranked-defense once (Texans), the third-ranked defense twice (Ravens), the second-ranked passing offense twice (Browns) and the fourth-ranked defense once (49ers). That accounts for more than half their 2011 schedule.
What about the rest of the schedule? They played the sixth-ranked defense (Jaguars), the ninth-ranked defense (Seahawks) and the seventh-ranked pass defense (Rams). The worst defenses they played were the Colts, Bills, Rams, Broncos and Cardinals. And the truth is that the Broncos and Cardinals defenses actually came on very strong later in the season.
I would challenge anyone to find an offensive line that faced a tougher lineup of defenses than the Bengals faced in 2011. Having said that, Livings was still considered expendable by his team, and if you believe what Bengals fans are posting about his departure, they feel they got rid of the weak link of their line. Cowboys fans will just have to hope that Jason Garrett and Bill Callahan are a bit smarter than those fans.
The Dallas Cowboys Like Nate Livings for a Combination of Reasons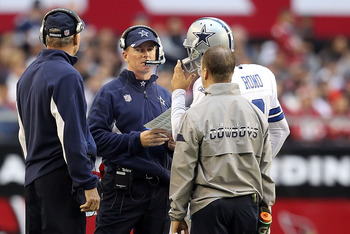 Christian Petersen/Getty Images
It is most likely the case that the Cowboys settled on Livings for a number of reasons. While it may be fun for sports writers and fans alike to play GM and judge every trade as though we have superior football acumen, the truth is that we don't have access to the information they are using when they make their decisions.
Its only logical to conclude that Garrett and Callahan have had substantial say in this signing and that their data tells them it makes sense. It seems too outrageous to believe that Jerry Jones would throw his money away on a below-average linemen who will only hamper his efforts to win another title.
My best guess is that Livings' productivity is closer to average and that Callahan already has very specific plans for how he will coach him up to get the most out of him.
Having said that, I still see the Cowboys going after a linemen with a much higher upside than they expect from Livings. You don't have to have all first- and second-rounders on your line to have a highly-productive offense, but you do require at least a few exceptional linemen. And the most cost-effective way to acquire the elite ones is through the draft.
What the signing of Livings and Bernadeau tell us is that the Cowboys are willing to fill out their line with some experienced "lunch pail" guys, but they are waiting for the draft to select the big talent. What linemen do you expect them to select in the draft? Give us your best guess in the comments below.
Keep Reading

Dallas Cowboys: Like this team?