NCAA Scores 2012: James McAdoo Will Keep Shining for UNC with Henson Hurt
March 18, 2012
Streeter Lecka/Getty Images
With the North Carolina Tar Heels entering the 2012 NCAA tournament with star forward John Henson sidelined with a wrist injury, many figured the team would be in a world of trouble. With their second-round defeat of Vermont, the play of James Michael McAdoo in relief proved that this UNC squad will be just fine.
They will have to take down the Creighton Bluejays to reach the Sweet 16, but they don't seem to be having any setbacks from what they have had to deal with.
With McAdoo in the starting lineup against Vermont in the second round, he bounced back with a much better performance than what he had against the Florida State Seminoles in the ACC title game.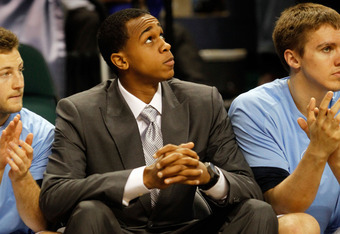 Streeter Lecka/Getty Images
He went 6-of-14 with 17 points, six rebounds and four steals in just 23 minutes. That also made him tied for the leading scorer in the game, as star forward Tyler Zeller added 17 of his own.
It was a much better game and a release of tension for Tar Heels fans after McAdoo scored just four points while going 2-of-10 in 28 minutes against the Seminoles.
The team will have to hope that he will continue to contribute the play he did in the second round, as coach Roy Williams is currently unsure if Henson will be able to play in their third-round matchup.
According to ESPN's Robbi Pickeral, the Tar Heels star has started to show signs of ability, but his status is still up in the air.
After UNC's win over Vermont on Friday, Williams said the ACC Player of the Year was close to playing. But he still wants the wrist to get stronger. Williams said Henson was gripping and catching the basketball better, but he still didn't look totally comfortable on some moves. Williams said Friday there was a better than a 50-50 chance that Henson would play Sunday.
If the Tar Heels have Henson in the third round, well, then all the better. If they do not, they will still have McAdoo who will be able to provide the solid contributions for the team to keep on dancing.
Jeff Chase is a Featured Columnist for the Chicago Cubs and Arizona State football.