Dallas Cowboys Free Agency: Brandon Carr and the Huge Week for the Cowboys
March 17, 2012

Jamie Squire/Getty Images
As names quickly came off the board Tuesday, the Cowboys stayed focused on their plan to help fill specific needs. The Cowboys signed seven players in the first few days of free agency and are expected to re-sign another.
Each player that was signed fills a specific purpose. The Cowboys knew what they needed and acted accordingly. This was a very smart beginning to the offseason for Dallas.  
Jason Garrett hand-selected the players he wanted to add to his team. In his first full offseason as Head Coach of the Dallas Cowboys, Garrett has begun building the competitive roster he wants.
Garrett preaches competition at every position, and instead of going after a few big names in free agency, the Cowboys signed seven players to increase the level of competition throughout their roster.  
The Cowboys did sign one free agent to a big contract. Brandon Carr was signed to a large five-year deal. Carr was the Cowboys' number one target, and the Cowboys held back nothing attempting to sign him.
The Cowboys needed to make a big splash at cornerback after releasing Terence Newman. They needed an upgrade over Newman, so they had to make sure they signed one.
There is no doubt the Cowboys were winners over the first few days of free agency. The only question now is, with all of the competition Garrett is creating on the roster, where do these free agent signings fit in?
CB Brandon Carr signed a huge five-year deal to play for the Cowboys. Carr is already written in the starting lineup at cornerback with a permanent marker. The Cowboys will use Carr against the bigger number one receivers like Hakeem Nicks, Brandon Marshall and Calvin Johnson—all of whom beat up on the Cowboys secondary last season.
Carr is in the prime of his career and should be excited to play for Rob Ryan and for a contender like the Cowboys. Mike Jenkins, starting opposite of Carr, should provide the Cowboys with a very talented set of cornerbacks. Cornerback was a position of need entering free agency—Carr lessens that need greatly—but they should still look for more help in free agency and the draft. 

QB Kyle Orton was signed to compete with Stephen McGee for the backup quarterback position. This was an excellent move by the Cowboys. McGee did not deserve to be handed the job without competition. McGee has not proven himself enough over the past two seasons during his limited opportunities to warrant being handed the job.
Romo also finds himself in the trainer's room often throughout the season. The Cowboys need a quarterback who can sustain a lead or keep the game close while Romo is being looked at. Orton fills that need.
Look for Orton to backup Romo for the 2012 season, and if history is any indicator, Orton will see time at quarterback sometime during the regular season.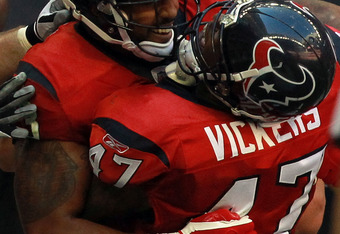 Ronald Martinez/Getty Images
OG Mackenzy Bernadeau was the first of two free agent signings on the offensive line. Bernadeau is more of a backup guard than a starter. He can make the spot start and fill in effectively, but he is never going to be a long-term solution at the position. Bernadeau provides the Cowboys with much needed depth along the offensive line and will add competition to the position.
Look for Bernadeau to be the backup guard at both guard positions. Even though he will not start 16 games for the Cowboys, he will still be an important piece to the offensive line in 2012.   
FB Lawrence Vickers was signed to replace Tony Fiammetta. This is one of the Cowboys' smartest signings in a long time. Fiammetta played well in 2011, but he was also injured often and wanted more money. Vickers is a better blocker, more durable, and was signed for less money.
The Cowboys do not need a fullback who catches screens or anything like that. When Vickers is on the field, he will be blocking, and that is the way it should be.
Vickers opened holes for Arian Foster and Ben Tate last season. I am sure Felix Jones and DeMarco Murray are welcoming Vickers with open arms. Look for Vickers to improve the Cowboys' running game and pass protection.
ILB Dan Connor was signed to replace Bradie James and Keith Brooking. Connor is the definition of a competition signing. The Cowboys have two inside linebackers that they feel will be starting for them in 2012, yet they still signed a third linebacker who could start or play the role of veteran who sits on the bench and teaches.
Sean Lee's spot at linebacker will not be challenged, but Bruce Carter and Connor will be in fight to start next to him. There is no doubt this makes the Cowboys better.
The better player will start in 2012. I expect Carter to win the job, but Connor will still be very important for the Cowboys on defensive and special teams.
OG Nate Livings was the second free agent signing on the offensive line. After Livings signed with Dallas, they released veteran guard Kyle Kosier. Kosier was battling numerous injuries from the past couple seasons. His release is not a complete surprise and leaves the right guard position to Livings.
Entering camp, Livings should be the favorite to start at right guard, but he will have competition. Bill Nagy, who started the first game at left guard last season, could be in the mix, as well as David Akin and Mackenzy Bernadeau.
If the Cowboys do not add another guard, two of those four players will be the starters. However, I expect the Cowboys to draft an interior offensive lineman and add to that competition.
S Brodney Pool was signed instead of re-signing Abram Elam. Pool is a better player than Elam but not by a whole lot. Pool is younger and could still find some untapped potential waiting for Rob Ryan to unleash it.
In the end, Pool will be a minor upgrade over Elam. He will not be a game-changer on defense, but there was not a game-changing safety on the market.
Look for the Cowboys to draft a safety this season and let him grow while watching Pool in 2012. Pool is more than likely just holding the position for a year than starting there for the long haul.
WR Kevin Ogletree is also expected back, according to Rob Phillips at DallasCowboys.com. Phillips expects Ogletree to sign a deal worth a little more than the three-year veteran minimum.
Ogletree was once a promising receiving prospect but has continuously been jumped over on the depth chart by other receivers. Romo was also seen yelling at Ogletree about routes during the first game against the Redskins in 2011. Ogletree will add depth to the receiving position, but do not expect him to contribute more than 20 receptions.
The Cowboys filled a lot of their needs quickly in free agency. This will give the Cowboys flexibility to draft the highest graded prospect left on their board. No longer do the Cowboys have a pressing need to fill in the first round.
The 2012 Cowboys are already better than the 2011 Cowboys. The NFL Draft can only make this team more talented and further build the foundation of winners that Jason Garrett has started.