NFL Free Agents: Why the Dallas Cowboys Have Had One of the Best Offseasons
March 18, 2012

Tom Pennington/Getty Images
It does finally appear that Jerry Jones got the message. The Dallas Cowboys have made one big-name signing this offseason, and that was at a position of tremendous need. They have been focusing on adding great complementary players to the already solid core that they have.
So, let's take a look at the moves.
Brandon Carr
This is the top-tier player the Cowboys acquired. They did so with the knowledge that they needed to sign a No. 1 corner to replace the recently departed Terence Newman and inconsistent Mike Jenkins.
Carr provides them with that shutdown-type of guy on the outside. While some say that the former Kansas City Chiefs standout was a product of playing with Brandon Flowers, I couldn't disagree more. The Chiefs played strictly right-to-left defense in the secondary, which means that Carr went up against No. 1 receivers a great deal of the time. In doing so, he succeeded a great deal.
This is a situation when a good front office realizes the necessity to spend money at a position of need. The Cowboys played that to a tee.
Dan Connor
Handout/Getty Images
The first of a few under-the-radar signings, Dan Connor gives the Cowboys a nice linebacker opposite Sean Lee and on the inside opposite DeMarcus Ware and Anthony Spencer.
Inside linebacker play is huge in the 3-4 defense, and now the Cowboys have a solid tandem there. Both are solid against the run, can drop back into coverage and play well going sideline to sideline. In a weak linebacker market, the Cowboys got a steal.
Nate Livings
Some might conclude that the Cowboys signed a guard from the perennial laughing stock that is the Bengals, so how could this be an upgrade? Well, Cincinnati did make the playoffs last season. He is also a tremendous upgrade from Kyle Kosier.
Once again, Dallas strikes likes a fox.
Kyle Orton
Those of you who are not fans of Tony Romo need to take a step back. Orton was not brought in to contend for the starting job. Instead, he was acquired in order to give Dallas that solid veteran backup in case Romo goes down to injury.
Considering that Orton probably could have found a starting job in at least a handful of NFL cities, this is a great signing. It gives the Cowboys a fallback option if Romo gets hurt. Orton can step in on a whim and win a game, with the ability to lead an offense over the duration of a longer stretch.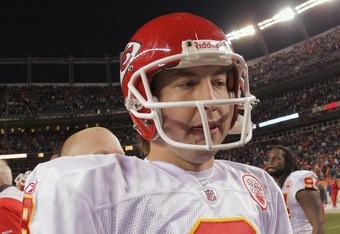 Doug Pensinger/Getty Images
Brodney Pool
The former New York Jets and Cleveland Browns safety isn't going to be a solid starter for the Dallas Cowboys. However, he will add much needed depth to the position.. You can expect them to look for a safety in the draft, but this is a solid signing nonetheless.
Lawrence Vickers
While fullback is being quickly eliminated from NFL offenses, the Cowboys tend to use it more than other teams. In terms of blocking, Vickers is one of the best in the game. He will be a major cog in the Cowboys running attack in front of DeMarco Murray.