WWE News: Midcard Madness "Semisweet 16" Results and Quarterfinal Matchups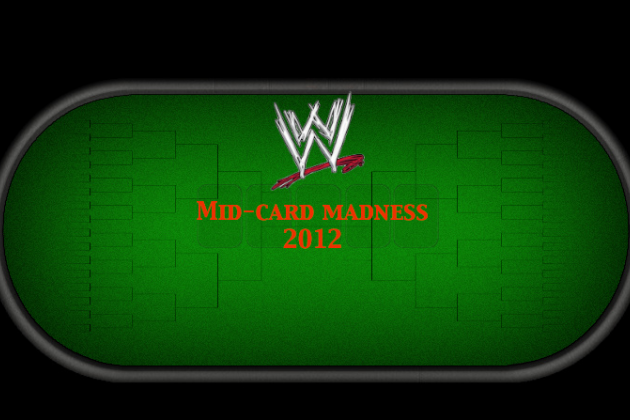 Thanks to Charlie Groenewegen for this graphic.
We are down to just the final eight men in the WWE Midcard Madness tournament.
This tournament started with 40 men who do not call the main event, nor the unemployment line, home. Some upsets took place, and some absolute blowouts have occurred. All in all, these eight men are considered to be eight of the most popular men in WWE, excluding those in the main event scene right now.
The interesting thing to note about the eight men who have survived is that they are all eight of the top seeds in this entire bracket. I don't know if that is a testament to the seeding or the fact that these eight are simply on a different level than the others, but it has turned into a scenario where chalk may decide this tournament.
Before the seeds worry you, remember that original seedings suggested four different regions—named for RAW, Smackdown, NXT and Superstars.
Essentially, it would be the equivalent of the top two seeds in the NCAA bracket meeting in the regional final. The two-seed matched with the No. 1 overall seed is technically the No. 5 overall seed. Therefore, don't let a one vs. five scare you and fear a mistake.
With all that said, let's glance back to the previous round.
Begin Slideshow

»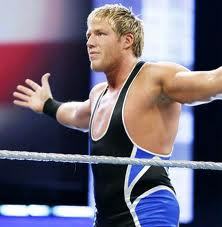 Despite losing his United States title, top overall seed Jack Swagger stands strong.
(1) Jack Swagger 54 percent (9) Brodus Clay 46 percent
The closest matchup nearly upset the top overall seed, but Swagger outshined the Funkasaurus.
(2) Cody Rhodes 93.5 percent (10) Justin Gabriel 6.5 percent
Cody Rhodes continues to cruise with little effort from a very game Gabriel.
(3) Christian 72.1 percent (11) Zack Ryder 27.9 percent
The Internet Sensation fell short of the underdog upset over Captain Charisma. Broskis fall to Peeps.
(4) The Miz 91.5 percent (12) Evan Bourne 8.5 percent
The high-flying Bourne had a splash landing at the hands of The Awesome One.
(5) Dolph Ziggler 72 percent (29) Curt Hawkins 28 percent
Hawkins shocked many with his showing, but The Show-Off held strong.
(6) Wade Barrett 95.7 percent (14) Sin Cara 4.3 percent
The Barrett Barrage claimed another victim in Sin Cara with ease.
(7) Kofi Kingston 74.4 percent (31) Tyler Reks 25.6 percent
Tyler Reks, the lowest remaining seed, gave Kofi Kingston a good contest.
(8) R-Truth 77.3 percent (16) Tyson Kidd 22.7 percent
Tyson Kidd proved his seed was worthy, but "got got" by R-Truth.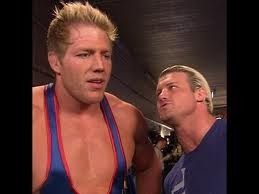 Swagger may have the top spot, but ally Dolph Ziggler is gunning for him.
All four matchups have some real-life history to it.
In this one, current allies and former enemies Dolph Ziggler and Jack Swagger are forced to compete with one another for a chance at the semifinals. Which former World Heavyweight Champion will be in the final four of this midcard tournament?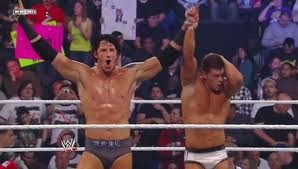 On one another's side at Survivor Series, only one will survive to the semifinals.
Make a list of the men who are most deserving of a first world title reign and these two top most lists.
Wade Barrett and Cody Rhodes have both impressed enough that, despite being heels, they get some of the largest pops in the entire company. Both men will be main eventers one day. For now, they fight to rule the midcard.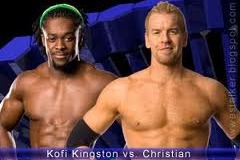 We nearly saw this match last night on Smackdown.
Kofi Kingston has never been a main eventer, but Christian is "one more match" away from getting back there. The former world champion stands to benefit from this matchup, but Kingston can surprise Captain Charisma.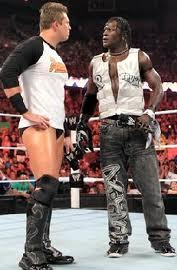 Formerly called Awesome Truth, the truth is that one of these two will be eliminated.
Six months ago, they were a team. Then, it all fell apart for Awesome Truth.
Now, The Miz and R-Truth must ignite their rivalry once more with a semifinals spot on the line.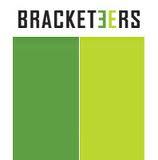 Bracketeers will be the ONLY form of voting accepted.
Here is the link to vote for Midcard Madness.
There have been some that have tried to vote via comments on Midcard Madness articles, but those are not tallied. Only votes through the website will be counted.