NCAA Tournament Scores 2012: Marquette Will Have No Answer for Isaiah Canaan
March 17, 2012

Andy Lyons/Getty Images
The Marquette Golden Eagles blew the BYU Cougars out of the water in the second round of the NCAA tournament, but the play of Isaiah Canaan and the Murray State Racers will prove to be a much more challenging opponent for the mighty Big East squad.
The Racers, who went 30-1 this past season, got off to a hot start in this year's tourney by taking down the Colorado State Rams in a 58-41 victory.
In that game, Canaan scored 15 points while grabbing seven boards with two dimes and a steal. Canaan has been a force all season long for the Racers, and while his rebounds were much higher than his typical output, he has the ability to pour on the points.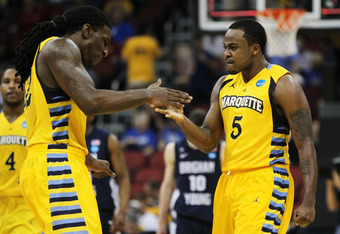 Jonathan Daniel/Getty Images
This season, Canaan is averaging 19.2 PPG, and if he can find his typical output or beyond in this matchup, it could prove to be difficult for the Golden Eagles to find an answer to what he can do.
The Golden Eagles were convincing in their win over BYU, holding the team to just 37.7 percent from the field, but their team doesn't have a player who is a prolific scorer like Canaan is.
The Racers taking this game would be a huge upset in this tournament, but they are a team that can certainly pull it off—especially considering how things have been going down this year.
The team will have to focus on stopping the beastly play of forward Jae Crowder, who has just been playing incredible all season long. It has been no different in the tourney either, as he dropped 25 points and 16 rebounds on BYU.
Canaan will have to have a better performance than the previous matchup, as he did go just 4-of-13—mostly hampered by a poor 1-of-6 from beyond the arc. He won't be able to do it alone though, as even when he scored 31 points against Tennessee State back on February 2, the team still fell 72-68 to receive their only loss of the season.
The Racers will have their chance to make some noise, but they won't be able to even imagine that situation if they don't see a great performance from their star.

Jeff Chase is a Featured Columnist for the Chicago Cubs and Arizona State football.
Follow @Real_Jeff_Chase