2012 NFL Draft Predictions: Projecting the Biggest Bust at Every Position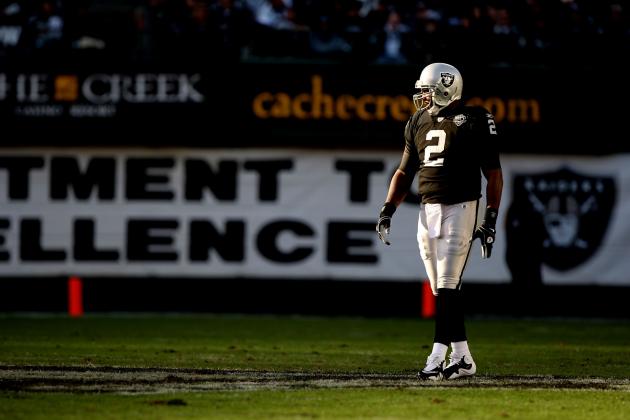 Jed Jacobsohn/Getty Images

Jamarcus Russell. Ryan Leaf. Charles Rogers. Tony Mandarich. These are the names that get brought up every year when people talk about the biggest NFL draft busts of all-time.
I would be pretty shocked if any of the projected top three picks in the 2012 NFL draft joined that list. That said, there are prospects at each position that have something in their game that makes you wonder if they have what it takes to succeed at the next level.
Begin Slideshow

»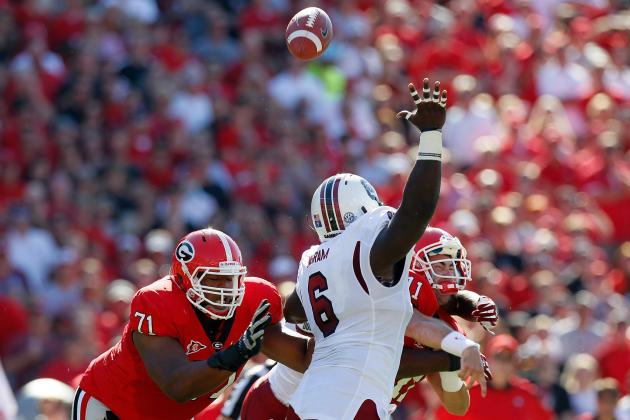 Kevin C. Cox/Getty Images

Melvin Ingram was a fantastic college football player. He might be a fantastic NFL player. Unfortunately, I'm not exactly sure where he plays. Some have speculated that his best fit is at WLB, SLB, DE, 3-4 OLB or even sub-package DT.
I'm just not sure that Ingram can be a consistent force on the edge. He was often stoned by tight ends and fullbacks while rushing the passer, but might come back later in the game and rip right by the left tackle.
Ingram might be a force. He also might be forced to learn an uncomfortable position, struggle and fail to live up to lofty expectations.
Bust Factor: 7 out of 10
Christian Petersen/Getty Images

According to Isaac Newton's third law of motion, for every action, there is an equal and opposite reaction. I'm not sure this sentence has ever been written before, but Vontaze Burfict certainly provides proof of Newton's assertion.
For every ferocious hit, perfectly timed blitz or impressive pass-rush, Burfict has a personal foul, off-the-field issue or blown assignment just waiting to cancel it out.
Burfict will either see the light and become a perennial Pro Bowl player or wash out of the league within a year or two. My money is on Newton.
Bust Factor: 9.5 out of 10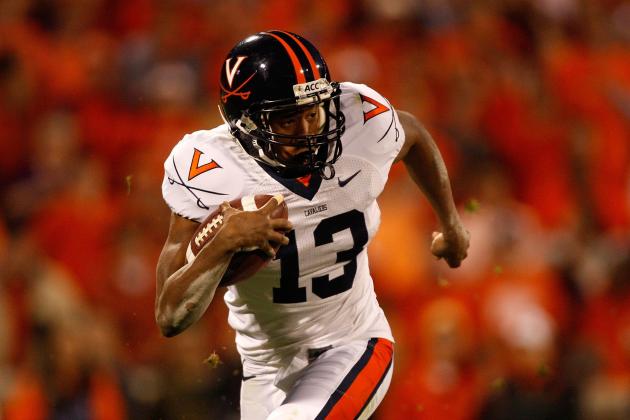 Streeter Lecka/Getty Images

I love the 2012 NFL Draft cornerback class from top to bottom. It was very difficult to choose a guy that might be a bust out of these talented defensive backs.
Bypassing Janoris Jenkins' off-field issues, we took a hard look at Minnifield. Like Patriots corner Devin McCourty showed in 2011, Minnifield has difficulty tracking the deep ball and gives up some completions and penalties that he probably shouldn't.
If he can't correct that issue, teams will target him mercilessly.
Bust Factor: 4 out of 10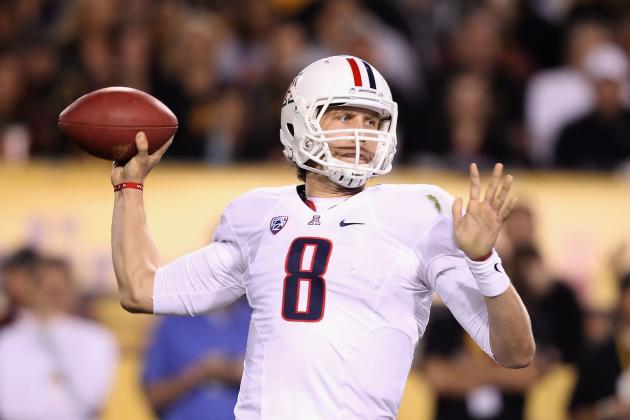 Christian Petersen/Getty Images

I really like the top seven quarterbacks in this draft: Andrew Luck, RG3, Ryan Tannehill, Brandon Weeden, Brock Osweiler, Kirk Cousins and B.J. Coleman.
Nick Foles, however, is a prospect that has just never impressed me much.
Unless Foles goes to a West Coast offense, I'm not sure he has the ability to read a defense and make the correct throws. He is a "Captain Checkdown" to me and would be a waste of a pick on the first two days of the draft.
Bust Factor: 7 out of 10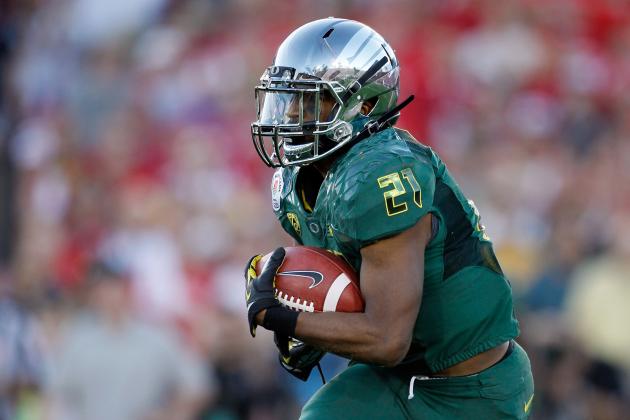 Jeff Gross/Getty Images

James is not going to see the gaping holes in the NFL that he saw at Oregon. When asked to run in between the tackles or in tight spaces, James has struggled to stay productive.
If a team drafts James in the top 80 picks, I think James is going to disappoint them. He could be a fine complementary back, but he is not going to be a game-changer.
Bust Factor: 6 out of 10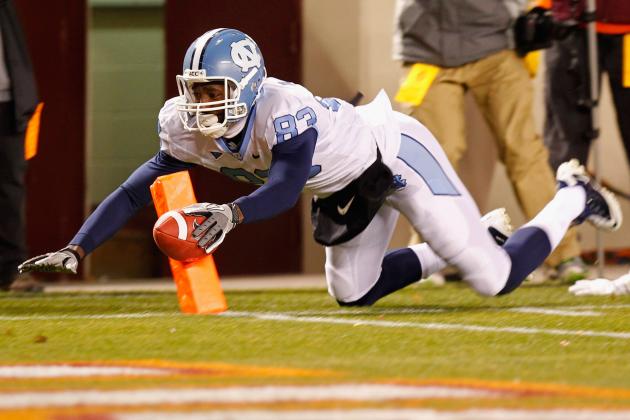 Geoff Burke/Getty Images

Dwight Jones has had a horrendous 2012. He looked awful at the Senior Bowl. He was barred from his own Pro Day due to a prior suspension, although one team (Denver) showed up to watch him run on his own.
Even before Jones created these problems, the tape showed some issues as well. Jones catches the ball with his body far too often and has trouble separating from corners. Teams should be very wary of drafting Jones on day two.
Bust Factor: 9 out of 10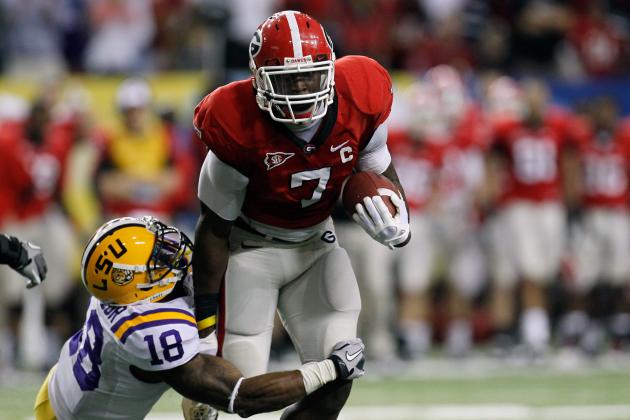 Kevin C. Cox/Getty Images

Like Jones, Charles has had a rough time the last few months. He measured in very small (6'2" / 250) at the NFL combine and has had some off-the-field issues as well.
Combine those two factors with his mid-4.8 40-yard dash times and his streaky hands, and you have a prospect that is in serious consideration for a bust label.
Bust Factor: 8 out of 10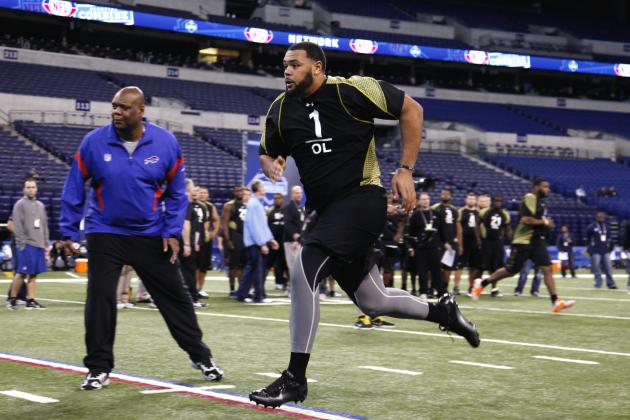 Joe Robbins/Getty Images

Mike Adams has all the measurables that you want to see out of an offensive tackle, except one. His 19 repetitions on the bench press, combined with some strength issues that show up on tape, are cause for concern.
If Adams can't set against the bull-rush, defensive linemen will push him back into the pocket all day long until he develops the requisite upper and lower-body strength. A player with a similar issue coming out of college, the Jets D'Brickashaw Ferguson, was able to work through it. If Adams doesn't, he won't be starting long.
Bust Factor: 7 out of 10