Grading the Bulls' Starting 5 Heading into the Stretch Run of the Season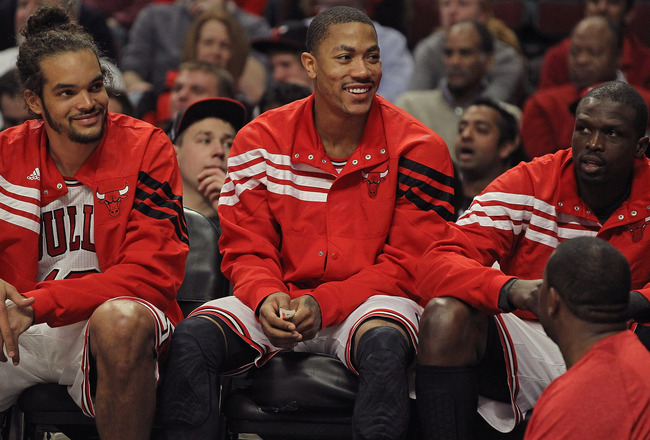 Jonathan Daniel/Getty Images
For the Chicago Bulls this season, it doesn't matter who is out of the lineup or who they are playing because all they do is win.
Currently they have the best record in the league at 38-10 and were the last team to lose their 10th game.
They also have the best point differential at an even 9.0 while also having the best road record. Their four home losses actually is just one less than they had all of last season but is still good enough for third best this season.
In my past grading pieces this season, I have focused on all the key players, but this time around I am just looking at the starters.
Unfortunately for coach Tom Thibodeau, he has started nearly everyone on the team once this season. Actually, only four of the 14 players have not started this season. Those four are Taj Gibson, Brian Scalabrine, Mike James and rookie Jimmy Butler.
If Thibodeau doesn't win his second straight coach of the year, it will be a shocker with all he has dealt with this season.
So let's see who is performing up to expectations and who needs to pick up their game as the Bulls head down the stretch.
If you are interested to see how I have been grading throughout the year, here are my grades for the first third of the season and the first half.
Make sure to follow me on Twitter @dachicagofan, and check out my weekly Bulls podcast every Wednesday on my site The MG Experience
Rip Hamilton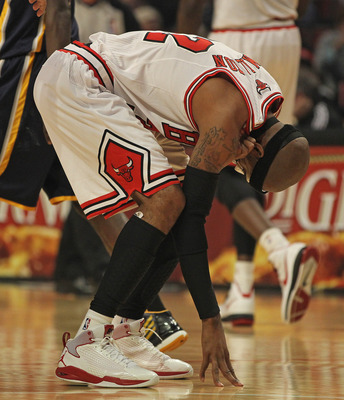 Jonathan Daniel/Getty Images
This is my third grading piece of the season and it is really starting to annoy me that I still can't give a real grade to Richard Hamilton.
Hamilton is currently out with a shoulder injury and has only appeared in 16 games for the Bulls. With that said, I am still claiming he has only played in 15 since he got hurt 90 seconds into his last game against the Pacers.
This is Hamilton's third injury of the season and he has yet to play in more than five consecutive games. Is there any chance he is healthy and can stay healthy during the playoffs?
The Bulls have tried everything with him by letting him sit out until being completely healthy as well as bringing him back slowly when he has been able to return. Unfortunately, none of it has worked.
When he is on the floor, there is no denying the Bulls are a better team, and it is just too bad he hasn't been healthy more.
While I am giving him another incomplete, I am getting a lot closer to calling this signing a bust and giving him an F.
Thank God the Bulls have this next guy who has stepped up with Hamilton out.
Ronnie Brewer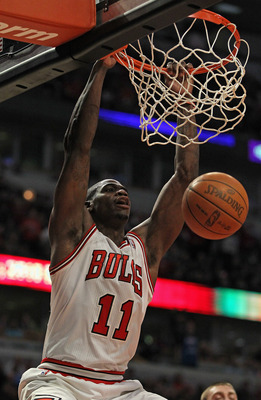 Jonathan Daniel/Getty Images
Thank God for Ronnie Brewer.
Can you imagine where the Bulls would be without Brewer this season?
Brewer worked extra hard to work on his jump shot during the lockout hoping to be the Bulls' starting SG. Then they signed Hamilton and, lo and behold, Brewer has started 35 of the Bulls' 48 games.
Unfortunately, starting really hasn't affected Brewer's offensive output. He actually plays just about the same amount of minutes as he did coming off the bench.
With that said, over the past few weeks he has started to contribute with more rebounds and assists while shooting over 41 percent from three-point land.
Ideally, the reason Brewer is thought of as more of a bench player than a starter is because he isn't very consistent. He will score 12 points one night and then only three the next.
Overall, I give Brewer a C+ because I expect more from the minutes he is playing.
Luol Deng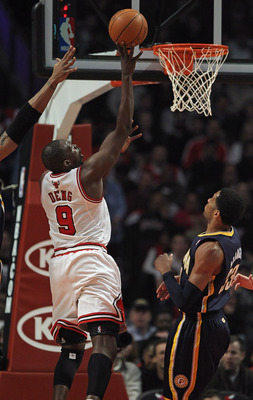 Jonathan Daniel/Getty Images
It is hard to fault Luol Deng for his drop in production because he is fighting through that wrist injury, but it is clearly affecting his game.
His field-goal percentage has steadily been dropping all season. In January, he was shooting over 41 percent while in March he is shooting 38 percent. His rebounds and assists are also down.
Funny enough, his three-point shooting has stayed about the same.
The only thing not down is his minutes that go up about a minute a month.
At this rate you have to wonder what he will be able to produce in the playoffs.
I know the wrist is causing his drop in play but I have to give him a B based on what he has done so far. But if he isn't healthy come playoff time he won't be much good.
Carlos Boozer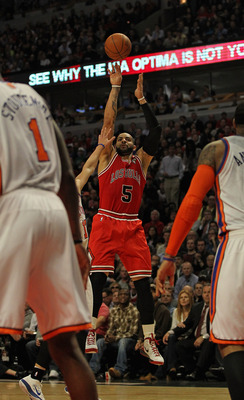 Jonathan Daniel/Getty Images
I know a lot of people love to beat up on Carlos Boozer, but besides Derrick Rose he has been the most consistent player for the Bulls. He is also the only starter to have started all 48 games.
Just look at his monthly breakdowns.
January: 15.8 points, 8.8 rebounds and 1.6 assists
February: 16.1 points, 7.5 rebounds and 2.0 assists
March: 14.8 points, 8.2 rebounds and 1.8 assists
And if you need more proof, look at what he did against the Orlando Magic this month. In two games he scored 50 points and grabbed 20 rebounds.
Did he disappear against the Pacers and Heat?
Yes he did, but in every other game this month he has scored in double digits, including four 20-point games. He even at times has shown a desire to play a little defense.
I actually think the Bulls could greatly benefit by running more of the offense through Boozer, especially while Rose is out. If you want an example of why, just look at the Portland game.
Boozer had 22 points and 14 rebounds but only attempted two shots in the fourth quarter and wasn't even in for the final three minutes of action.
I'm going to give Boozer a B+ for his consistency because everyone is entitled to a bad game here and there.
Joakim Noah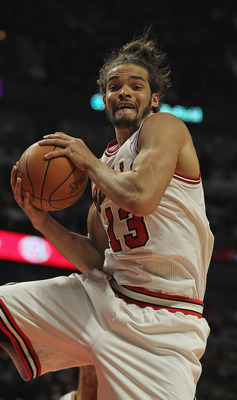 Jonathan Daniel/Getty Images
If Joakim Noah was putting up numbers like this all season long he might have joined Derrick Rose and Luol Deng in Orlando for the All-Star game.
After coming out of the blocks slow, Noah has rebounded and is averaging a double-double nightly.
Also, he finally started playing the defense we all know he is capable of playing.
The best part of all, though, is that unlike the past few seasons, Noah is healthy. He has played in 45 of the team's 48 games and is just a few games away of surpassing last season's game total.
While he might not win defensive player of the year, if he keeps up this level of play he will most likely get some all-defensive team consideration.
If he had performed better against the Magic on Monday I would have given him an A, but his four points and three-rebound game knocked him down to an A-.
Derrick Rose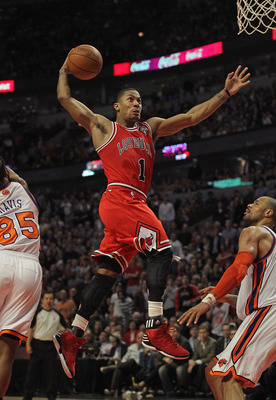 Jonathan Daniel/Getty Images
If it wasn't for the fact that Derrick Rose has missed 14 games up to this point, there is a good chance he'd fighting for a second straight MVP award.
While his scoring is down, his assists are up and he has really improved his three-point shooting, even though his percentage doesn't show it. He also has become a much better defensive player.
It actually is surprising to me to see how the Bulls have been giving up a lot more points when Rose is not in the lineup.
I'm giving Rose an A, and let's just hope he is healthy and ready for a deep playoffs run because I don't want to see LeBron James manning up John Lucas III in the Eastern Conference Finals.
Keep Reading

Chicago Bulls: Like this team?