One Through Eight: Predicting the Chicago Cubs Lineup and Statistics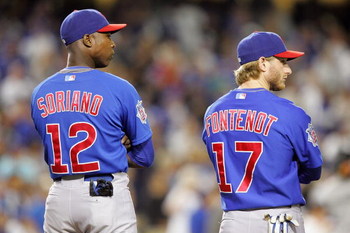 It is mid-January, only a month before pitchers and catchers report to Spring Training 2009.
The Chicago Cubs have won two straight National League Central Division Titles, but have only played six playoff games combined.
In 2008, their offense was a big part of their success.
This will be mostly the same in 2009.
With the trade of Mark DeRosa, Mike Fontenot will more than likely be the everyday second baseman.
Right field will also be manned by a new face, Milton Bradley, who brings a lot to the table.
The Cubs just need to stay away from freak injuries. We have seen Derrek Lee (making a tag) and Alfonso Soriano (hit by pitch) break their wrists over the past few seasons.
Neither of these players are injury-prone. They just suffered baseball injuries that you can't really avoid.
If the Cubs can stay away from these types of injuries, their offense will be strong throughout 2009. Couple that with a division that no longer has Ben Sheets or CC Sabathia, and this team could score a lot of runs.
Even with one of these players succumbing to injuries, the Cubs are strong enough to succeed. In 2008, the Cubs lost Soriano for 50 games and played over .500 (26-24) for that time.
The addition of Aaron Miles helps bridge the gap that DeRosa left when traded. He can hit .300 and plays both corner outfield spots, along with middle infield, and occasionally the corner infield spots.
His versatility is right along with what we expected with DeRosa. Miles just won't hit for as much power.
Another big plus is that the Cubs are now a lot more balanced than they were in 2008. They needed a left-handed hitter for the middle of the lineup, and got that in Milton Bradley.
As long as he stays healthy, this team will likely be a contender for the National League Championship.
1. Alfonso Soriano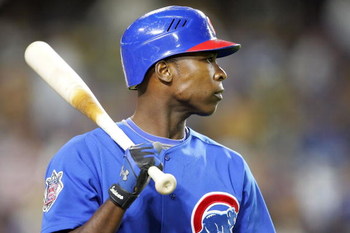 Its no secret that the Cubs are a better team when Soriano is in the lineup.
The team compiled a .618 winning percentage with him and a .520 without. If that type of winning percentage continues in 2009 and Fonzy plays in 140 rather than 110, the Cubs will have right around 87 wins in those games.
That might be enough to land them the National League Central title for the third straight year.
Games - 145
Average - .294
OBP - .376
Home Runs - 35
RBI - 90
Runs - 96

2. Mike Fontenot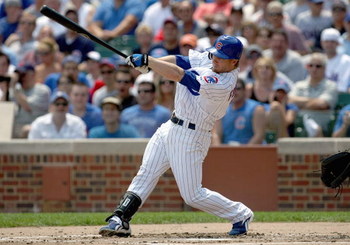 With the trade of Mark DeRosa, Mike Fontenot will likely find himself as the everyday second baseman.
I think he will find himself in the two-hole also. This will help balance the top of the line-up and it will also add some power.
Theriot was not a bad two-hole hitter, but Fontenot can get you extra base hits. In minimal time last year, he hit .305 with nine home runs and 22 doubles.
Those 31 extra base hits are seven more than Theriot had in well over double the at-bats.
Games - 149
Average - .289
OBP - .387
Home Runs - 17
RBI - 76
Runs - 103
3. Derrek Lee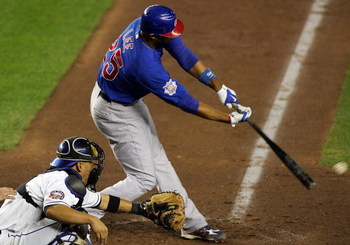 I see a big year from Derrek Lee, who at times struggled in 2008. Though his average was good (.291) and he reached base often (.361), you could tell he wasn't pleased at times.
The biggest problem he had was swinging at the low outside pitch.
I believe he returns to somewhere close to his 2005 average. He is a smart ballplayer that only wants to win.
I like that fact that you never hear him complaining. He just plays ball the way it is suppose to be played, Chicago-style.
Games - 153
Average - .318
OBP - .393
Home Runs - 27
RBI - 103
Runs - 92
4. Milton Bradley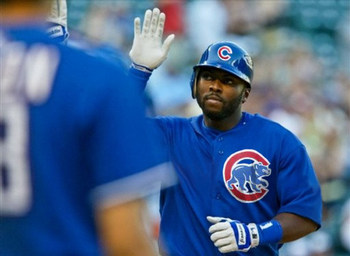 Yes, we have heard it. Bradley is a loose cannon. He is a bum with more injuries than Wilt Chamberlain had women.
But the fact of the matter is the guy can hit. He was part—and a big part—of the only offense in baseball that was more productive than the Cubs.
The Cubs did their research, and nobody in Texas had a bad thing to say about Milton, except he may have returned too soon from his knee injury. Yet he batted .321 with 22 home runs and 77 RBI.
It is also said that he "grew up" when he became Josh Hamilton's big brother last year.
Either way, the fire he brings could be a big plus for the Cubs, as long as he stays on the field. After a year in which he rarely played, his newly-repaired knee may allow him to stay on the field.
Games - 136
Average - .326
OBP - .409
Home Runs - 29
RBI - 98
Runs - 90
5. Aramis Ramirez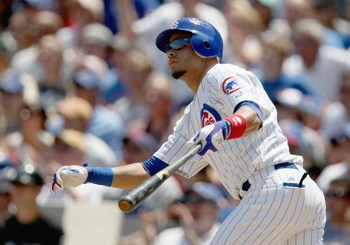 2008 was a strange year for Aram.
He struck out nearly 30 more times (94), than he had in any of his previous four seasons with the Cubs. Yet he had the highest OBP (.380) in his 10-year career.
He also led the Cubs in RBI with 111, and hit 27 home runs.
I think there will be less pressure in '09, and Ramirez will bounce back from what some call an "off" year.
Games - 151
Average - .307
OBP - .385
Home Runs - 32
RBI - 118
Runs - 101
5. Geovany Soto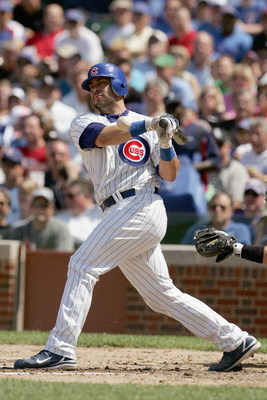 How does the reigning ROY follow up a fantastic first full-season? If the ROY in question is Geo, getting better is the only thing acceptable.
In 2008, he was arguably the Cubs' MVP. Not only was he an offensive force, but couple that with his control over the pitching staff, and his full worth can be measured.
He isn't afraid to get in Big-Z's face, but doesn't do it the same way Michael Barrett did.
The Cubs staff recognizes him, but so do the rest of the National League pitchers.
Games - 145
Average - .303
OBP - .373
Home Runs - 23
RBI - 89
Runs - 73
7. Reed Johnson/Kosuke Fukudome
Reed Johnson was a pleasant surprise for the Cubs last year. He hit .303 while playing fantastic defense in 109 games. Kosuke found himself getting pushed out of town after a second half collapse.
Going into 2009, it is likely that they will team up in centerfield. Johnson will find himself playing against tough lefties, but after awhile, I think that will be about it.
Fukudome showed a plate presence that couldn't be mimicked in early '08. I have a feeling that is the Kosuke we will see this year.
Reed Johnson
Games - 116
Average - .291
OBP - .354
Home Runs - 4
RBI - 51
Runs - 54
Fukudome
Games - 136
Average - .296
OBP - .394
Home Runs - 12
RBI - 72
Runs - 80
8. Ryan Theriot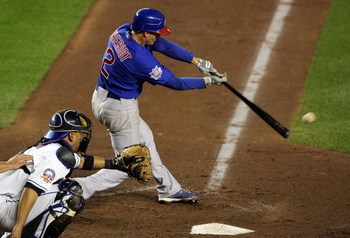 He doesn't do anything special at the plate—just lots and lots of singles.
That is alright in the eight hole though. Getting those pitcher at-bats out of the way is what Theriot will help do.
It will be tougher, hitting in this spot, but Theriot controls the bat as well as any Cub. He can take a lot of pitches to right field and is not worried about personal statistics.
"The Riot" just wants to win and will do anything to make it happen.
Games - 153
Average - .312
OBP - .381
Home Runs - 2
RBI - 53
Runs - 81
Keep Reading

Chicago Cubs: Like this team?