Texas Rangers' Roster Battles: 3 Most Intriguing Spring Position Battles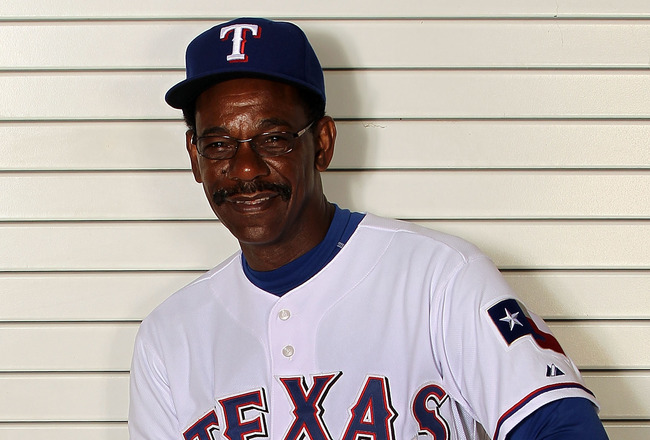 Texas Rangers' Manager Ron Washington has some tough decisions to make this spring.
Jamie Squire/Getty Images
It's the same for every team to an extent.
January turns to February, pitchers and catchers head south followed by position players.
In no time at all the entire team is present along with a collection of new faces, some acquired via trade, some signed to free agent contracts, a collection of prospects and of course the non-roster invites.
They're all there for one thing.
To compete for one of the 25 spots on a Major League Opening Day roster.
Even within the spots that are claimed there are other battles. Who starts where? Are you an eighth inning relief pitcher or a mop-up guy? Are you batting leadoff or ninth?
Not every team has all of these battles but almost all of them have at least one.
The Texas Rangers are the two-time defending American League Champions. Expectations are high in Arlington but, before the Rangers can start to officially defend their American League crown, they've got some decisions to make in Surprise, Arizona.
Starting Centerfield Postion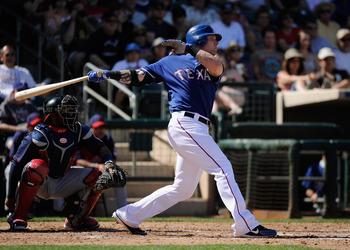 Keeping Josh Hamilton healthy may prevent him from being the everyday centerfielder.
Kevork Djansezian/Getty Images
The Rangers have a great starting centerfielder.
"Ron Washington said Josh Hamilton is the team's best defensive center fielder. "It comes down to instincts, and Josh has the best instincts," Washington said. "He has every asset that it takes to be a superstar in center field." Washington said Craig Gentry, Julio Borbon and Leonys Martin will be given every opportunity to win the center field job in spring training."- Star Telegram 3/3/12
At this point it's probably worth noting that Hamilton's value goes well beyond what he can provide in centerfield. Hamilton won the American League MVP in 2010 and is among the most feared hitters in the league.
His bat is more lethal than his glove and his glove is nothing to sneeze at.
It's not as safe as being the DH but manager Ron Washington can insulate Hamilton from a little of the wear and tear of centerfield by placing him in leftfield. That's where Hamilton spent a good portion of the post season last year while nursing a groin injury.
Hamilton is healthy now but Texas would love to keep him that way and that's where Julio Borbon steps in.
Borbon, who made a memorable late season appearance in 2009, displayed a combination of speed and contact hitting that endeared him to Texas. He entered the 2010 season with high expectations but got off to an atrocious start and ended up back on the bench.
Since then he's split time between triple A and the majors without returning to the form that made him look like a future star in late 2009.
This spring he looks like a new player. He's hitting .364 and has an OPS of .909. Those numbers combined with Borbon's speed and the temptation to insulate Hamilton from as many potential injuries as possible have created a battle between Borbon and Hamilton in center.
It's not really a battle that Hamilton can technically "lose". He's going to start and play every day whether he's in left or center. It's a bit different for Borbon who along with Leonys Martin and Craig Gentry are locked in a battle for a limited amount of outfield spots.
There's the one open spot that Nelson Cruz and Josh Hamilton won't be handed. Then there's the first option off the bench.
One dark horse to keep an eye on is Engel Beltre. Beltre was acquired as part of the Eric Gagne deal from the Red Sox back in July of 2007. At the time he was an 18-year-old with loads of potential but an unclear future. He's had a rocky trip through the Rangers system and is having a better spring than the more proven major league veterans such as Graig Gentry and Leonys Martin.
The Lefty out of the Bullpen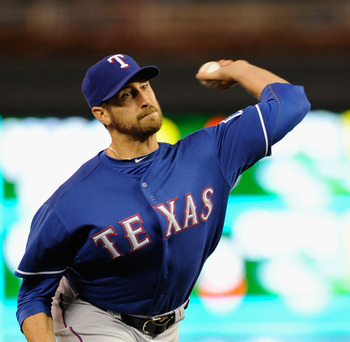 Michael Kirkman is one of several candidates hoping to claim an opening day spot in the Rangers' pen.
Hannah Foslien/Getty Images
It's not really known for being glamorous, but left-handed pitchers out of the bullpen can come in pretty handy over the course of a season.
For the Ranges, there are four men competing for this highly specialized role.
Michael Kirkman
MIguel De Los Santos
Robbie Ross
Joe Beimel
Kirkman is probably most familiar to Rangers' fans. He's appeared in 29 games over the past two seasons. In spite of the prior experience it's been an awful spring for Kirkman and even though a team such as the Rangers might prefer to not throw a rookie into the fire with expectations so high this season it's imperative that the Rangers are competitive throughout the entire season.
Robbie Ross has been kicking around the Ranger's farm system since being selected in the second round of the 2008 draft. He's yet to advance beyond Triple-A but he's been good at every level of the minors. He's amassed an earned run average of 2.88 in 381.2 innings pitched. Ross is green but if he continues to look impressive then he could get the position.
The other option is Miguel De Los Santos. De Los Santos has also never moved beyond the Triple-A level but he's also having a real nice spring and could emerge from the crowded field.
Finally there's Joe Beimel who has bounced around the majors for years.He's played on five different teams most recently for the Pirates last year where he was 1-1 with an uninspiring 5.33 earned run average. Beimel is the most "known" commodity, but what he's "known" for is not that confidence inspiring.
This battle won't impact every game the Rangers play this season, but it will make it's effects felt in close games when left-handed hitters step to the plate.
Who Hits Cleanup?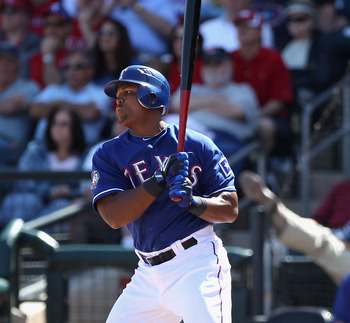 Adrian Beltre hit cleanup for most of last season.
Christian Petersen/Getty Images
It appears settled but you never know.
Last season Adrian Beltre hit cleanup for most of the season. Then come playoff time Michael Young took on the role.
Now it appears to be Beltre's once again.
"I'm going to do what I want to do, when I want to do it and how I want to do it," Washington said. "Our intentions are for Beltre to hit fourth."- Star Telegram 3/3/12
It seems like a done deal but how secure can that spot be on a team with offensive stars such as Michael Young, Nelson Cruz, Josh Hamilton and Mike Napoli? This isn't one of those circumstances where the team is stuck with Beltre.
If the offense slumps then how long would it take for Ron Washington to make a switch? Clearly he's going to "do what he wants' to do." so maybe he'd switch up the cleanup spot if he felt it was needed. He might even do it before spring training ends.
Keep Reading

Texas Rangers: Like this team?