Every NBA Team's Biggest Question After the Trade Deadline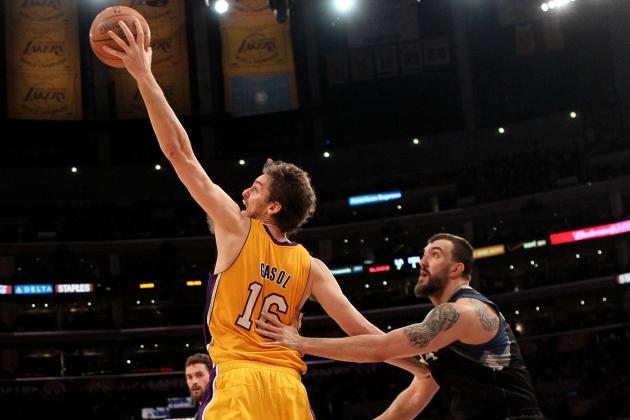 Stephen Dunn/Getty Images

The NBA trade deadline has come and gone in an uproarious fashion. Many players who would be considered game-changers are on new teams, while no real superstars made a team swap.
However, as is the usual, we are left with more questions than answers now that we are in the home stretch of the season.
Injuries have been far more sparse than we have really imagined in the shortened season (although Denver and Memphis would beg to differ), so you've got to wonder what could happen in the final stretch of the schedule.
On top of that, there are a few playoff races shaping up and a nice race near the top of the league for the best record on each side.
So let's take a look at what each team is going to be asking themselves over the course of the rest of this season, if for nothing else but to better understand what's going on in this topsy-turvy year.
Begin Slideshow

»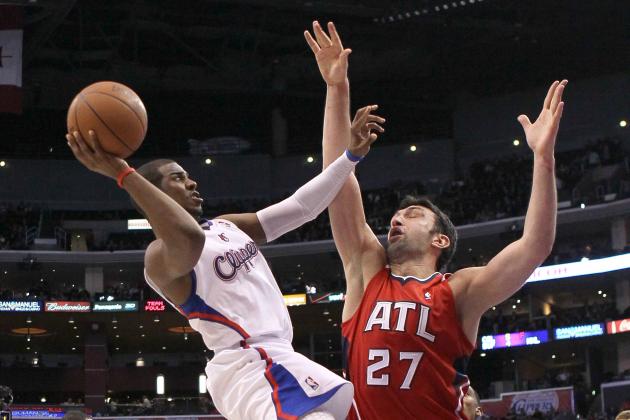 Stephen Dunn/Getty Images

The Atlanta Hawks are a team that I'm glad I'm not a fan of. It seems to me that they are happy just staying a decent playoff team and making money.
However, over the past few years, they haven't made any real moves forward or backward. They're just stagnating in the middle of the playoff pack.
It's hard to say what their plan is for the next five years or even just the rest of this year, so I'm really interested to see how this team shapes up going forward, especially after they did nothing at the trade deadline.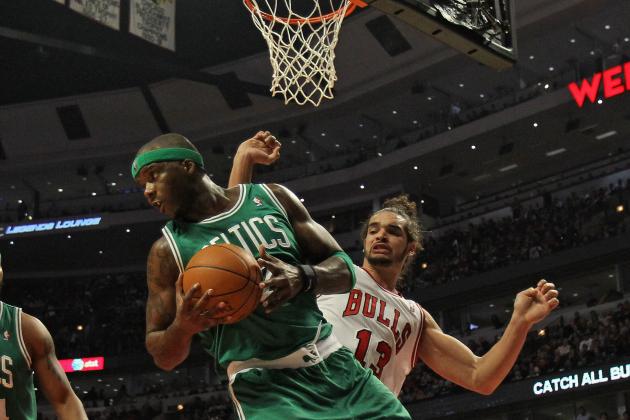 Jonathan Daniel/Getty Images

The big news out of Boston is that the Celtics are looking at cutting Jermaine O'Neal in the coming days, but there are a few things keeping him from getting cut.
First of all, Boston is already shallow when it comes to big men ever since the Kendrick Perkins trade last season, so cutting a big man is going to be hard for them to swallow.
On top of that, one of the teams looking at signing Jermaine if he can get healthy is the Miami Heat, someone that nobody seems to want to help these days.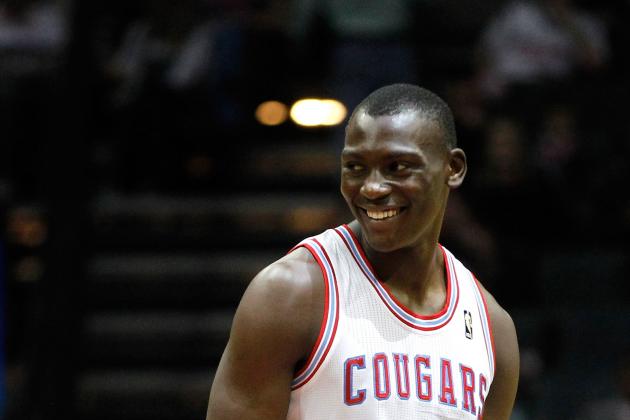 Streeter Lecka/Getty Images

Obviously the rest of the season is going to be a wash for the Charlotte Bobcats, so it's no different than most of the years in their history.
However, this year they are looking at getting the No. 1 overall pick for the first time in their short history.
They should end up with the fewest wins in the NBA, but that's not going to guarantee them the pick, so it's going to be interesting to see if they end up with that pick if something "shady" happens with New Orleans in the lottery this year.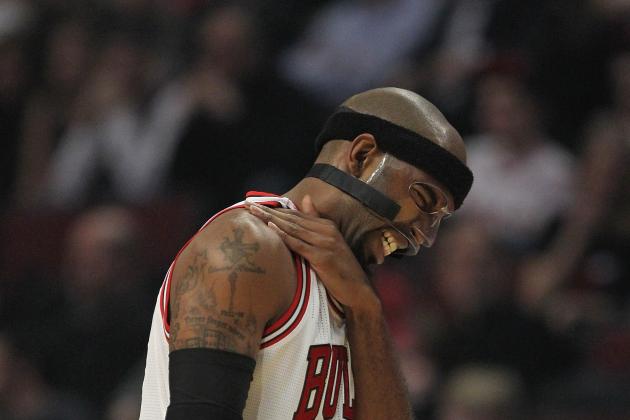 Jonathan Daniel/Getty Images

The biggest addition for the Chicago Bulls this offseason was bringing in Rip Hamilton, an experienced veteran who still plays good defense and can shoot.
However, the masked cager has played in only 16 games so far this year, which makes us wonder how well he'll get back into the rotation if he does get completely healthy.
There's no doubt that the Bulls are a better team with Hamilton, as they are 13-3 with him in the lineup. So, if they can get him healthy for the playoffs, they would be much better off with him.
Pool/Getty Images

For the first half of the season, Kyrie Irving was starting at point guard and Ramon Sessions was coming off the bench with very little overlap in between.
However, Sessions has been traded and with that, they lose their most productive bench player.
Cleveland was ninth in bench points so far this season with just over 33 and with 10 a game coming from Sessions and just Luke Walton coming back to replace him, Cleveland's going to have to find those points somewhere.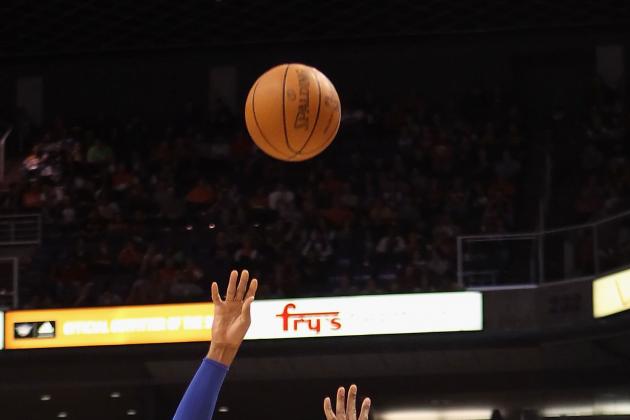 Christian Petersen/Getty Images

As they sit right now, the Dallas Mavericks are sixth in the Western Conference, matched up to play the Los Angeles Lakers if the season were to end right now.
So it's got to be asked: Is this team one of the most dangerous lower-seeded playoff teams of all time?
Obviously, the 1999 New York Knicks were an eighth seed, losing to the Spurs in the Finals, but this Mavericks team as a sixth seed has as good a shot as any team in the West at getting to the Finals and winning it all.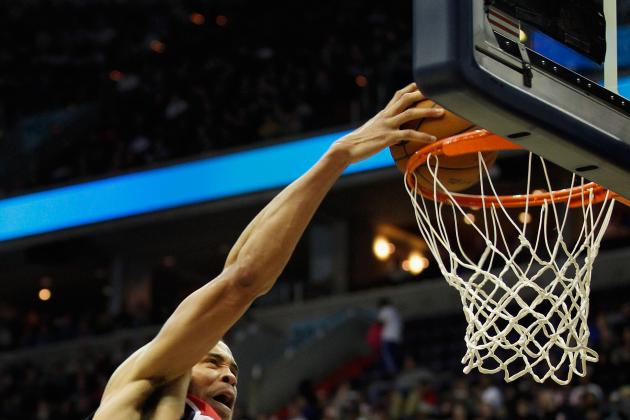 Rob Carr/Getty Images

Let's face it: JaVale McGee is having the dumbest season in NBA history, and I don't really think it's even that close. Sure, guys have been suspended for various drug offenses and a few guys have run into the stands to fight fans, but strictly speaking about behavior on the court, McGee is a runaway.
I'm interested to see how well he fits in with a fast-paced Nuggets offense that prides itself in having everyone know what's going on at all times.
Can McGee really do that? Or is the thin air going to get to him and keep him from making the few smart plays that he does?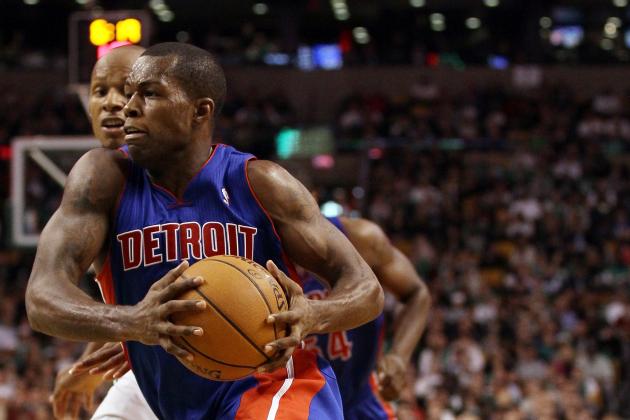 Elsa/Getty Images

The Detroit Pistons need a good lottery pick more than any other team that isn't in the playoff race at this point.
Not only are they stuck with players they brazenly picked up between eras, but they are clinging to a few players from their glory days like it's going to make a difference.
Detroit needs a good lottery pick to convince them to forget about the past, cut their losses and move on. They've got no reason to keep a hold of Ben Wallace and Tayshaun Prince.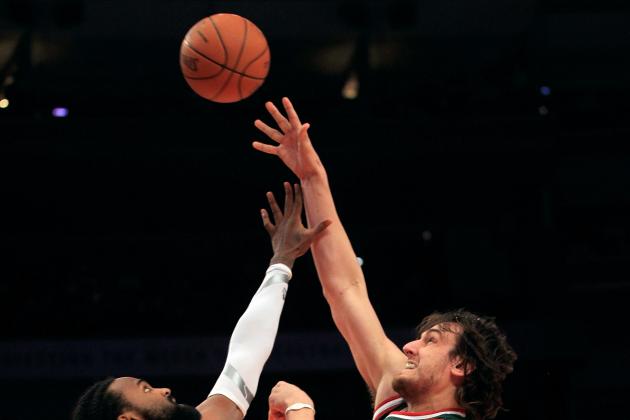 Chris Trotman/Getty Images

When Mark Jackson burst onto the scene as the new head coach of the Golden State Warriors, he promised to put an increased emphasis on defense. Everyone scoffed and rightly so; they just didn't have the players to be a good defensive team.
However, now that Andrew Bogut, one of the best defensive big men in the league, is on their team, you've got to think he's at least got a chance.
Just look at Orlando. They are one of the five best defensive teams in the NBA despite the fact that they have no good defenders outside of Dwight Howard. A big man can transform a team—now let's just get Bogut healthy to see if he can transform this one.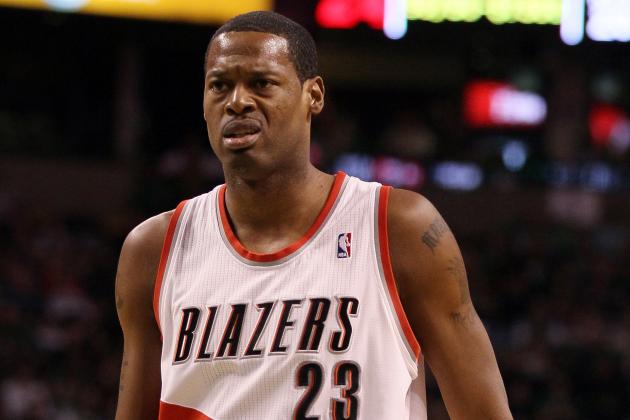 Elsa/Getty Images

The Houston Rockets are currently clinging onto the eighth seed in the Western Conference with Phoenix, Utah, Minnesota and yes, even Portland still within shouting distance.
However, with the addition of a great veteran in Marcus Camby at the trade deadline, you've got to think they've got a good shot at keeping that spot.
Camby is a definite improvement over Jordan Hill and Hasheem Thabeet, both of whom were traded away last Thursday.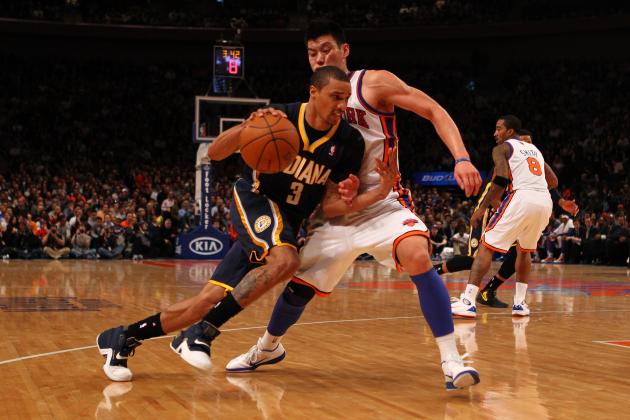 Al Bello/Getty Images

As of right now, the Indiana Pacers have four guards who are fighting for minutes. Obviously Paul George is going to get his, but the other three are going to be elbowing each other for playing time.
Darren Collison and George Hill haven't lived up to expectations this year, which led to Indiana picking up Leandro Barbosa at the deadline, another guard looking for minutes.
Barbosa was the best bench player for Toronto this year, which makes you think that Indy will at least give him a shot at big minutes. Otherwise, it all seems to be up in the air.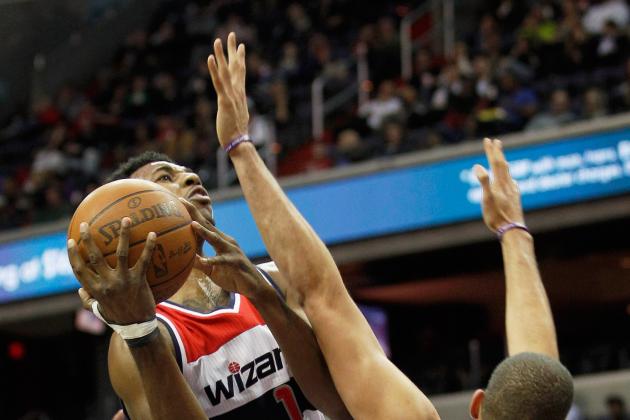 Rob Carr/Getty Images

Much like JaVale McGee getting shipped out to Denver, Washington parted ways with Nick Young for a draft pick and a Brian Cook-sized human to eat up space, in part because of the way Young played.
Young is a great talent, he just doesn't have the basketball mind that you would hope an NBA player to have.
He's constantly jacking up shots regardless of how much time is left on the shot clock and with no regard to how he'd been doing so far that day.
If he can control himself a bit better on the Clippers, this could end up being a great move by Los Angeles.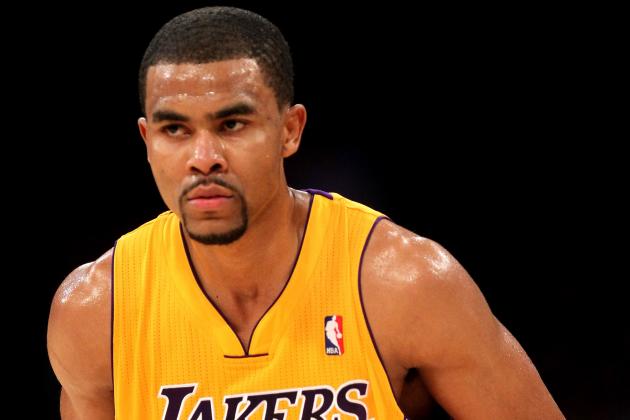 Stephen Dunn/Getty Images

As was expected, the Los Angeles Lakers were very busy on Thursday adding pieces. As we expected all along, they picked up Ramon Sessions.
However, aside from Sessions, the Lakers were able to add Christian Eyenga and Jordan Hill, two very raw talents, neither of which will play huge minutes in the playoffs.
So, with Sessions playing well in limited minutes in his debut (seven points, five assists and four rebounds), do the Lakers feel comfortable with the team they've put together or do they try to add a free agent before the playoffs start?
Basically what I'm saying is that I really want to see Rasheed Wallace back in the league.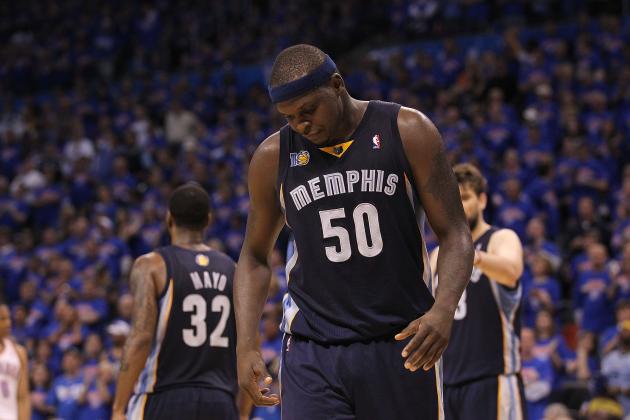 Ronald Martinez/Getty Images

It seems right now that the only way the Memphis Grizzlies will be happy is if they make it to the Western Conference Finals this year. A lot of that will depend on how well this team gels together.
Coming off the bench Friday against the Raptors in his first game since January, Randolph scored 25 points and grabbed nine boards in 25 minutes, so he's seemingly healthy, but his team still lost.
If Randolph can work his way back into the lineup in a way that is complementary to the rest of the team, we could see another deep run by Memphis in this year's playoffs.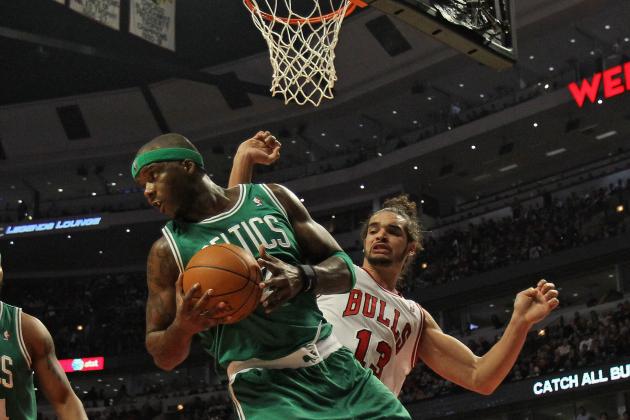 Jonathan Daniel/Getty Images

The Miami Heat weren't able to add anyone before the trade deadline this year (they didn't have much to offer), so they have been involved in a bit of chatter with some of the older fellows who might be either bought out or making a comeback.
Of the guys the Heat are looking at, the two biggest names are Jermaine O'Neal, who is possibly going to be bought out by Boston, and Rasheed Wallace, who is contemplating an NBA comeback. There's also been a word here and there that Miami could look at Chris Kaman or Marcus Camby if either of them are bought out.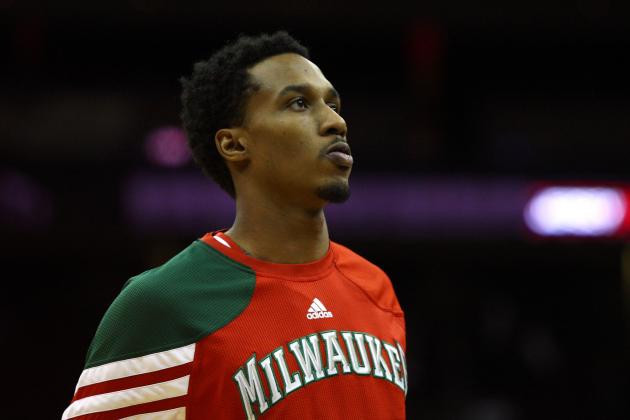 Chris Chambers/Getty Images

Let's get this out of the way right off the bat: Monta Ellis shoots the ball 19 times a game, Brandon Jennings shoots it 17 times a game—that's 36 shots a game coming from the Bucks backcourt.
Does that not seem like a problem?
Well, maybe not. Milwaukee shipped Stephen Jackson and Andrew Bogut out of Milwaukee and those two, when perfectly healthy, end up shooting about 21 times a game, two more than the 19 from Ellis.
On paper, it seems like it might not be that big a deal, but at some point it seems like these two guys are going to have a bit of an issue.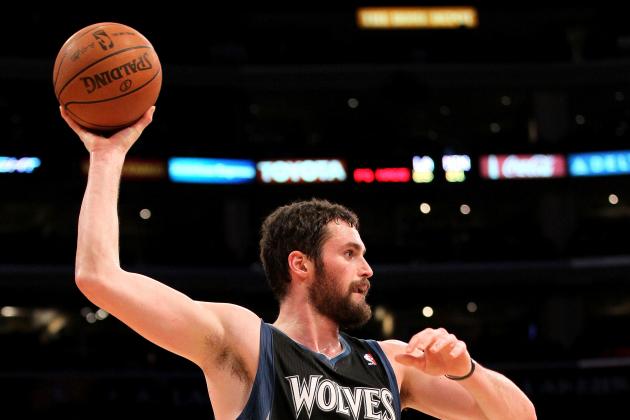 Stephen Dunn/Getty Images

The Minnesota Timberwolves saw their dynamic (yet at times inefficient) point guard go down with a torn ACL just a bit over a week ago, but they're still in the thick of the playoff hunt.
The T-Wolves are just two games out of the playoffs, behind teams that can be described as shaky at best. Utah has been up and down all season and Phoenix has very little talent outside of their top four guys. Houston poses the biggest obstacle.
If Kevin Love continues to play well and the bench for Minnesota steps up, we could be seeing those black Timberwolves jerseys in the playoffs for the first time since Kevin Garnett was rocking the black and blue.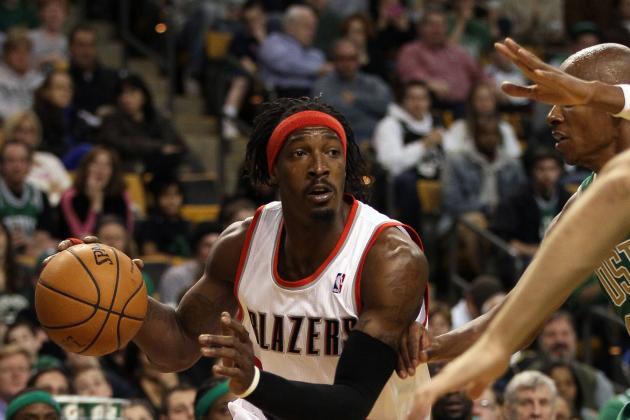 Elsa/Getty Images

It was just three days ago that every Nets fan in America heard the news they had dreaded for a little over a year: Deron Williams is planning on opting out of his contract.
While that doesn't necessarily mean New Jersey will be losing Williams, it definitely puts pressure on the front office to impress him—something they tried to do before the trade deadline by trading for Gerald Wallace.
While Wallace isn't a huge name, he's definitely a good player, but will he be enough initially to show Williams that the Nets are going to do what it takes to put a good team around him?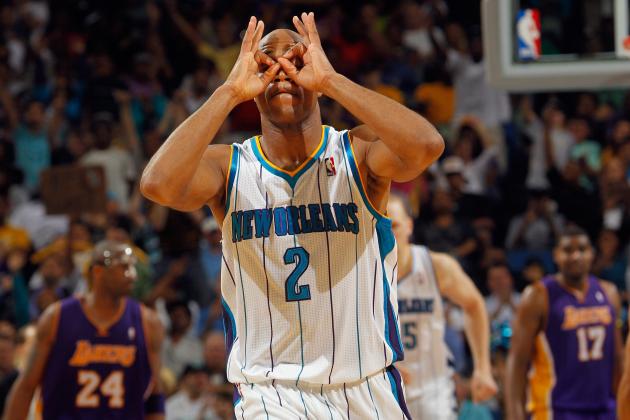 Chris Graythen/Getty Images

Let's face it, the draft lottery can be a bit fishy at times.
New York won the lottery when Patrick Ewing was going to be a player to transform whatever team he went to and David Kahn hinted to the past two lotteries having some foul play involved when the Cavs grabbed two of the top four picks last year.
With all that in mind along with the fact that New Orleans still doesn't have an owner, isn't it possible that David Stern makes that franchise just a tad more valuable with by throwing a number one pick their way?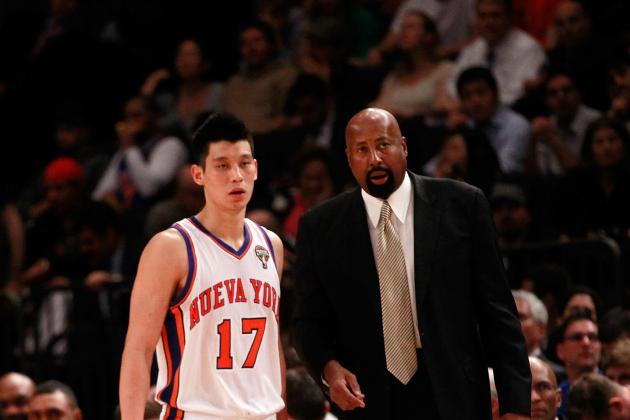 Chris Trotman/Getty Images

They've only played three games since Mike D'Antoni stepped down as the head coach of the New York Knicks, but already people are starting to talk about the team's turnaround.
The Knicks have won all three games by a combined 71 points, including a 42-point beatdown that they handed to Portland.
Does that mean they are rallying behind their new coach Mike Woodson on a playoff push, or are they just going through a new coach high before they fall back down again?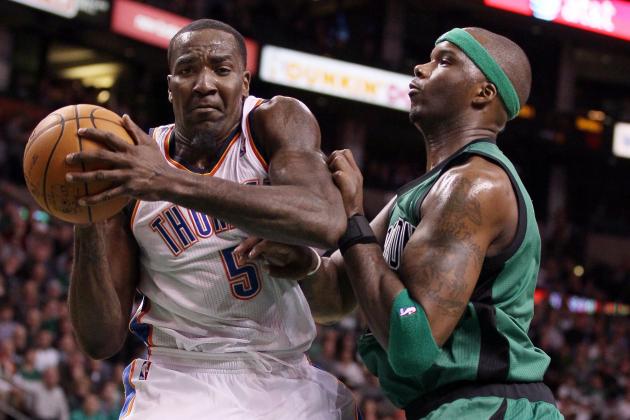 Elsa/Getty Images

The Oklahoma City Thunder are the most talented team in the Western Conference—that's something that isn't even a debate at this point—but are they favorites to win the West?
There are still questions surrounding their crunch-time performances, between whether or not they can play Serge Ibaka and Kendrick Perkins when they need offense late to whether or not Russell Westbrook shoots too much.
A loss on Friday night to the San Antonio Spurs has people mumbling that maybe there are still a few kinks to work out. Only time will tell.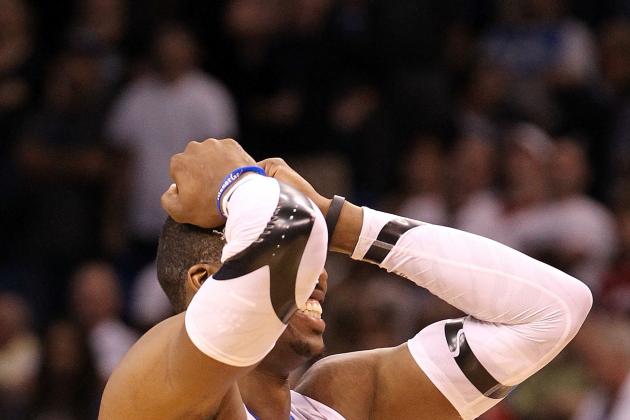 Sam Greenwood/Getty Images

Before the trade deadline came and went, Dwight Howard told his team that he would be sticking around for the life of his contract rather than opting out after this year.
However, all that means is that Dwight Howard pushes his free agency back another year, meaning he is going to be a free agent at the end of next season so long as he doesn't sign an extension.
While the Magic are the third-best team in the East and are looking at a playoff run, the biggest question in my mind is how long will it take for this whole process to start again? It's only a matter of time before we hear word that Orlando is looking for a suitor for Dwight.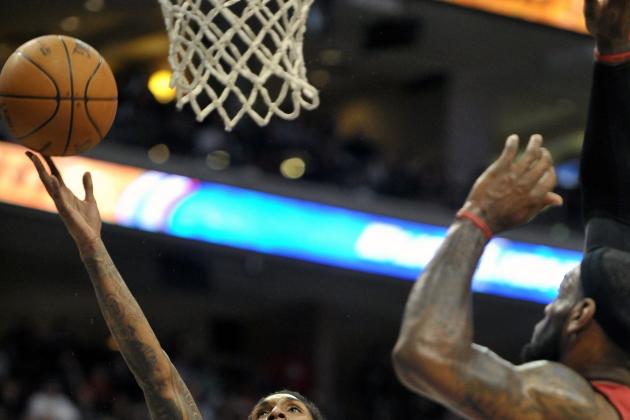 Drew Hallowell/Getty Images

The Philadelphia 76ers made a small move bringing in Sam Young before the trade deadline, but it's not a blockbuster that is going to change much going forward.
The question that remains, especially after losing to both Miami and Chicago this weekend, is whether or not they'll be able to knock off one of those top-tier Eastern Conference teams.
Philly is currently matched up with Indiana in the fourth spot in the East, but a second-round matchup with the number one team would loom, were they to get out of the first round.
Christian Petersen/Getty Images

The Phoenix Suns are depending on two guys nearing their fourth decade on this planet, the best cager ever to come from Poland, Jared Dudley, Markieff Morris and a bunch of scrubs to get them their wins.
But you know what? They aren't that bad.
Sitting at 23-22 and riding a four-game winning streak after beating the Rockets last night (who just so happen to be the team that they're chasing for the eighth seed), Phoenix is starting to surprise people.
Maybe Steve Nash still has a bit of magic in him that he can burst out.
Chris Trotman/Getty Images

The Portland Trail Blazers pretty brazenly gave up on this season at the trade deadline, giving away Marcus Camby and Gerald Wallace for four guys who are far from useful to a playoff-bound team.
So where do they go from here?
It's obvious that Jamal Crawford hasn't filled Brandon Roy's slot half as well as they'd hoped and Raymond Felton is doing even worse.
Are they going to retool with free agents this offseason or are they going to try to clear out their roster and rebuild around LaMarcus Aldridge?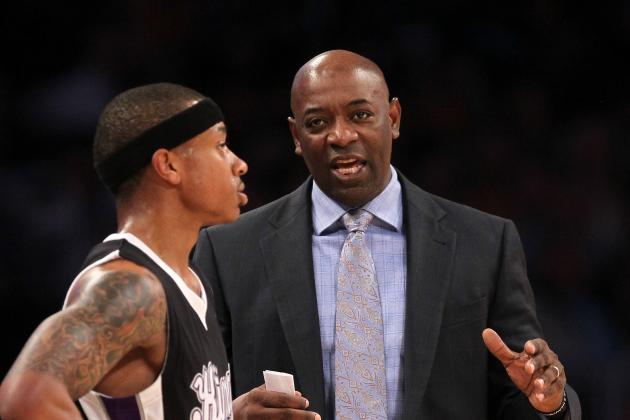 Stephen Dunn/Getty Images

The Sacramento Kings aren't a playoff team this year—that's a given—but how far off are they, really?
Sacramento is 10-14 since the beginning of February, which doesn't sound like much, but compare that to their 6-15 December and January and you've got yourself an improving team.
DeMarcus Cousins is starting to do fewer bone-headed things throughout the course of each game and Marcus Thornton and Tyreke Evans are on the verge of (gasp!) complementing each other.
If you ask me, given a good draft pick and a free agent addition, this team could be a playoff team next year, if not by 2014.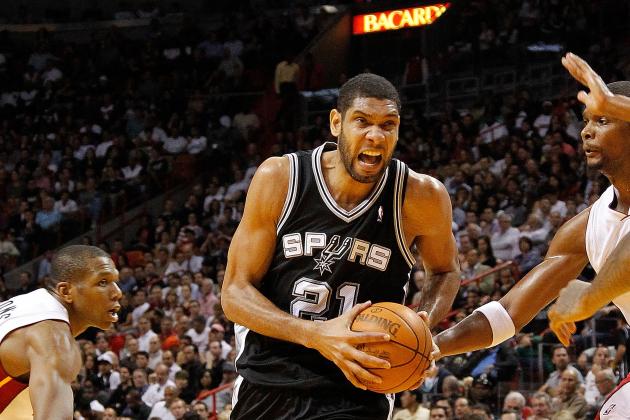 Mike Ehrmann/Getty Images

The whole "The Spurs are too old to win a title" card has been more overplayed than a Lady Gaga song in the past year, but here they are in March with the second-best record in the Western Conference.
What we have in San Antonio is a surprisingly good offensive team that still knows how to slow the game down and play defense. Isn't that what every team strives to be once the playoffs come around?
It seems to me that as long as they don't draw a deadly matchup in the first round (which still means Memphis), this team has a shot.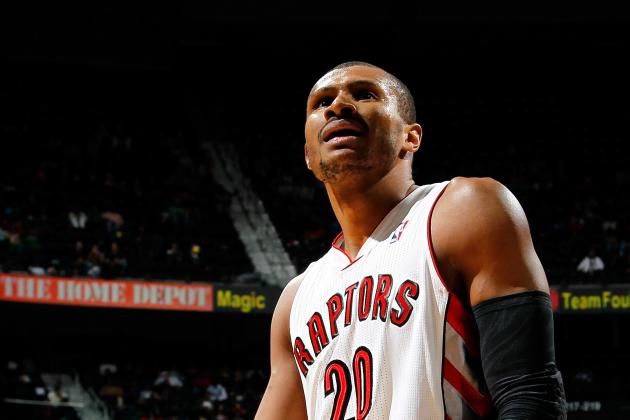 Kevin C. Cox/Getty Images

The Toronto Raptors just traded their sixth man and third-best player for a second-round pick. If that's not dumping players for a better draft pick, then I don't know what is.
It seems to me that the Raptors could have gotten a bit more out of Leandro Barbosa, but they seemed eager to dump someone who wasn't in their future plans at the deadline.
Toronto is sitting at 15-30, but that only makes them the fifth-worst team in the league and it seems to me that they are striving for a top-three pick to grab Harrison Barnes.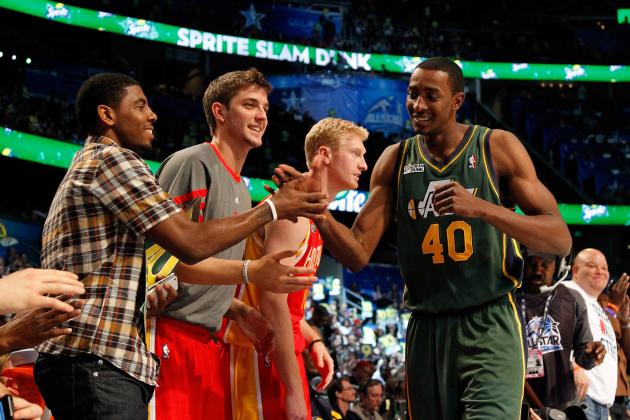 Mike Ehrmann/Getty Images

The Utah Jazz are in the playoff race, but they have a few kinks to work out if they're going to make it into the postseason.
Utah is a pretty good team offensively, scoring nearly 98 points a game (above average for this season), but they are allowing more than 98 points each game, fourth worst in the NBA.
Should Utah ratchet up the defensive intensity, it seems as if they could make a run for that final playoff spot.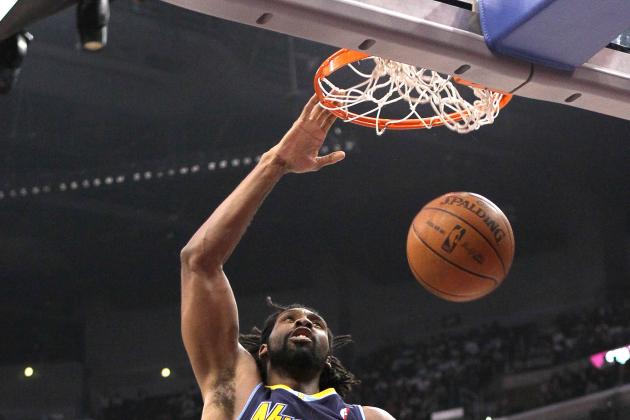 Stephen Dunn/Getty Images

When the Wizards traded for Nene, the biggest thing they wanted to do was get rid of the knucklehead mentality that was quickly taking over their team.
However, getting Nene in return could turn out to be a huge boon for their team—that is if the big man stays healthy.
Nene has played in just 28 games so far this year, and for a guy that just signed a big contract in the offseason, that's not enough to get the job done.
A healthy Nene could do a ton for not only the talent level of this team, but also their work ethic, which is something they sorely need to improve.
If you are one of those twitterers, you can follow me @JDorsey33.