The Ten Greatest NFL Coaches of All-Time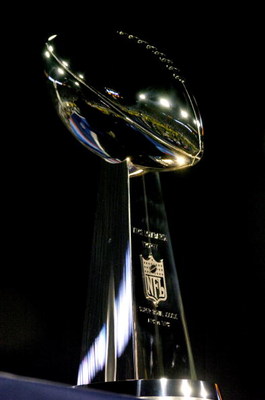 A look at the 10 greatest coaches in NFL history. I am not a football historian, so my inclusion of pre-merger coaches will be limited, but I feel many of the best coaches have coached in the Super Bowl Era.
But if I have missed one that you feel is inexcusable (very possible) let me know. Please keep it civil and enjoy!
#10 Bill Belichick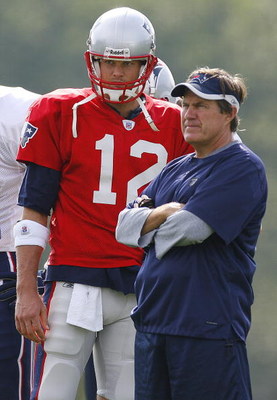 Possibly the greatest X's and O's coach ever. He just plain understands how to coach football. Another outstanding judge of talent, Belichick uses draft picks and other team's cast offs to create powerhouse teams.
Belichick has amassed 153 wins including three Super Bowls, has created QB legend Tom Brady, and has one of the most adaptive defensive schemes in the history of the game. His teams are masters of efficient fundamentals and nuances of the game.
The name Bill Belichick will generate a great deal of debate because of what surrounded him in the 2006 season. If you bring that up, I must ask you to also bring up the allegations of steroid use by Chuck Noll's Steel Curtain, and Vince Lombardi's tendency to hide injuries and make players play severely hurt.
The 2008 season cemented Belichick's growing legend when he lost Tom Brady in the first game of the season and plugging a QB that hadn't played since high school for a 11 win season.
Belichick is a Top 10 coach and with plenty of time left to work his way up this list.
#9 Bill Walsh
The only man on this list to win less than 100 games, his head coaching career was very short, only really coaching through the 1980s. But this was the decade of Bill Walsh.
Bill Walsh is the father of the West Coast Offense, which torment NFL defenses to this day. Walsh also knew how to find the talent needed for his offense, drafted one Hall of Fame QB in Joe Montana, traded for another Hall of Fame QB in Steve Young, and traded up to draft the greatest WR ever in Jerry Rice.
While he only has 92 victories, his three Super Bowls in eight years speak for themselves. As does his coaching tree, which is too large to feature, but includes names like Tony Dungy, Mike Holmgren, Mike Shanahan, Ray Rhodes, and Dennis Green.
Sadly, the world lost Bill Walsh at the age of 76.
#8 Bill Parcells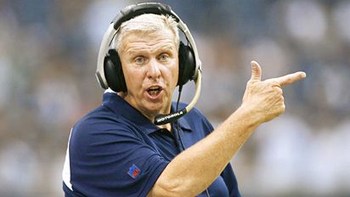 Some men are just meant to be in the profession they are in, and Bill Parcells was born to lead winning football teams.
Bill Parcells assembled a record of 172-130 record across four NFL teams; all of them struggling-to-absolute jokes when he arrived, and all of them powerhouses when he left.
Even when including the 2008 Dolphins (1-15 the year before he arrived), every team Parcells has been apart of as a head coach or higher has made the playoffs at least once.
He has won 11 Playoff Games, two NFC Championships, one AFC Championship, and two Super Bowls. He created the pass rushing menace Lawrence Taylor, put the New England Patriots on their first steps towards a dynasty, and even controlled T.O. for a few years.
#8 I give to the master of the turn around, Bill Parcells.
#7 Joe Gibbs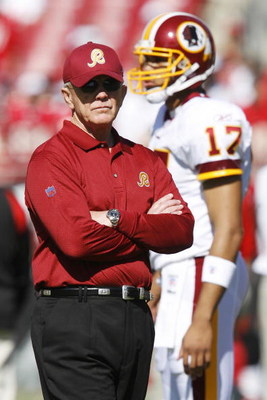 The hero of the Redskins and a terror of the NFC East, Joe Gibbs makes this list with 154 victories and three Super Bowl rings all with the Redskins, a rarity in this modern game of football.
A pass happy coach who understood the importance of the running game. He created the single back, double TE set to naturalize the great Lawrence Taylor's pass rushing ability.
Gibbs is a deserving top 10 coach for sure.
#6 Tom Landry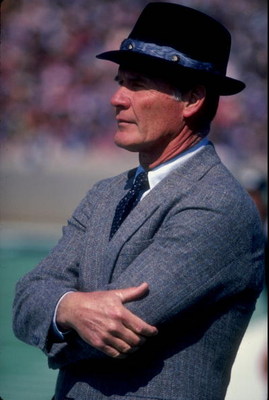 Third on the list of all-time wins, the man who made the Cowboys "America's Team," and a Texan through and through.
The mastermind of the 4-3, the most common base defense in the NFL today.
Won five NFC titles, but had serious trouble with Chuck Noll-led Steelers teams (who didn't?), and won two Super Bowls. This is both impressive because one Super Bowl win is hard enough to come by, and disappointing considering his five trips to the big one.
Due to this conflicted feeling I must rank Tom Landry #6, which in the larger picture is still outstanding (so get off my case Cowboy Fans).
#5 George Halas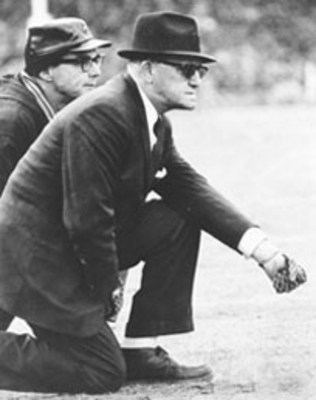 Papa Bear, a football lifer. He played, coached, and administrated until the day he died.
For a long stretch of NFL history he was atop the career wins list with his 318 wins. He started the first NFL dynasty winning six NFL championships in three decades.
His eye for talent was astounding; under his care from 1920 to 1983, the Bears had more Hall of Fame players than any team. This list includes truly great players like Gale Sayers, Sid Luckman, Dick Butkus, Mike Ditka, Red Grange, and Walter Payton.
George Halas could be the single greatest Football administrator, but as for coaching he never faced AFL competition, so I have a hard time putting him number #1 or #2. But every year, the winner of the NFC hefts the George Halas trophy for good reason.
George Halas is your fifth greatest coach of all-time.
#4 Don Shula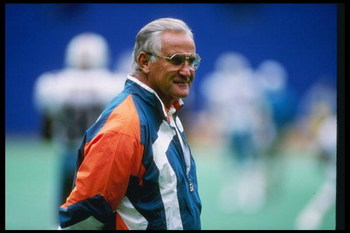 The captain of the 1972 Perfect Dolphins, Don Shula is a true heavyweight in the world of coaching.
With an impressive 328 wins and only 156 losses, he is the winningest coach in the history of the NFL. He took two franchises to the Super Bowl—once with the Colts and three times with the Dolphins—led an undefeated team, and has back-to-back Super Bowl victories.
Don Shula clearly belongs in this elite class of NFL coaches.
#3 Chuck Noll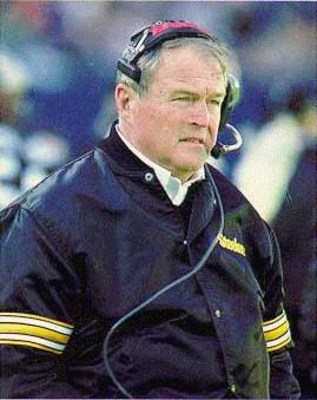 A fistful of Super Bowl rings defines this great coach. The most Super Bowl wins of any coach, and he didn't inherit a great team; he built it. One of the greatest talent assessers of all-time, he took 3 Hall of Fame players in the epic 1974 Draft.
He is a perfect 4-0 in Super Bowls, including two over Tom Landry-led Cowboy teams.
Four Rings, 16-8 in the playoffs, and turning a NFL franchise that was a joke into one of the most lasting powerhouses in the NFL to this day. Chuck Noll is #3.
#2 Paul Brown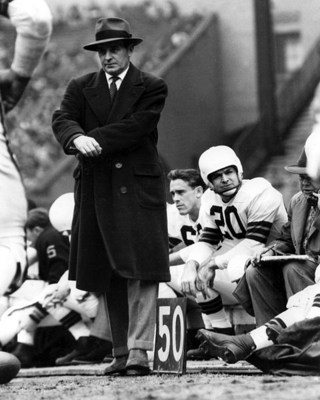 If someone asked who is the greatest teacher of football ever, Paul Brown's name jumps to the top of the list.
This man has coached at every level of football: high school, college with Ohio State, a Naval Base Team, and two professional teams. He was so successful, the Cleveland franchise he lead to so many championships took his name, calling themselves the "Browns".
His professional record stands at 213-104-9, with seven Championship seasons. Impressive enough on its own, but the thing that really puts Brown over is the list of great coaches that either played under him or coached under him:
* Blanton Collier (coach)
* Weeb Ewbank (coach)
* Abe Gibron (player)
* Sid Gillman (coach)
* Otto Graham (player)
* Bill "Tiger" Johnson (coach)
* Chuck Noll (player)
* Ara Parseghian (player)
* Lou Saban (player)
* Don Shula (player )
* Bill Walsh (coach)
* Sam Wyche (player and head coach under team president Paul Brown)
#1 Vince Lombardi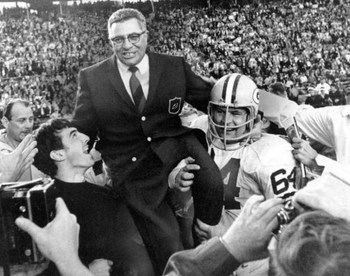 Its hard to argue with the career of Vince Lombardi; his impressive 96-34-6 record is one of the best in all of sports. And his 9-1 record in the playoffs is amazing.
His tough love and winning-at-all-costs define a generation of coaches in all sports—for better or worse—but his drive to win is undeniable.
Seven Championships, including five in a row when NFL Championships are combined with Super Bowl wins. He is second only to John Madden in winning percentage—with coaches with over 100 wins—in NFL History.
There is a reason the Super Bowl winners carry a trophy baring his name.
Vince Lombardi is still the greatest coach of all-time.
Keep Reading