Purdue vs. Kansas: TV Schedule, Live Stream, Spread Info and More
March 17, 2012

Ed Zurga/Getty Images
After avoiding the curse of the No. 2 seeds in the first round, the Kansas Jayhawks face another upset-minded foe tomorrow in the Purdue Boilermakers.
Matt Painter's unsung No. 10 seeds barely survived a furious St. Mary's rally to advance to the round of 32.
Where: CenturyLink Center (Omaha, NE)
When: Sunday at 8:40 p.m. ET
Watch: TNT, or live stream at ncaa.com/march-madness
Listen: Purdue—WSHP-FM 95.7; Kansas—KLWN-AM 1320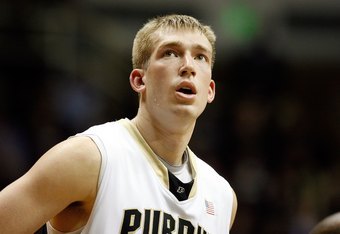 Andy Lyons/Getty Images
Betting Line
Kansas -8, according to docsports.com. Unless Purdue plays an entire game as badly as they did in limping through the Saint Mary's comeback last night, Kansas will be hard-pressed to cover that spread.
Key Injuries
Kansas guard Tyshawn Taylor (cramps), expected to play per CBS Sports.
What's at Stake?
Bill Self's Jayhawks would love to shed their reputation for wilting against decisive underdogs (VCU, Northern Iowa…) in NCAA tournament play. For Purdue, a Sweet 16 berth (or better) would be a great sendoff for Robbie Hummel now that he's finally healthy and at the top of his game.
What They're Saying
Kansas star Thomas Robinson pointed out that the upset woes of other No. 2 seeds has given his team some extra incentive. "We didn't…make it a big deal," he told the Kansas City Star, "But it did wake us up a little bit, give us energy for the game."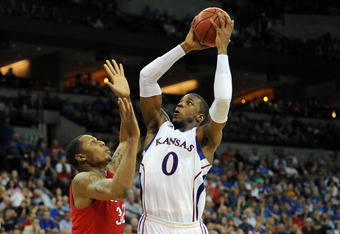 Eric Francis/Getty Images
Purdue's Lewis Jackson, who hit the game-saving free throws with 22.8 seconds left after his team had blown a 13-point lead to Saint Mary's, told the Indianapolis Star that he relished the pressure. "I didn't want it any other way. You think about it as a little kid…about living in the moment."
Most Important Player to Watch
Kansas power forward Thomas Robinson is Anthony Davis' only serious competition for the Wooden Award. He gives the Jayhawks their most decisive edge over an undersized Boilermakers team, so if he struggles, Purdue could easily spring an upset.
Key Matchup
Purdue point guard Lewis Jackson vs. Kansas point guard Tyshawn Taylor. The 6'3" Taylor will have a substantial physical edge over the microscopic 5'9" Jackson, but Jackson's quickness has frustrated plenty of other big guards and could get Taylor out of his game.
Prediction
As long as Kansas doesn't relax against an apparently outclassed opponent, they should be fine. Purdue's Hummel will get his points (even against Kansas' daunting size), but the Jayhawks should dominate on the glass and get enough scoring from Robinson and Taylor to hammer out a victory.