Current Champions in the WWE Are Embarrassing
March 18, 2012

While looking at the WWE.com's Superstars page, I had a little epiphany. How the heck are these guys the champions in the WWE?
If you ask a non-professional wrestling fan to define professional wrestling, the answer would be something like, "huge guys on steroids beating each other up." However, if you look at the current champions in the WWE, you would think otherwise.
The WWE and professional wrestling for that matter has risen to popularity on the backs of guys like Hulk Hogan, Andre the Giant, The Rock and Stone Cold Steve Austin.
The WWE used to have champions that were larger than life and you wouldn't even consider stepping toe-to-toe with one of them. The only current champion that you wouldn't think about getting in a fight with is probably Beth Phoenix.
If you look at guys like the Undertaker, Brock Lesnar and even John Cena, they are unique physical specimens. That is not the case with the current champions.
CM Punk has a huge fan base and is a very skilled in-ring wrestler. However, his physical appearance just doesn't connect when he tells people he is going to beat them up. This makes you wonder how long Punk will last as champion if Cena comes back in the title picture.
The current World Heavyweight Champion, Daniel Bryan, has beaten both Big Show and Mark Henry multiple times in route to his title reign. His dominance over those 400-pound superstars is kind of unbelievable. He is arguably the best technical wrestler today, but his size is lacking.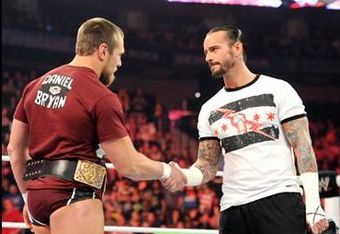 A few months back, Batista ripped the WWE for putting the belt on Bryan. He wrote on his Twitter, "excuse me! did i hear that right? Daniel Bryan World Heavyweight Champ. ummmmmmm.....ok." As much as I hate Batista ripping the company that brought him fame and wealth, he does have a point.
Bryan is 5'10'' and 210 pounds. Someone that size belongs in the much-needed Cruiser-weight division. It is just difficult to believe that he would have a chance against Sheamus because of their size difference.
The WWE and World Heavyweight Champions are supposed to be dominant superstars, who can beat anyone in the company. However, the physical size of both Punk and Bryan does not scream out "dominant."
Although, having one of these two hold one of the top belts at the same time that someone more physically impressive holds the other is more believable. But having them hold the belts at the same time is just too unbelievable.
As for Santino Marella currently holding the U.S Championship, I believe it will be a short run and they are just riding the wave of underdog popularity.
It does take away from the credibility of the U.S title because for a while, Marella was only used as comic relief. The thought of him winning matches on a regular basis, let alone being a champion, was not too perceivable.
Cody Rhodes has had a nice run as Intercontinental Champion. He actually has done a nice job with bringing the title back to relevance. He has the look of an Intercontinental Champion, but does he have the look of being a World Heavyweight Champion? I don't think so.
When he eventually does lose the belt, you would think he would move into the Main Event picture and contend for the Heavyweight title.
The current WWE roster is lacking talented superstars who are larger than life. The WWE has to do a better job recruiting talented wrestler who are physically imposing. If you compare past champions like Hogan or the Ultimate Warrior, does Punk or Bryan stand a chance?