TNA: Victory Road 2012 Preview & Predictions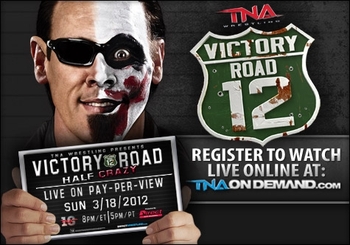 TNA and Direct Auto Insurance present Victory Road live this Sunday, March 18, on pay-per-view.
Victory Road will take place live from Universal Studios Orlando, Florida.
There are eight matches announced for the card. Half of those matches will see a championship on the line. The Tag Team, X Division, Television and Knockouts Championship will be at stake.
Tune in to see IMPACT stars such as Bobby Roode, Sting, AJ Styles, Austin Aries, Samoa Joe, Magnus, Gail Kim, Mr. Anderson, Kurt Angle, James Storm and more.
This year's Victory Road event looks to overshadow last year's notorious pay-per-view.
Robbie E's Open Challenge for the Television Championship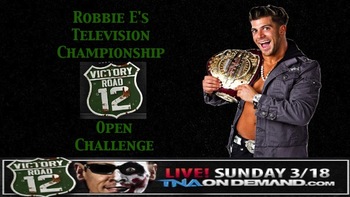 Despite not being originally booked for Victory Road, Robbie E went out of his way to offer an open challenge to anyone for his Television Championship.
That's just what kind of champion he is, bro!
The question here is, how'd I get such a good picture? I made it.
Okay, that wasn't my original question.
Who will accept Robbie's challenge?
I have several people in mind: "The Pope" D'Angelo Dinero, Devon, Douglas Williams, Gunner, Rob Terry or possibly someone on the OVW roster.
TNASwerve.com reports that OVW Heavyweight Champion Johnny Spade and former reality TV star Jessie Godderz were traveling and appearing during IMPACT Wrestling live events. It is possible for an OVW talent to answer the call, but it's unlikely.
TNAsylum also reports Devon rejoining the IMPACT crew on live events.
I wouldn't imagine that whoever accepts the challenge will have very good odds of winning—especially since this was added at the last second, almost like a filler match.
The question is more of who will accept rather than who will win, in my opinion.
Winner: Still Champion, Robbie E
Madison Rayne vs. Gail Kim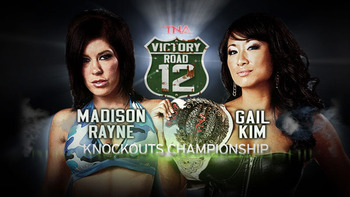 Two former friends turned rivals battle for the Knockouts Championship.
As much as I'd like to see Madison win (Gail's reign has bored me, lately), I can't see it happening.
There's just no point, the way I look at it.
One of TNA's biggest pay-per-views—Lockdown—is just a month away.
Lockdown always attracts some of TNA's largest audiences, and having Gail drop the title there would make much more sense compared to losing it to another heel in the IMPACT Zone.
I see Gail Kim retaining at Victory Road.
I just see Gail dropping the title to a face opponent at Lockdown in front of the bigger crowd.
Winner: Still Champion, Gail Kim
Zema Ion vs. Austin Aries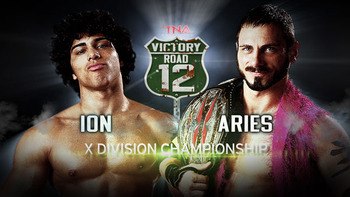 Many people have begun to question Austin Aries' main event capabilities.
He was tested in the main event not too long ago, and the reception was positive. Most fans want Aries in the main event, but he can't do so until losing the X Division title.
Having Aries lose his title at Victory Road to main event would be stupid.
Why?
Because the Lockdown main event is already set! It's James Storm vs. Bobby Roode. Having Aries lose the belt to get a main event push leading to Lockdown would be pointless.
Aries should defeat Ion on Sunday and continue to brag about having no challengers. From there, a match involving every X Division wrestler should be booked at Lockdown—very much like last year's Xscape match but for the title rather than a No. 1 contender's spot.
Having multiple wrestlers team up on Aries to eliminate him would make him look stronger and help his chances at main eventing more than losing to Ion one-on-one.
Ion vs. Aries should definitely produce a good match, but Ion has only had about one month's worth of hype. Aries is now the longest reigning X Division Champion in TNA history.
After Sunday, I expect this record-setting champ to keep his belt.
Winner: Still Champion, Austin Aries
Matt Morgan & Crimson vs. Samoa Joe & Magnus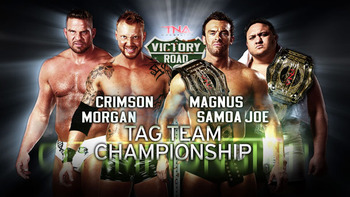 I think it's pretty cool that these teams fought at Genesis, Against All Odds and now Victory Road. Just saying...
However, this is the last time I expect to see these teams face off. Why?
I believe one of them is due for a split.
Crimson and Matt Morgan have shown miscommunication and frustration with each other ever since losing the titles in February. Crimson has shown a more arrogant side as of late and seems to be on the edge of a heel turn.
One more miscommunication, and this pairing of Morgan and Crimson is done for. I think that one bump will take place this Sunday, costing them their match, thus having the two brawl mid-ring with each other.
Winners: Still Champions, Samoa Joe & Magnus
Bully Ray vs. James Storm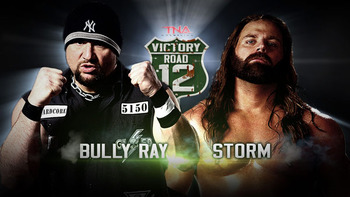 With Storm's pending World Championship match, I think this one should be easy to call.
Having Storm lose here would just be poor booking while moving towards Lockdown. James Storm is going to need all the momentum he can get going towards April 18.
This match should be an obvious call, but should not upset.
Both guys are great in-ring workers and have match of the night potential.
James Storm should defeat Bully Ray and continue to pick up momentum for weeks to come.
Winner: James Storm
AJ Styles & Mr. Anderson vs. Daniels & Kazarian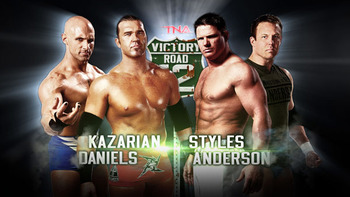 This match is a tough one to decide.
On the one hand, Anderson just returned. This is his second televised match of 2012, and you wouldn't expect him to lose, right?
On the other hand, I believe this feud could culminate into a Lethal Lockdown match.
If Crimson does turn on Morgan, then we'll have three wrestlers on each team.
Team AJ (AJ Styles, Mr. Anderson, Matt Morgan &TBA) vs. Team Daniels (Daniels, Kazarian, Crimson & TBA) could be the perfect way to end this feud.
With Mr. Anderson just recently sticking his nose into this feud, I do expect him to lose. It'd be weird having him get involved just two weeks ago to end this feud in a tag match at Victory Road.
I'm looking for Daniels and Kazarian to use some dirty tactics in order to get the win.
Winners: Daniels and Kazarian
Jeff Hardy vs. Kurt Angle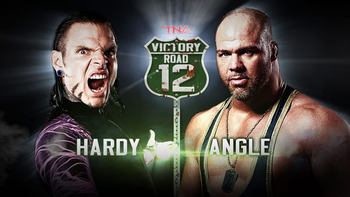 This feud is still just getting started in a way.
We've seen very little from these two big-name stars, and I wouldn't expect it to end at Victory Road.
This match should only throw more fuel on the fire. I'm looking for a disqualification, double count out and anything but a clean finish.
This match is being used to set up a bigger picture for a bigger stage— in Nashville on April 18 at Lockdown.
Kurt Angle has been known to put on show stopping performances at TNA's April annual. The past two years, Angle has wrestled in match of the year candidates.
Double count out or Angle cheating to win is very likely. Just because I said Daniels and Kazarian would cheat to win, I'll change this one up a bit.
DRAW. Match ends in double count-out.
Sting vs. Bobby Roode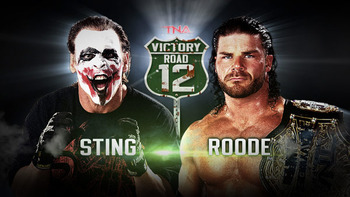 This match has recently had a "No Holds Barred" stipulation added to it—an interesting little twist.
I think the stipulation will help Sting beat the hell out of Bobby Roode even more—use of weapons and all that good stuff. However, I think the stipulation will end up benefiting Roode the most.
Bobby Roode has retained his title by many dirty tactics in the past. Low blows, use of tights, use of ropes, you name it. Granted, this isn't a title match, but Sting just made all those tactics legal.
Having the General Manager defeat the World Champion would just be unacceptable. That's the primary reason why I see Roode winning.
It would make no sense for Sting to win. He won't benefit from this at all.
Winner: Bobby Roode
The End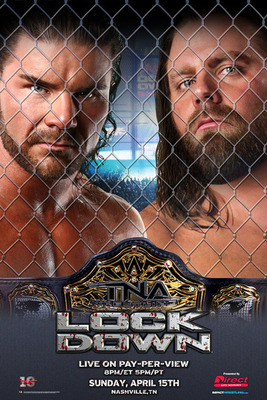 That does it for my predictions. What are yours? Let me know in the comment section.
Be sure to order Victory Road live on pay-per-view this Sunday as well as watching IMPACT Wrestling every Thursday.
The next pay-per-view on the TNA calendar is Lockdown, my personal favorite PPV of the year. Nice poster, right?
Thanks for reading. Happy St. Patrick's Day!
Keep Reading