Alistair Overeem and the 10 Greatest Comebacks in MMA History
Alistair Overeem/ Jeff Cain for MMAWeekly.com
Beginning his career as a light heavyweight, Alistair showed just how effective his 6-foot-5 frame could be against generally smaller opponents.
A powerful striker and underrated grappler, Overeem turned in some eye-opening performances that would indicate that the Dutchman was ready for the big leagues.
However, disappointing losses began to pile up and Overeem's days as an elite fighter in the world of MMA looked to be winding down.
After committing himself to the heavyweight division, Overeem has now been able to bulk up and become one of the most powerful and imposing figures in the weight class.
Undefeated in his last 12 fights, Overeem has came from the pits of obscurity and back into the limelight, much like these next few fighters who altered their paths, whether it be with a punch or a new level of dedication.
Alistair Overeem/ Jeff Cain for MMAWeekly.com
Begin Slideshow

»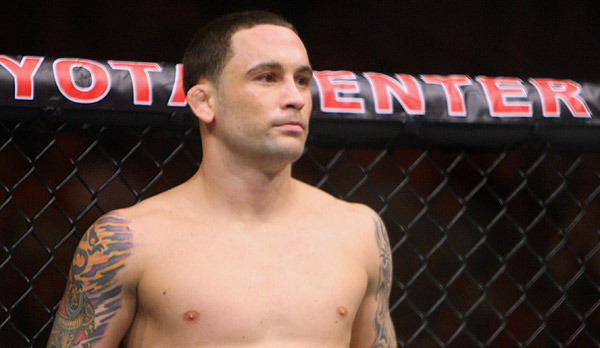 Edgar/ Ken Pishna for MMAWeekly.com
You can pretty much take your pick of any Edgar fight.
His most notable endeavors, though, would have to be the New Jersey native's tussles with rival Gray Maynard.
A product of Xtreme Couture, Maynard owned a previous victory over Edgar some years ago, though they would eventually battle for "The Answer's" lightweight strap in their rematch in 2011.
Maynard rocked and dropped Edgar early, though the wily champion kept his composure and kept the fight close in the later rounds. A little too close, though, as the bout was eventually ruled a draw.
In their rubber match, Maynard again battered Edgar in the opening frame, though his overzealous nature got the better of him in the later rounds.
A fatigued Maynard was picked apart by Edgar as the fight wore on, eventually culminating in a fourth knockout delivered by Edgar, who overcame arguably the biggest obstacle of his career in Maynard.
Twice has the former UFC heavyweight champion suffered from diverticulitis.
The digestive disease kept him sidelined first for the better part of a year, where upon his return to the Octagon Lesnar was slated with the tall task of taking on juggernaut heavyweight Shane Carwin.
"The Engineer" tagged Lesnar early with some big shots, though the ex-WWE star mounted a comeback in the second round, taking down the collegiate wrestler and cinching in a fight-ending arm-triangle choke.
With his second battle with diverticulitis, Lesnar would again be on the mend for approximately a year and though he made a return to the cage, he was not successful in securing a victory against Alistair Overeem.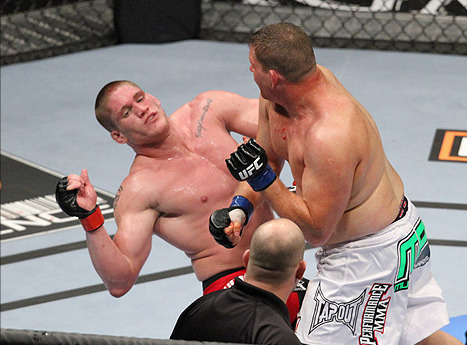 Russow (right)/ Scott Petersen for MMAWeekly.com
After two rounds of getting pounded in the face, Mike Russow looked to be well on his way to an inevitable loss at the hands of rising prospect Todd Duffee.
With a never-say-die attitude and vicious right hand, Russow turned the tides in his heavyweight tilt at UFC 114, knocking out Duffee in dramatic fashion, proving once again that you can never really count the big-man out.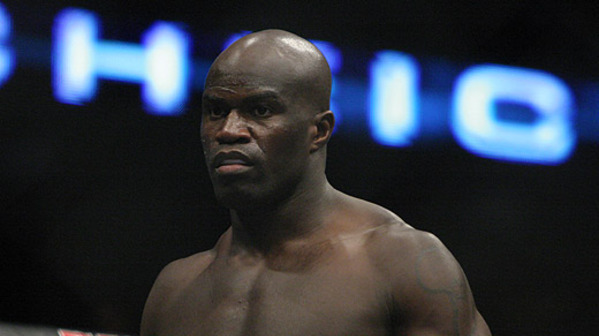 Kongo/ Jeff Cain for MMAWeekly.com
In his battle against Pat Barry, it was a foregone conclusion that somebody was going to get knocked out in that fight.
Early on, Kongo looked as if he would be the victim of the decisive loss, as he was seated multiple times by the heavy-hands of Barry.
Kongo managed to get his wits about him, return to his feet and fire-off a vicious right-uppercut, connecting perfectly on Barry's chin, resulting in a dramatic come-from-behind victory for the Frenchman, who coincidentally earned "Knockout of the Night" and "Comeback of the Year" for his performance.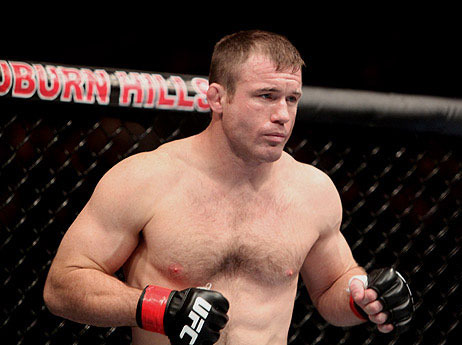 Hughes/ Jeff Cain for MMAWeekly.com
UFC Hall of Famer Matt Hughes has made a career of bullying his opponents.
In his second battles with both Frank Trigg and BJ Penn, Hughes got a small taste of his own medicine.
Against Trigg, Hughes was stunned early with an unseen low blow. Trigg dropped Hughes with a bevy of strikes and looked to have a rear-naked choke all but locked up.
Hughes kept his composure, eventually reversing position and hoisting Trigg over his head, slamming him to the canvas and cinching in his own fight-ending choke.
Against Penn, Hughes was simply outclassed early by the manic Hawaiian, who used his superior grappling skills and striking to frustrate the two-time champion.
As the fight wore on, fatigue set for "The Prodigy" and Hughes was able to control the direction of the bout, eventually securing a TKO finish in the third.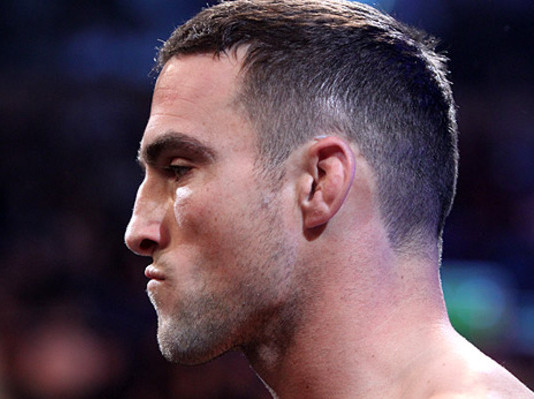 Smith/ Jeff Cain for MMAWeekly.com
"Hands of Steel" is a very apt moniker when describing Smith.
Many times has The Ultimate Fighter vet had to rely on his innate ability to put people to sleep with a single blow.
A glutton for punishment, Smith's calling card in the past has been his ability to weather blows early, later mounting a significant comeback.
Most notably was his battle against friend and castmate Pete Sell at the TUF 4 Finale.
In the final round, Sell doubled Smith over with a vicious hook to the body. Just as Sell waded in for the finish, Smith uncorked a last resort right hand, connecting square on Sell's chin whilst earning the knockout finish.
Battles against Benji Radach and Cung Le have looked eerily similar, making Smith one of the most dangerous men to step in the cage with.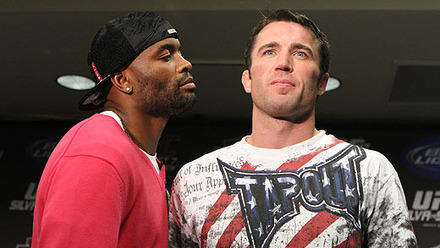 Silva/ Scott Petersen for MMAWeekly.com
Though he entered the underdog, Sonnen quickly earned the respect of the MMA community when he gave Anderson Silva a thorough beating for nearly five rounds of action.
The wrestling ace managed to drop Silva on several occasions before grinding on the Brazilian with a heavy dose of takedowns and ground-and-pound.
With less than two-minutes remaining in the fight, Sonnen was caught off-guard by the jiu-jitsu black belt, who locked in a triangle-armbar in the waning moments of the fight.
Silva kept his title as he elicited the tapout from Sonnen.
Huerta/ MMAWeekly.com
Stepping up to the big leagues of the lightweight division, Huerta was down and out on the scorecards heading into the final round of his battle with veteran Clay Guida.
After being taken down and hurt by a Guida right hand early, Huerta knew that he was behind on points and knew nothing less than a finish would secure him a victory.
Huerta rocked Guida with knees to the face, wilting him to to the mat where a rear-naked choke sealed the deal, earning Huerta the emphatic win in the process.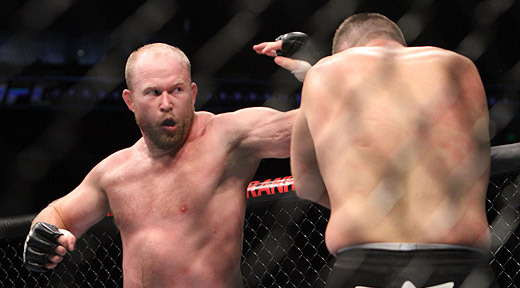 Boetsch/ Scott Petersen for MMAWeekly.com
At UFC 144, Tim Boetsch had arguably the biggest test of his career in front of him in former title challenger Yushin Okami.
"The Barbarian" was dominated early by the Japanese fighter, who bludgeoned Botech's face on the feet with accurate and sharp strikes meanwhile mixing in takedowns with a heavy array of ground-and-pound.
Heading into the third, Okami looked to be well on his way to securing a finish or the inevitable decision, though Boetsch had other plans in mind.
The heavy-hitter turned the fight into a brawl, throwing bombs at Okami, with some connecting.
Sensing the finish, Boetsch closed the distance and drove home some devastating uppercuts in the clinch, securing the third round TKO finish.
Depleting himself to make the 205-pound limit, Overeem never had the chance to really allow his strengths to shine, that is until a move to the heavyweight class became permanent.
Overeem had toyed around with the idea for years, though in 2007, after securing the Strikeforce heavyweight strap, "The Demolition Man" made the 265-pound class his home.
From there, Alistair enjoyed success both in MMA and in K-1, earning the prestigious World Heavyweight Grand Prix title in 2010 after defeating the likes of Tyrone Spong, Gokhan Saki and the legendary Peter Aerta all in one night.
Now, Overeem resides as the UFC's No. 1 contender after dispatching former champion Brock Lesnar with a first round TKO last December, sending the heavyweight great into retirement.