Miami Dolphins Mock Draft: Full 7-Round Projections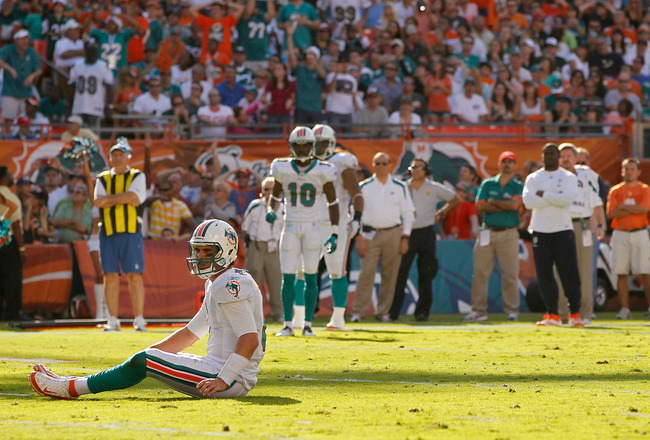 Mike Ehrmann/Getty Images
The Miami Dolphins have eight picks total coming up in April's NFL Draft. The rumors are swirling as to what they may do with each and every pick, and a lot of the conversation is dependent upon free agent QB Matt Flynn. I expect Flynn to sign with the Dolphins and these projected picks are purely based on that.
To me, the Flynn signing makes sense. It is expected that Peyton Manning will either play in Denver or Tennessee and I believe Ryan Tannehill of Texas A&M is a better wide receiver than a quarterback. Selecting him high in the first round will be a mistake.
So without further ado, let us dive right in to the projected selections.
Pick 8, Round 1: Riley Reiff (OT/ Iowa)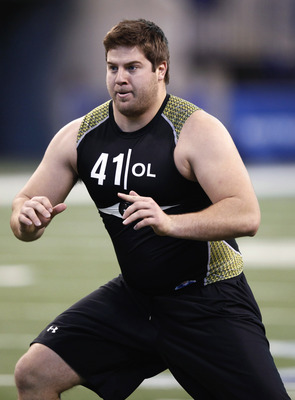 Joe Robbins/Getty Images
Big Ten linemen. I love them. Big, tough, strong, nasty and battle tested.
A few years ago, the Green Bay Packers selected Bryan Bulaga from Iowa in the first round (23rd overall in 2010). Bulaga was a left tackle for the Hawkeyes, but has filled voids for the Packers at guard and tackle in his young career.
Recently, Bulaga was ranked as one of the best right tackles in the NFL by Matt Miller in the Bleacher Report Right Tackle Rankings.
With that being said, Reiff has played left tackle for Iowa and could slide over to the right tackle position and be an immediate upgrade over Marc Colombo, who might be the worst starting offensive linemen in all of the NFL.
Reiff measured in at the combine at just over 6'5" and nearly 315 pounds. Just like Bulaga, Joe Thomas and Jake Long, Reiff was deemed to have too short of arms to be a left tackle in the NFL. He is a decent athlete, not an elite athlete, which makes him a natural right tackle.
Jake Long and Reiff give Joe Philbin good tackles to help keep the QB clean and let the offense march down the field.
Keep in mind that Philbin was an assistant coach at Iowa before accepting a position with Green Bay.
Best Case Scenario: Bryan Bulaga
Worst Case Scenario: Robert Gallery
Pick 42, Round 2: Kendall Reyes (DT/ UConn)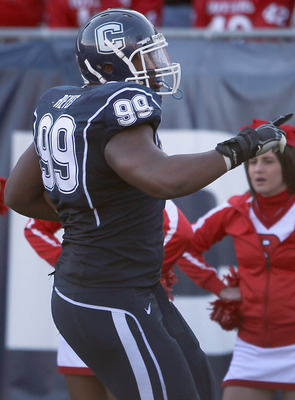 Elsa/Getty Images
Moving to the 4-3 defense means the Dolphins most likely will need to beef up the defensive line and Reyes is as talented as they come. Reyes measured out at 6'4" and just under 300 pounds at the NFL Combine.
He displayed ideal strength as he pumped out 225 pounds 36 times. Additionally, Reyes ran a sub-5 second forty-yard dash and proved his athleticism with a vertical jump of 34.5 inches.
Reyes would fit well with Paul Soliai in a 4-3 scheme allowing Soliai to play on the nose. Reyes could play a flex defensive tackle position and use his strength and athleticism to create match-up problems for opposing offensive lines and free up the linebackers to make plays.
Reyes could also be used a defensive end in certain situations. Reyes logged time at both end and tackle during his playing days for the UConn Huskies. He really started to turn heads at the Senior Bowl as he dominated some of the best linemen prospects in the country.
Best Case Scenario: Darnell Dockett
Worst Case Scenario: Tommie Harris
Pick 73, Round 3: Harrison Smith (S/ Notre Dame)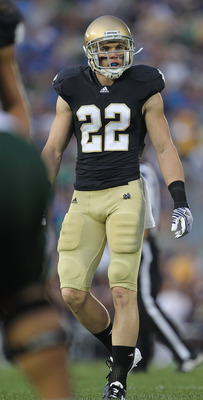 Jonathan Daniel/Getty Images
Harrison Smith is not your typical Notre Dame safety, so before people get upset with this selection here is what you need to know about Yeremiah Bell's replacement.
Smith selected Notre Dame over Tennessee, Alabama and Auburn. Many recruiting services and experts felt that Smith was athletic enough to play either offense or defense. Smith has fantastic size for a head-hunting safety at 6'1" and nearly 215 pounds. For his career at Notre Dame, he had seven interceptions, 31 pass break-ups and 309 total tackles.
Smith runs in the mid 4.5 range in the forty-yard dash and put 225 pounds up 19 times. He has big hands and keeps his hips under control and everything about him just appears to be smooth.
He should develop into a terrific playmaker at the next level. He adds value as he will play special teams and he could even learn under Bell for a year until he takes over as the full time strong safety.
Best Case Scenario: Dawan Landry
Worst Case Scenario: Yeremiah Bell
Pick 74, Round 3: Michael Egnew (TE/ Missouri)
Christian Petersen/Getty Images
Michael Egnew embodies the modern day tight end. He is 6'5" and somewhere in the neighborhood of 250 and 255 pounds. He combines his ideal size with more than respectable speed as he was clocked in the low 4.6 range in the forty-yard dash. Egnew was an All-American during the 2010 season and was named a first team All-Big 12 tight end twice.
Egnew creates problems all over the field as he is too big for defensive backs to cover and he does have enough speed to run by linebackers. He has very good feet and it shows in his quickness and agility as he can make defenders miss.
Egnew is a great athlete and is able to make extraordinary catches largely because of his body control. He plays the ball aggressively in the air using his strong hand and long arms to his advantage. He uses his body very well and is able to wall off defenders and make catches in traffic.
Once the ball is in his hands Egnew knows exactly what to do with it. He is a good athlete and uses that to his advantage in the open field. He has developed a little more attitude over time and lowers his shoulder more often now then he used to.
Egnew is often flexed out and could struggle as a tight end on the line. He will sometimes round off his routes. He needs to develop as a blocker, but Vernon Davis wasn't an exceptional blocker when he came into the league either.
Make no doubt about it, Egnew will be more of a pass catcher early on in his career.
Best Case Scenario: Owen Daniels
Worst Case Scenario: Heath Miller
Pick 103, Round 4: Marvin Jones (WR/ Cal)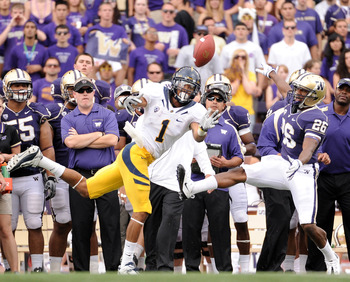 Harry How/Getty Images
Marvin Jones is coming off an excellent showing at the combine. He checked in at 6'1", nearly 200 pounds and ran a 4.46 forty-yard dash. He also had a vertical leap of 33 inches.
While Jones didn't exactly dominate the PAC-12, he has tremendous athletic ability and huge upside as a receiver.
Jones uses his size to his advantage as he is able to shield the defender and gets a lot of clean releases off the line of scrimmage. Jones has good speed, a solid initial burst and is able to cut at top speed.
He runs nice routes and protects the ball after the catch. Rarely does Jones let the ball get in on his body as he attacks the ball in the air and is able to find the soft spot when teams play zone coverages. He has good hip movement which makes him dangerous in the open field.
Also, Jones possesses tremendous strength as he put up 225 pounds 22 times in the bench press at the combine.
Jones impressed a lot of people at the Senior Bowl as he showed he was a vertical threat. He was used on a lot of short pass routes during his time at Cal in Coach Jeff Tedford's west coast offense.
Best Case Scenario: Donald Driver
Worst Case Scenario: Jason Avant
Pick 137, Round 5: Case Keenum (QB/ Houston)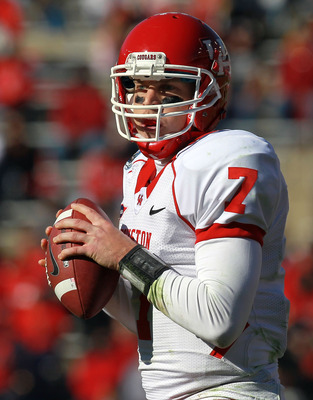 Ronald Martinez/Getty Images
Case Keenum threw the ball all over the place during his college career for the Houston Cougars. Keenum was the point guard for this fast break in shoulder pads that rewrote the history books. Keenum now holds the NCAA's all-time records for total passing yards, touchdowns, and completions.
Yes, he played in a pass happy offense and his numbers are inflated. I am aware of the negative vibes people get when a college system QB, like Keenum, makes the leap to the NFL. The only retort I have for that is Keenum is the only college quarterback to throw for 5,000 yards in a season three times.
Another thing to like about Keenum is that he is 24-years-old and married. He is a mature individual that was granted a 6th year of college eligibility after tearing his ACL early on in the 2010 season.
He faced the adversity head on and came back for the 2011 season to lead the Houston Cougars to one of the best football season in school history; while throwing 48 touchdowns and only 5 interceptions.
Keenum took his troops to the TicketCity Bowl against Penn State and threw for 532 yards, 3 touchdowns and 0 interceptions on their way to a 30-14 victory.
Keenum possesses intangibles that NFL teams love. He is mature and battle tested. Keenum will start off as a solid 3rd option at the QB position. If Joe Philbin brings the Green Bay tradition of grooming quarterbacks to Miami, then this may be a steal and a half for the Dolphins.
Best Case Scenario: Kevin Kolb
Worst Case Scenario: David Carr
Pick 185, Round 6: Joe Adams (WR/ Arkansas)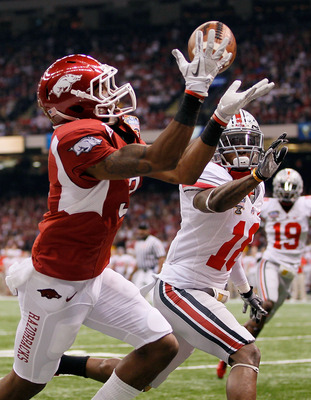 Kevin C. Cox/Getty Images
Joe Adams is one of the most intriguing prospects in the entire 2012 draft. He is a human highlight reel in the return game and when he is not returning punts he is the biggest home run threat for a team's offense.
However, some teams may back off Adams completely being that he had a mild stroke in 2009.
The mild stroke, though, did not take away from Adams, as he was named a first team All-American in 2011 as a returner.
Adams does not have great size at 5'11" and just about 180 pounds, but has a good amount of wiggle in him and sells the shoulder and head fakes on a route as well as anyone. Adams locates the ball very well in the air and has great body control. He can adjust to make the catch.
He is not afraid of going over the middle and taking a big hit either. Adams is good after the catch and is a player that will find his way onto an NFL roster.
Best Case Scenario: DeSean Jackson
Worst Case Scenario: Johnny Knox
Pick 198, Round 7: Rokevious Watkins (OG/ South Carolina)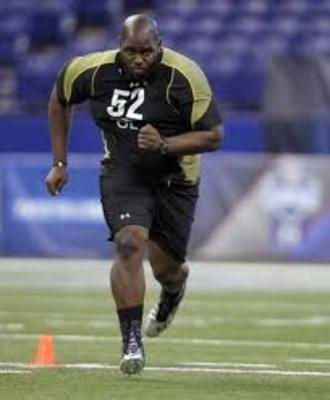 Rokevious Watkins has a great name and is one big bear. Watkins tips the scales at 338 pounds and stands 6'4". He played tackle and guard at South Carolina and was recognized as a second team All-SEC player during the 2011 season.
Watkins is surprisingly athletic for a big fella. He can get upfield when he is asked to pull or when working his way to linebackers. He is a late-round project, but has phenomenal strength and gets the job done when he is engaged with a defender. Watkins has a solid base and is rarely knocked off his feet.
His weight will be a concern to some teams at the next level and he may need to drop some pounds to be a bit more competitive in the NFL.
Best Case Scenario: Stephen Peterman
Worst Case Scenario: Jon Asamoah
Keep Reading

Miami Dolphins: Like this team?