UFC: 15 Fighters with the Best Taste in Walkout Music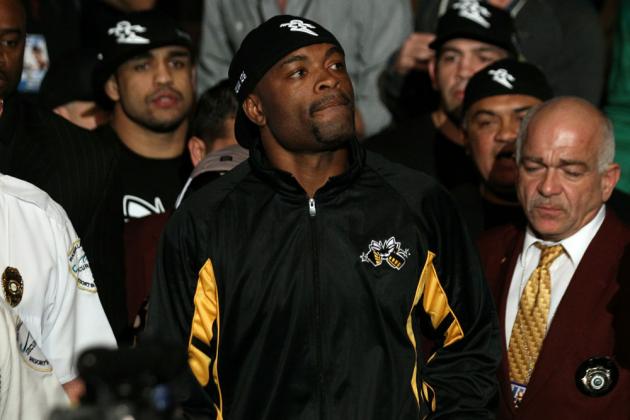 Photo by Jed Jacobsohn/Zuffa LLC/Zuffa LLC via Getty Images
Walkout entrances are an underrated component of the entertainment aspect when it comes to MMA fights. The UFC is pretty reserved when it comes to walkouts. There are no light shows or fireworks here. But there is the music, and that plays a key role in building the excitement leading up to a fight.
Some fighters like to play cheesy, ironic songs, while others play heavy, intimidating songs. Then there are fighters who have made certain songs signatures of their entrances. The beauty is when everything comes together, and you get a song that not only represents the fighter well, but also sets the right mood.
Here are my picks for the top 15 fighters with the best taste in walkout music.
Begin Slideshow

»
I wouldn't say this song exactly embodies "Twinkle Toes," but it's a damn good walkout song. It has a rhythm you can bob your head to, and the lyrics are perfect: "Mama said knock you out!"
I never thought I would put Drowning Pool and "taste" together in the same sentence, but here we are. It's cheesy, generic 90s nu-metal, but oh so perfect for a walkout song. I can't help but chant along. It also suits Carwin very well. When he steps into the cage, you really do believe that bodies will be hitting the floor.
I have to give Diaz props for choosing Deftones as his walkout music. They're one of my favorite bands, and you've got to love that NorCal connection. The Diaz brothers are famous (or infamous) for repping their Stockton roots. Deftones are from Sacramento.
This is a great song. It's high-energy, and it's perfect for Michael Bisping because of that decidedly British sound to the vocals.
The perfect song for "The California Kid." The song's a classic. What more do you need?
There's just something so different and unique about this song. It seems totally out of place in MMA. You know that two warriors are going to go into the cage and try to incapacitate one another, yet you hear this refined and delicate song.
Another song that seems out of place in MMA; this song fits B.J. Penn perfectly. Like the last song it starts off soft, but kicks into gear once the rhythm comes in. Penn's decision to have this song as his entrance music shows his pride in his Hawaiian heritage.
Before Roy Nelson dedicated himself to getting in better shape, he walked out to this song. And it was awesome. He's an everyman, and fans love his ability to poke fun at himself, as well as not care what anyone else thinks.
Stephan Bonnar has made this song a staple of his entrances. The Who are one of the all-time greats, and this is really just a spectacular walkout song. It's not overly aggressive, but has a great vibe.
I'm not a big fan of DMX, and I don't think this song really fits Silva's personality. He seems like a really nice guy. But this song fits Silva perfectly in the cage. Once you hear those opening words, you know that Silva's opponent is in trouble. He's an intimidating figure in the cage.
Again, I don't think this song fits Kampmann very well, but he's made it a signature of his walkouts. And it's a great walkout song. I get pumped up every time I hear it. Love that "ding" in the background.
Now, a song that really fits the fighter. When I picture Jon Fitch, I think of a tough fighter who isn't flashy, or really gifted athletically, but has a really strong work ethic. Johnny Cash is bad-ass, pure and simple. Plus the song is called "Rusty Cage." C'mon, it's perfect.
An amazing song. It's super heavy. The raw vocals perfectly represent the brutality of fighting. Sepultura are a Brazilian band, and this song is off their album Roots. They incorporated a lot of tribal sounds on this album, and I can totally picture ancient warriors going to battle. This song was a great choice for the Brazilian, Thiago Silva.
This song is totally different from the last one. It's high-energy, but not very intimidating. That is, until you know who's coming out: The Axe Murderer. A lot of other former-Pride fighters come out to trance/electronic music, but I think this is the ultimate one.
Maybe a surprise to some, but I absolutely love Clay Guida's taste in music. I couldn't believe my ears when I heard him coming out to "New Noise" by Refused. I was surprised that a fighter would play such an underground band. They're criminally underrated. This is also a great walkout song, as it starts off kind of soft, but continually builds up bigger and bigger until it explodes.
He's recently come out to "My Hero" by Foo Fighters. A great song, by a great band and also a great walkout song. "There goes my hero, watch him as he goes!"
Guida's also walked out to The Used and Metallica.