NCAA Tournament 2012: Latest Scores, Highlights and Analysis for East Region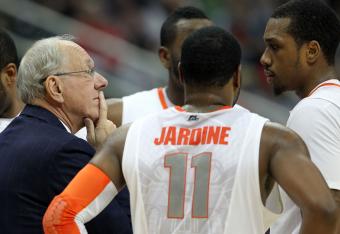 Gregory Shamus/Getty Images
The East region of the 2012 NCAA bracket was predictable through the first round, but with a trip to the Sweet 16 on the line, we can expect to see some major upsets in the Round of 32 on Saturday.
Syracuse beat Kansas State by a final score of 75-59, which is not indicative of how close the game was for the majority of the game.
Ohio State beat Gonzaga, holding off their comeback and winning by a final score of 73-66.
Wisconsin beat Vanderbilt in the final seconds by a final score of 60-57.
Stay tuned, as this page will be updated live throughout day as I provide you with the latest scores, insight, reaction, analysis, highlights, the best articles from Bleacher Report and a few random musings (perhaps on other regions, perhaps on Jim Boeheim's tie).
Also, please comment below, giving me your reaction, insight, musings on Thad Matta's shoes, etc.
One more highlight reel, this time for Jared Sullinger.
And here is a highlight reel from Syracuse guard Kris Joesph, who needs to play well for the Orange to beat Wisconsin.
Here is a nice highlight reel of William Buford, who is Ohio State's X-factor. Buford went for 20 points against Duke earlier this year.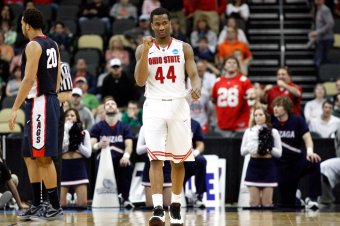 Jared Wickerham/Getty Images
Well, I was only 1-2 today with my predictions, but it was worth being wrong to see those exciting games. Thanks to all of you that stuck with me the whole way. I'll be sure to keep posting the latest highlights and such as they come online, so keep coming back.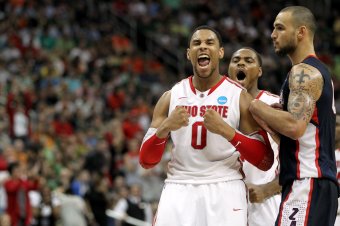 Gregory Shamus/Getty Images
The final game of the East region will between Ohio State and Syracuse. I have Ohio State winning this game.
The loss of Fab Melo has not hurt Syracuse thus far. UNC Asheville and Kansas State have both outrebounded the Orange, but they have not played an elite big man so far, as Jamar Samuels was held out of the game due to an eligibility issue.
However, when the Orange meet the Buckeyes they will truly miss Melo, as Jared Sullinger and DeShaun Thomas will be able to dominate the paint on both ends of the floor.
Syracuse would be able to counteract this with their three-point-shooters, but Aaron Craft is one of the best perimeter defenders in the game, and he will be able to take out at least one of Syracuse's players. William Buford can also play solid defense on the outside, and he and Craft can knock down their own threes as well.
The biggest advantage Syracuse has is depth, as Ohio State's bench did not score at all against Gonzaga. However, this will not be enough for them to win the game, and Ohio State will represent the East region in the Final Four.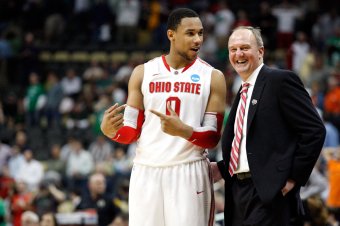 Jared Wickerham/Getty Images
With my pick being Syracuse (1) over Wisconsin (4) despite not having Fab Melo, The next step is picking Ohio State or their opponent.
The Buckeyes will play either Florida State or Cincinnati in the Sweet 16. However, they wouldn't be challenged by either team.
Florida State and Cincy just are not as talented as Ohio State, who has Jared Sullinger inside, DeShaun Thomas playing the best basketball of his life, William Buford peaking at the right time, and Arron Craft coming off of one of the best games of his life.
I can't see either team knocking off Ohio State, and it will be a typical No. 1-vs-No. 2 Elite Eight matchup between Syracuse and Ohio State.
And this was easily the best highlight of the night. Jeffery Taylor broke the Wisconsin player's ankles on this play, but it wasn't enough to scrape a victory.
In case you missed it, this is the end of the Wisconsin-Vanderbilt game. The Badgers are moving on to the Sweet 16.
While Jordan Taylor is a great player, he can't make plays like this every night.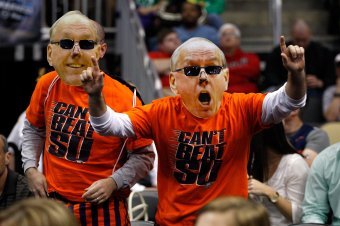 Jared Wickerham/Getty Images
Wisconsin will need to rebound well on both ends of the floor to beat Syracuse in the Sweet 16, and they will also need to shoot better than 41.1 percent from the floor.
Wisconsin's MO is to disrupt opponents and force turnovers. However, Syracuse is not nearly as prone to turnovers as Vanderbilt, and they have the players to shut down Jordan Taylor.
While Wisconsin's defense is good, so is that of Syracuse. While the game will surely be defensive, both teams will need to capitalize on their open shots.
Wisconsin missed a lot of their open shots throughout their game against Vandy. While Syracuse could not capitalize in the first half, they took advantage of all of their opportunities in the second half.
I see Syracuse willing a very low-scoring game, and moving on to the Elite Eight.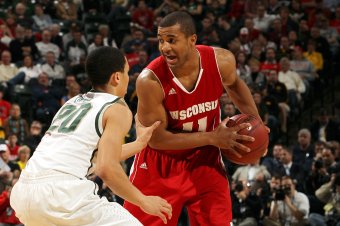 Jonathan Daniel/Getty Images
Wisconsin played great defense the whole game, disrupting one of the best offenses in the country and holding them to under 60 points.
The Badgers hit their clutch shots, and Jordan Taylor simply had an answer for everything Vanderbilt did. He stopped several runs throughout the game, and he is the reason Wisconsin is going to the Sweet 16.
Despite being outrebounded, shooting worse from the floor and only making half of their free throws, Wisconsin is moving on.
Stay tuned to this page for post-game reaction from yours truly, plus highlights, analysis and my predictions for the rest of the East region.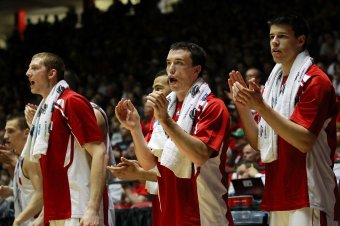 Ronald Martinez/Getty Images
Wisconsin blocks the pass and the clock runs out. Wisconsin beats Vanderbilt 60-57, clinching a trip to the Sweet 16.
What a game!!! I hope you stayed here for the full 40 minutes, as that was easily the best game during an exciting day.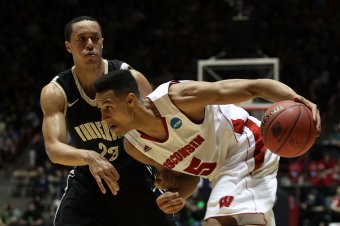 Christian Petersen/Getty Images
Ryan Evans misses the second free throw, leaving the door open. Vandy will try a long pass and a three to send the game to overtime.
Both teams missed front ends of their one-and-ones. John Jenkins missed a go-ahead three and Wisconsin grabs a rebound. Ball game.
Two HUGE offensive rebounds pretty much seal the game for the Badgers if they can make these two free throws.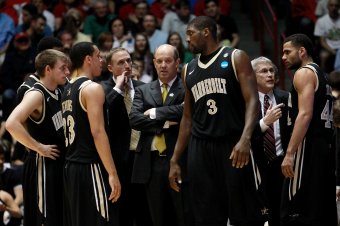 Ronald Martinez/Getty Images
This game looks like it is going to be the best we've seen in the East region all day.
Vanderbilt went on a 13-3 run, but Jordan Taylor has ANOTHER answer. Wisconsin leads 59-57 with 1:22 left.
The Commodores really need Brad Tinsley back. He is their best point guards and turning the ball over has been their biggest issue all game (except for maybe foul trouble). If he comes back in they have a good chance on continuing this 11-3 run.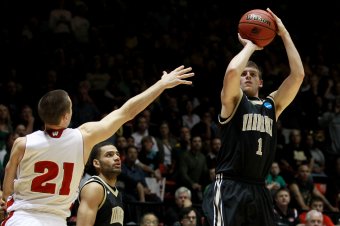 Ronald Martinez/Getty Images
The Commodores are looking good, but Wisconsin leads 56-55. Vandy needs to keep their foot on the gas.
That three for Jenkins was huge, but Vanderbilt needs a few buckets if they're going to get back into this game.
Apparently ESPN's box scores have been lying to me. I'm sorry about all the confusion about the foul trouble for Vandy.
I've watched about 25 hours of the NCAA Tournament so far. If I see Charlie Sheen driving a Fiat in his house ONE MORE TIME...
The guys are the floor are exhausted. They're just launching threes and very few are going in. Wisconsin leads 53-44.
ANOTHER offensive foul on Vanderbilt. That was an awful call that is very costly.
This article is
What is the duplicate article?
Why is this article offensive?
Where is this article plagiarized from?
Why is this article poorly edited?