NCAA Scores 2012: Final Four Contenders and Pretenders Through Second Round
March 17, 2012

Mike Ehrmann/Getty Images
Through four days and two rounds of the 2012 NCAA Tournament there have been upsets, last-second finishes and of course the emergence of a few Cinderellas. 
The Lehigh Mountain Hawks and Norfolk State Spartans each pulled off the unthinkable on Friday by beating their No. 2-seeded opponents. Before 2012 a No. 15 seed had not beaten a No. 2 seed since March 2001. It happened twice on Friday. 
But can we really elevate Lehigh or Norfolk State to the contender level already? They each defeated legitimate national championship favorites in Duke and Missouri, so the argument can be made. 
Join Bleacher Report as we determine teams' statuses as contender or pretender as the tourney's third round action tips off this weekend.
No. 11 North Carolina State
The Wolfpack have won five of their last six games overall, and topped a solid San Diego State team on Friday in the second round of the NCAA Tournament. NC State is among the best scoring teams in the nation as well and that bodes well for their tourney chances as the defense tightens up in the coming rounds.
C.J. Leslie (14.6 PPG and 7.4 RPG) and Lorenzo Brown (12.8 PPG and 6.4 APG) will continue to be the two keys for the Wolfpack's success this weekend, as NC State must get by No. 3-seeded Georgetown to advance to the Sweet 16. When Leslie and Brown are on the same page with the rest of NC State's lineup, the ACC's Wolfpack is a load to deal with for any program in the country.
Status: Contender
No. 13 Ohio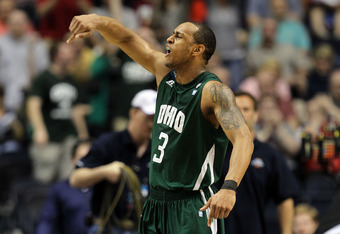 Jamie Squire/Getty Images
The surprising Bobcats were beneficiaries of poor Michigan play on Friday. The Wolverines shot 40 percent from the field and missed 16 three-pointers in their embarrassing loss. With all due respect to the underdog Ohio Bobcats, their No. 4-seeded opponent was hardly worthy of the label.
The Bobcats have won five in a row, but will put their streak on the line Sunday against a quality South Florida team that won 12 of 18 games in the Big East in 2012. Ohio ranks 201st in field goal percentage this season and that suggests they will be headed home later than expected, but early nonetheless.
Status: Pretender
No. 15 Norfolk State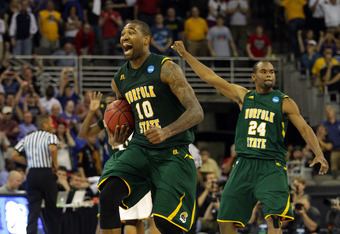 Doug Pensinger/Getty Images
The Spartans knocked in tons of triples and rode center Kyle O'Quinn's 26 points to a historic win over Missouri on Friday, but they will face an equally difficult task on Sunday against the Florida Gators, who will be able to match them for every long-range bomb they are worth.
Norfolk State shoots 44 percent from the field on average this season, but shot a ridiculous 54 percent on Friday. It would take an unlikely effort for the Spartans to recreate that type of success in the third round against a team as offensively potent as the Gators.
Status: Pretender
No. 15 Lehigh
It's hard to imagine which team is breathing a sigh of relief after winning on Friday, Xavier or Lehigh. The Mountain Hawks of Lehigh stunned the No. 2-seeded Duke Blue Devils and later found out that they would play the No. 10-seeded Xavier Musketeers in the third round, a team much less accomplished than Duke.
Meanwhile Xavier watched as Lehigh knocked off one of the few NC contenders in the Big Dance, making their road to the Final Four that much easier. Even if Xavier is clearly the better team, they might not be the better pick.
Lehigh did nothing magical in their win over Duke, nothing out of body. The Mountain Hawks shot 42 percent from the field, 33 percent from beyond the arc and just 68 percent from the foul line and won by five points. There is nothing Cinderella about that type of effort, and leads many to believe they can do it again and again as long as superb junior C.J. McCollum remains tuned in on both sides of the ball.
Status: Contender