Toronto Maple Leafs NHL Draft: Should They "Fail for Nail"?
March 17, 2012

Richard Wolowicz/Getty Images
At this time, after 71 games played, the Leafs have a record of 31 wins, 32 losses and 8 overtime losses for 70 points on the season. This has them sitting at 24th overall in the standings, giving them the seventh overall pick in the NHL entry draft this season.
This late-season collapse has some Leaf fans preaching a "Fail for Nail" philosophy. If anyone thinks Brian Burke or Randy Carlyle will purposely not ice the lineup with the best chance to win every night, you really need to look in the mirror.
Realistically, the Leafs are not likely to drop below the Edmonton Oilers (63 points in 71 games) and the Columbus Blue Jackets (51 points in 70 games). In order to have a chance at the first overall pick, the Leafs would have to finish in the bottom five of the league.
According to mynhldraft.com, the percentage chance of landing the first overall pick in the lottery are: 26th overall (8.1 percent), 27th overall (10.7 percent), 28th overall (14.2 percent), 29th overall (18.8 percent) and 30th overall (48.2 percent).

Could the Leafs potentially get the first overall pick in the draft lottery? Yes, but can you really sell an 8.1, 10.7 or 14.2 percent chance of landing the No. 1 pick to your sponsors, players, coaches, management and owners as a reason to play bad hockey for the remaining 11 games? 
Is there really a large difference in terms of the potential ceiling of a player drafted seventh overall compared to third overall? Let's compare the seventh overall pick to the third overall pick for the past four entry drafts to find out.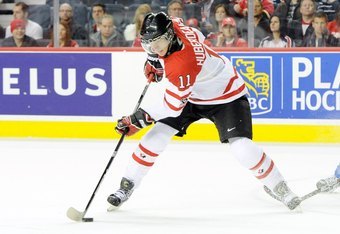 Richard Wolowicz/Getty Images
2011 NHL Entry Draft:
Third overall: Jonathan Huberdeau is a 6'1" 171lb center that shoots left and was drafted by the Florida Panthers. He has been lighting up the Quebec Major Junior Hockey League with 43 goals and 62 assists in 67 games. He could end up being a first-line center in the NHL.
Chris Bordeleau of NHL Central Scouting said of Huberdeau (via NHL.com): 
"He's the type of player who can change the outcome of a game suddenly and quickly. He's displayed unbelievably quick hands and an ability to set up and score goals. He definitely has NHL hands and playmaking ability...he's also gritty and does not back down when challenged."
Saint John Sea Dogs head coach Gerard Gallant also praised the center (via NHL.com):
"He's still not the fastest, but I'd certainly label him the craftiest on our team. He's a quality, character kid. He competes both ways, battles for those goals around the net and competes hard in every situation. I can put Jonathan on the ice in any situation … the last minute of a game when we're behind by a goal or ahead by a goal. He comes to play every time. His vision is outstanding, he has great puck skills and I think he's the complete package."
Seventh overall: Mark Scheifele is a 6'2", 184-pound center that shoots right and was drafted by the Winnipeg Jets. He spent seven games at the NHL level at the beginning of the season potting one goal. He was then sent back to the Ontario Hockey League, where he has 23 goals and 40 assists in 47 games with the Barrie Colts. In the NHL, he projects as a second-line center.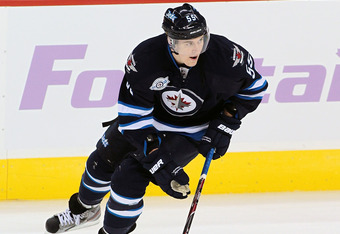 Marianne Helm/Getty Images
NHL Central Scouting's Chris Edwards on Scheifele (via NHL.com):
"Mark protects the puck very well and will take it to the net while fighting through checks. He's got a great work ethic. His Barrie Colts have struggled this season and he has been relied upon to provide offense. He sees the ice very well and his playmaking ability is very good. He gets back quickly and works hard defensively."
Barrie head coach Dale Hawerchuk said (via NHL.com),
"The opportunity was there for him (this season) and he ran with it. ...He's great. Everybody loves being around Scheif, he comes in smiling every day, can't wait to get on the ice. That's infectious to everybody. And that's how you want it to be."
2010 NHL Entry Draft:
Third overall: Erik Gudbranson is a 6'5" 210lb defenseman that shoots right and was drafted by the Florida Panthers. He has spent this season at the NHL level and has two goals along with four assists in 60 games. He has also chipped in with 120 hits and 62 blocked shots while playing just over 14 per game. He'll be a top pairing defenseman in the NHL.
Director of NHL Central Scouting's E.J. McGuire's take on him (via NHL.com):
"Gudbranson to me is a guaranteed long-term NHLer. In my opinion, Gudbranson is another Chris Pronger-type, what he brings that (Pronger) really didn't do much of, though, is he'll fight. He is some kind of tough. Chris Pronger is mean and will hit you; Gudbranson will hit you and fight you. Pronger is three inches taller than Gudbranson, so maybe Dion Phaneuf would be an even better comparison"
Seventh overall: Jeff Skinner is a 5'11" 193lb center that shoots left and was drafted by the Carolina Hurricanes. To date he has scored 51 goals and 53 assists in 137 NHL games, and he'll be a top-line forward. 
Director of NHL Central Scouting, E.J. McGuire said (NHL.com):
"Not overly big in size, he makes up for that with his sniping ability. Pure puck handler with great moves and a great shot, he contributed a 50 goal season for Kitchener and despite the 5'10" knock some scouts might have, destined to be an NHLer."
2009 NHL Entry Draft:
Third overall: Matt Duchene is a 5'11", 200 lb center that shoots left and was drafted by the Colorado Avalanche. To date, he has 64 goals and 84 assists in 210 NHL games. He can be a first-line center if his career continues on this path.
NHL Director of Central Scouting E.J. McGuire said (nhl.com),

"Matt Duchene is a pure offensive player who also is a great penalty killer. He helps the Brampton Battalion in all facets of the game. A pure sniper, he plays the point on the power-play and is a threat to score on the penalty kill as well. He reminds me, probably most of the new breed of snipers, Patrick Kane, Sam Gagner and Steven Stamkos as he grows into his offensive position in the NHL." 
According to NHL Central Scouting's Chris Edwards (NHL.com),
"Duchene has the ability to dominate a game. He is an excellent all-round skater with great speed, his playmaking, ability to see the ice and move the puck through traffic to create offense are outstanding. He has a very good shot, but I see his best asset as his speed and ability to beat defensemen to the middle or outside."
Seventh overall: Nazem Kadri is a 6'0" 188lb center that shoots left and was drafted by the Toronto Maple Leafs. To date, he has scored 7 goals and 11 assists in 49 NHL games. At the AHL level he has 28 goals and 42 assists in 83 games, and I think he can be a top-line forward in the NHL.
NHL Director of Central Scouting, E.J. McGuire said of Kadri (nhl.com):

"He's big, lanky and skilled. He uses his size to accentuate his puck skills. Size, reach, stick handling ability, those long kinds of stick movements that Mario (Lemieux) used to make, like (Vincent) Lecavalier makes."

 
2008 NHL Entry Draft: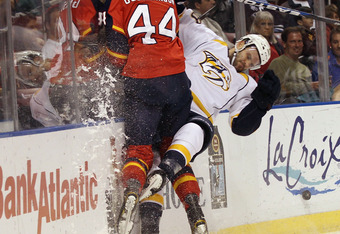 Bruce Bennett/Getty Images
Third overall: Zach Bogosian is a 6'3" 215lb defenseman that shoots right and was drafted by the then-Atlanta Thrashers, now Winnipeg Jets. To date, he has 27 goals and 54 assists in 253 NHL games, and he'll be a top pairing defenseman. 
NHL Director of Central Scouting, E.J. McGuire on Bogosian (via NHL.com):
Strengths: "Zach is a big player and he plays defense very big. Zach's combination of skating ability and his size are what set him apart. There are some bigger, taller defensemen, who have to grow into their body, but Zach is right there, fully proportioned and ready to make that step into the NHL very quickly."

Areas to improve: "He is learning each game, when to make the right choice of supporting a rush or leading a rush. There are times in the past where he has got caught up the ice at inopportune times, but his game is getting smarter and smarter with every progression."

Outlook: "To the surprise of many scouts he has been overlooked on a lot of Team USA international selections. But the Peterborough Petes like that because he has been all theirs and soon he'll be a franchise player for a National Hockey League team, even at this tough defense position. He projects as possibly the first overall pick if it's a team that needs a defenseman right away and he could go number one depending on the viewings and opinions that he's gotten from a team's staff."
Peterborough Petes head coach Vince Malette said (via NHL.com):
"Zach is a very physical defenseman who is a complete player. He's solid defensively and at the same time he can skate with the puck and never loses any speed when he has the puck. He is very competitive and that separates him from other defensemen in the league."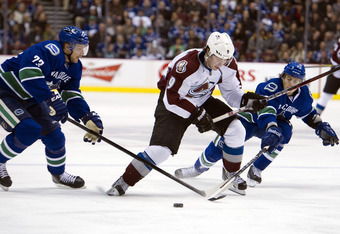 Rich Lam/Getty Images
Seventh overall: Colin Wilson is a 6'1" 210lb center that shoots left and was drafted by the Nashville Predators. To date, he has scored 39 goals and 44 assists in 183 NHL games, where he's projected to turn into a top line forward.
NHL Central Scouting's Gary Eggleston said (NHL.com):
"Colin is a combination of a skilled and power forward. He is very strong, has excellent hands and is a very good passer and playmaker. He makes and takes a difficult pass extremely well. He is tough and strong on the puck and is a very smart player who is aware of where teammates are at all times. He anticipates the play at both ends of the ice very well. When he gets the puck he responds instantly and knows where to put the puck. He is very reliable defensively, has incredibly quick feet and he can turn quickly while maintaining puck control."
His college head coach, Jack Parker of Boston University, said (NHL.com):
"Colin is a really smart player who sees the ice really well. He can really move the puck because he has what I refer to as 'Larry Bird court-sense'. He knows where everybody is and can see plays develop in front of him. He knows where to go when he has the puck and when he doesn't have the puck. An asset that never seems to surprise me is that he always collects the pass near him, so that the puck stays with him."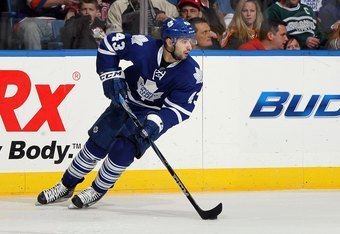 Jim McIsaac/Getty Images
2012 NHL Entry Draft:
Projected third overall: Ryan Murray is a 6'1" 201lb defenseman and currently plays for Everett in the Western Hockey League. This season, he has nine goals and 21 assists in 45 games.
According to the TSN.ca scouting report, Grant McCagg calls Murray
A real 'Steady Eddie' on the blue line; rarely makes a mistake and displays a poise well beyond his years. Smart, dependable rearguard who will be on the ice protecting leads at the end of games. Strong skater with a powerful stride. A team leader with high character. He moves the puck with short, accurate passes. Hard to beat one-on-one. Weaknesses: He's not a punishing guy who will provide a physical presence while his offensive skills may be limited and he may be more of a stay-at home defender. NHL upside: A No. 2 or No. 3 defenceman with leadership qualities who will be relied upon to shut down team's top players, kill penalties and protect leads.
Projected seventh overall: Alex Galchenyuk is a 6'1" 198lb center and currently plays for Sarnia in the Ontario Hockey League. He has only played two games this season due to a serious injury with no points thus far. Last season he had 31 goals and 52 assists in 68 games.
McCagg in the scouting report from TSN.ca:
His Belarusian-born father played pro hockey for 24 years on 18 different teams and in more than a dozen leagues, so Milwaukee-born son Alex has been well travelled. Has missed the entire OHL season with a torn ACL he suffered during an OHL exhibition game in mid-September. He had scouts drooling last season with 83 points as an OHL rookie at 16. Strengths: A big, power-forward type winger with soft hands who is good along the wall, has soft hands and can shoot the puck. Weaknesses: He has missed his entire draft year with a knee injury, so there has been a decided lack of exposure. Teams may be concerned with how he bounces back from the injury. NHL upside: has the size and skill to be a top two centre if he recovers fully from missing an entire season.
Findings:
As you can see there is not a large difference between the third and seventh overall picks in terms of long-term potential. Five out of eight of these picks are now regular NHL players. Three out of four third-overall picks are NHL regulars and two out of four seventh-overall picks are NHL regulars, with a third (Nazem Kadri) likely to become a regular next season.
Third overall picks have 93 goals and 142 assists in 523 NHL games while seventh overall picks have 98 goals and 108 assists in 376 NHL games. The overall points are comparable (granted, two out of four third-overall picks were defencemen). Essentially, the seventh-overall picks take longer to develop and are on average 37 NHL games behind their third-overall counterparts to date.
So the theory of "Fail for Nail" that is going around with Leaf fans really has no basis in facts. Toronto is just as likely to select a vital part of their future at the seventh slot as the third slot.
Patience is key with the Leafs' current roster. When was the last time this organization was so deep in prospects that their farm team had a legitimate chance at winning the American Hockey League playoffs and the Calder Cup? It's been a long time, for sure.
With players like Nazem Kadri, Joe Colborne, Matt Frattin, Carter Ashton, Jesse Blacker, James Reimer all at the AHL and NHL levels, the future is bright.
This article written with reports from NHL.com and Hockeysfuture.com