SEC Basketball Power Rankings: Top 10 Performances from NCAA Tournament Weekend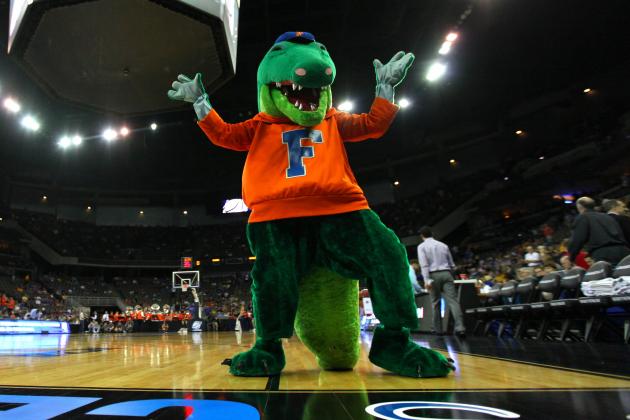 Doug Pensinger/Getty Images

Rounds two and three of the NCAA Tournament are in the books for the SEC, and the conference managed to finish things up 5-2 and get two teams into the Sweet Sixteen.
The weekend was filled with exciting games and performances from all the teams. We saw Vanderbilt overcome a hurdle in their win over Harvard, Florida fight back Virginia to escape a poor team performance, and Kentucky do what it does best in two amazing spectacles of basketball.
Through it all, the SEC had a few performances from this weekend shine brightest. Here's a list of the top 10 through the first seven games.
Begin Slideshow

»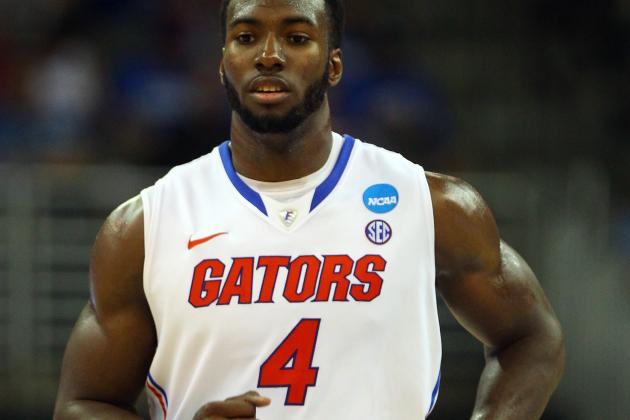 Doug Pensinger/Getty Images

This is not an addition based upon the stat line (almost seems obvious). This was purely about what Patric Young was able to do on the court paired up against Kyle O'Quinn.
The 6'10", 240-pound O'Quinn leads his team in points and rebounds, averaging 15.9 and 10.4 respectively. He was also the force that led his team to upset No. 2 seed Missouri with 26 points on 10-of-16 shooting and 14 boards.
This is the type of dominance Young was able to contain. Agreed, he had a lot of help. Billy Donovan had his guys bring the double team every time O'Quinn touched the ball, but it was Young that played on O'Quinn the whole time in the post.
He was the one bodying O'Quinn throughout the whole game. Young maintained a physical presence with him, which kept the Spartan out of rhythm. O'Quinn just couldn't get a comfortable position down low to make the easy baskets or even clean up the glass.
O'Quinn ended with a tough night of only four points on 1-of-9 shooting and three rebounds. Young's six points and four rebounds didn't win this game, but winning the gladiator battle in the paint did.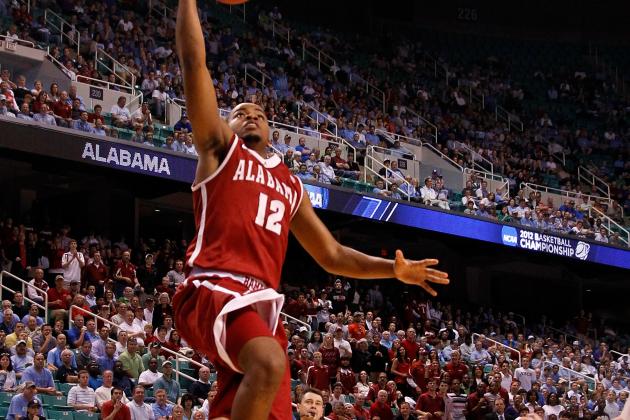 Mike Ehrmann/Getty Images

Maybe this is a pity pick for their early exit, but Releford honestly had a great performance in this weekend's game. His baskets seemed perfectly timed, and the team just looked reliant on him to work magic.
His stats weren't spectacular, but he did have a team-high 14 points on 5-of-10 shooting. He was also one of the major factors to Bama's sudden burst of perimeter shooting with 2-of-6.
Again, this really comes down to timing. In a game that had so much back and forth, things seemed to come in bunches when he was the one scoring.
At the end of the first half, it was Releford that answered with four straight points and got a contributing steal to push a three-point lead to seven. He was also the one in the second half that put up eight points to help maintain a lead they'd eventually lose.
Releford brought clutch offense with the hot hand, and the team knew it. The last play of the game to close the one-point deficit was drawn up for him to take the shot, and if not for a non-call slap on the forearm, we might have been talking four SEC teams in the third round.
Andy Lyons/Getty Images

His stat line was 22 points on 9-of-13 shooting and 10 boards. Jones's game against Western Kentucky was huge (even if it was just a No. 16 seed).
His first half stats were an impressive 6-of-8 for 15 points. In the first half, his offense sparked the moment that pushed his team's lead into what would eventually become a blowout. Jones contributed five points early that would push a small lead to 13, and the Wildcats would never fall below nine from there.
As energetic as his plays were, particularly his putbacks, this was not the toughest challenge of the NCAA tournament, and this performance shouldn't be completely blown out of proportion.
Jones had a great game and is a great talent, but Western Kentucky was a below .500 team coming off a hard-fought game only two nights earlier and facing a far more talented team. While the other SEC teams were facing harder challenges all weekend, the Wildcats should have won this with high spectacle.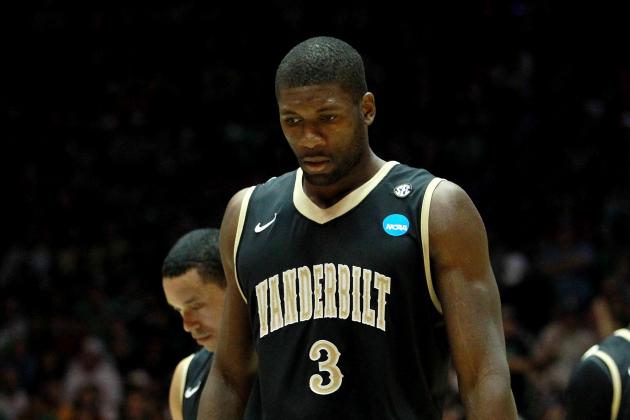 Ronald Martinez/Getty Images

Festus Ezeli was the biggest bright spot of this whole game, perhaps the SEC's most disappointing of the NCAA Tournament. Ezeli lost his starting spot for discipline reasons and put up a double-double in response.
He tied the game-high in points with 14 on efficient 5-of-7 shooting and also posted a game-high 11 rebounds.
The biggest qualm here is how good Ezeli could have been in this game. In the post, he had his matchup beat a majority of the time. Stronger than any body thrown on him, he was an offensive force that was utilized too late by the Commodores.
When they finally did start dishing it to him in the post, the passes were awkward or out of reach. Towards the end of the game, they seemed to have finally figured it out, but it was too late by then. Had Ezeli gotten more involved earlier, we could be talking big numbers that would have extended the Commodores' tournament stay past just the one weekend.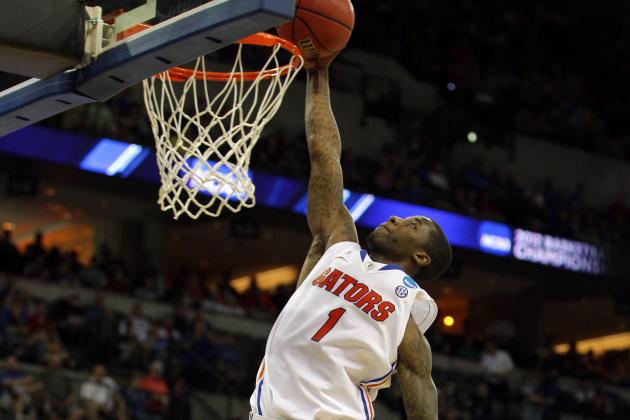 Doug Pensinger/Getty Images

When Boynton is on his game, it's hard to find basketball that's more fun to watch. It's been awhile, but this is the Kenny Boynton Florida fans gloat to other SEC teams about.
This is the guy that can score all over the floor. He can make his jump shots from the field. He can drive the lane. He's active with the putback off the rebounds.
His perimeter game is still missing, but 2-of-7 is better than the 0-of-9 he's been in the prior two games.
And his 7-of-12 shooting for a game-high 20 points was both entertaining and promising. As long as this offensive potency continues from him, other players will be more dangerous with better open looks, which is an indicative of his game-high four assists.
Ronald Martinez/Getty Images

Jeffery Taylor was Vanderbilt's heart in this game. The NCAA tournament had been a hurdle for the Commodores over the past few years, and this team was building a haunting reputation for early exits.
One of the SEC's best all-around players, Taylor flexed his abilities on both the offensive and defensive sides of the ball.
Defensively, Taylor was all over the court. At times he looked frenetic, but whatever the case, it was working against Harvard's shooters. They never got into rhythm, and Taylor gave us a mesmerizing first-half performance by constantly applying pressure to his man and disrupting the passing lanes.
Offensively, he was a major contributor, too. He wasn't John Jenkins, but 15 points on 6-of-13 shooting isn't anything to ignore.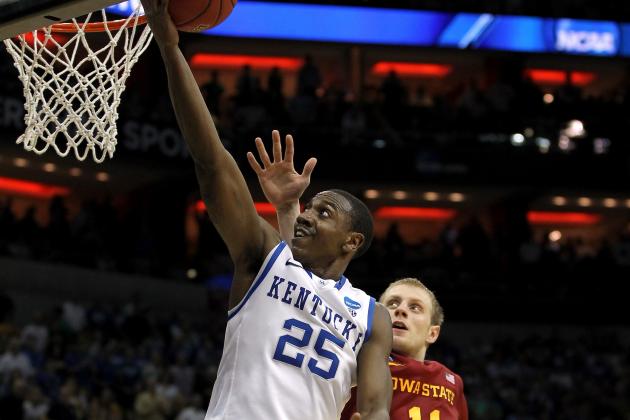 Jonathan Daniel/Getty Images

Marquis Teague was lighting up the scoreboard in this game. Teague, who's been mostly overshadowed through the season and SEC tournament, has emerged in a big game on a big stage.
Teague posted a game-high 24 points against Iowa State in one of the most impressive shooting performances of the NCAA tournament. Going 10-of-14 from the field, Teague was beating the Cyclones with fits of speed and athleticism.
The Cyclones just couldn't contain Teauge, and he was able to beat them on the drive and get open shots on the perimeter. If it was a fast break, there was no stopping him.
If his scoring efficiency weren't enough, Teague added seven dimes to the night's workload. All in all, Teague contributed about 44 points in scoring and assists to his team's final 87 points.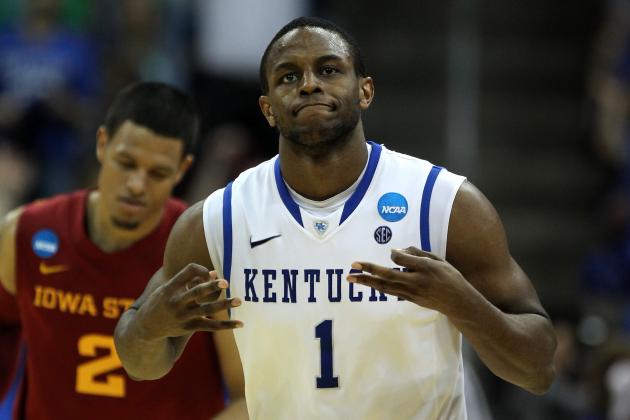 Jonathan Daniel/Getty Images

It seemed to happen like clockwork. Every time Iowa State would start to climb into the game, Miller would step up and push them that much further back.
Early in the first, the Cyclones went on a 9-to-4 run to shorten a seven-point deficit to two, and Miller put up five straight points to knock them back again.
His biggest contribution came in the second half.
When the game was still neck-and-neck, Miller was part of the offense that put this game away for the Wildcats, locking up another SEC team in the Sweet 16. The score was 44-50 in favor of the Wildcats with 12 minutes to go, which is still a favorable difference for any team looking for to come back.
Miller hit a three to spark a 21-8 run that would put the game too far out of reach. He accounted for 10 points in that stretch, most of which came from his perimeter shooting.
Kentucky is a dangerous team in the NCAA Tournament because of how they score. Their offense can just burst on the scene, and a competitive game can suddenly become a blowout.
It's players like Miller that create that burst. His ability to step up and make big shots in this game had a catalyzing impact on his team, and it was exciting to watch it unfold.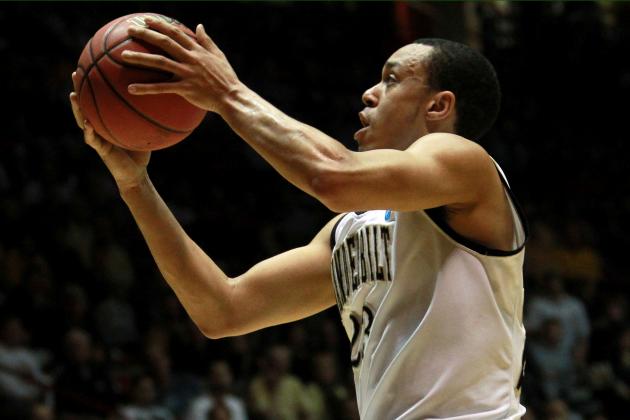 Ronald Martinez/Getty Images

When you think of this season's best offensive threats in the SEC, John Jenkins' name is among the top, and, when he's on a mission, watch out.
That's exactly the performance we got from him against Harvard. In general, Vanderbilt wanted to win this game, and while Jeffery Taylor was the fire, Jenkins was the ice.
He was not shaken by the big moment of this game. He could have been unnerved by the pressure of previous upsets or the high expectations after beating Kentucky for the SEC championship. He could have undervalued Harvard's abilities. Yet Jenkins fell for none of it.
He came in with the will to win, and to our reward, he stopped at nothing to ensure that. With 67 consecutive games of double figure scoring under his belt, he dropped a game-high 27 points to ensure victory that night and give him No. 68.
Even when the Crimson began to climb their way back into the game, Jenkins continued to make the shots his team needed to win. Jenkins' last six points came off of 6-of-6 shooting from the free throw line to keep the spacing for Vanderbilt's first game one victory in the NCAA tournament since 2007.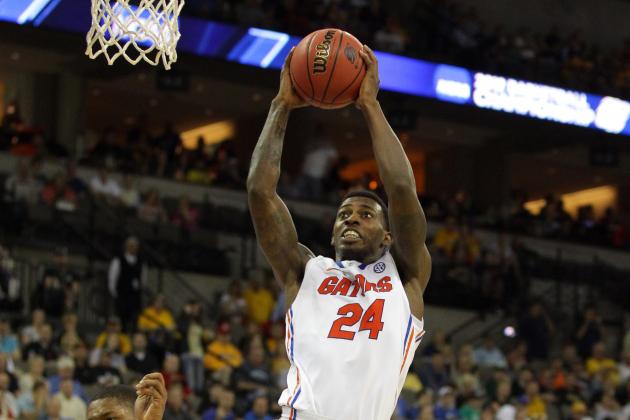 Doug Pensinger/Getty Images

Casey Prather was the unexpected but definitely welcome surprise of SEC basketball this weekend. His performance in that Virginia game may have been the fuel that willed these Gators to victory.
The Gators looked bad early. Their only real saving grace was the defense forcing the Cavaliers to shoot as bad.
To help stimulate the Gators' offense, Billy Donovan had to get his team on track, and the answer turned out to be...Casey Prather?
Not Kenny Boynton or Bradley Beal or Patric Young. Not even Mike Rosario or Scottie Wilbekin. It was Prather, who is averaging 1.5 points on the season, that came into this game and led the charge to the Gators' ultimate victory.
When the team needed points, Prather scored. When they needed rebounds, he was cleaning up the boards. He was an active presence out there against Virginia, particularly on defense. During a 9-0 run by Florida coming out of halftime, Prather scored five of the points that put the Gators out of reach.
His 6-of-7 shooting was efficiency the Gators needed, and his four rebounds were a big part of the game since a few were putbacks.
Prather was an unbelievable story for the SEC this weekend and becomes a name to watch not just for the remainder of the NCAA tournament but for the rest of his future with Florida.