Northwestern Completes Meltdown to Close out Season
March 17, 2012

Chris Chambers/Getty Images
In a 21-point decimation, the Wildcats sealed their fate.  Yet another late-season meltdown can now be added to an endless list in Northwestern basketball history. 
Needing to claw back to .500 in conference to make the NCAA tournament for the first time since the tournament's inception in 1939, Northwestern closed out regular-season conference play 3-4. 
Through all this, a soft tournament bubble cruelly kept hope alive for Northwestern fans around the country.  A media storm reminiscent of that surrounding a celebrity scandal resulted as uninformed analysis of the Wildcats' postseason chances sprung up across all media platforms. 
Dreams were short-lived as the 'Cats fell in an overtime loss to the floundering Minnesota Golden Gophers in the Big Ten Tournament.  All the pieces from fan support to reasonable team health were there; the postseason was the team's to lose. 
When the world officially learned Northwestern would have to wait at least one more year, Bill Carmody tried to put on a brave face and stand up to the media.  His players seemed half-hearted, more honest. 
A near collapse at Akron could have either served as a wake-up call or foreshadowing.  It was the latter as the Washington Huskies stomped on Northwestern in the second round of the NIT. Northwestern held a lead until 8:15 remained in the first half.  When the 'Cats relinquished the lead, Washington took the game and ran away with it. 
The Huskies deserve their due.  They played a great game and have some very talented players, such as Terrence Ross, who put up 32 points and eight rebounds in the game.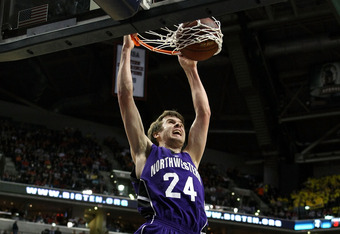 Chris Chambers/Getty Images
However, the game was not won by Washington.  It was lost by Northwestern. 
The Wildcats shot 21.9 percent from the field in the second half and only 35.3 percent the entire game.  They were out rebounded by 18 boards and had a rare game with more turnovers than assists. 
They did not look like a team that wanted to win.
It never comes down to only one player, but John Shurna's play in the last several games might have made sure that he led the best conference in college basketball in scoring without getting drafted. 
Shurna's departure is bittersweet.  He is now Northwestern's all-time leader in games played, blocks, and points (2,038), but he also has had very lackluster all-around performances in this year's three postseason games. 
It takes a winning attitude to win.  74 straight years of never making the one tournament that matters does not provide the necessary winning experience. 
Without the knowledge of how to close games and close seasons, the team was desperately analyzed by fans and journalists alike who searched for a way to quantify the problem.  The closest anyone could come to putting a name on the intangible issue was pointing the blame at coaching. 
Carmody has one more year on the contract extension he signed last season, so will he be back the year after next if he cannot deliver?  The Northwestern basketball community is no longer okay with the NIT and many are no longer okay with Carmody.  More is expected. 
This year, however, has not been a total failure. 
Shurna is a great player and an all around standup guy, and he has been a feel-good story for the program.  Whether or not he goes to the next level, everyone hopes he does.
Drew Crawford showed he has the athleticism of a professional.  He needs to greatly clean his game next year, but the third-team All-Big Ten selection has the raw tools. 
Dave Sobolewski did the impossible: he made Northwestern forget about Juice, at least for a little.  While Sobolewski is no Michael Thompson just yet, he was selected to the All-Big Ten freshman team, had one of the best assist-to-turnover ratios in the country, and showed that he just might have what it takes to be the chosen one to lead his team to the promised land.
Reggie Hearn went from a little used walk-on to an indispensable starter in one year. 
Welsh-Ryan Arena received a face-lift with a new court surface, and the atmosphere improved from last year with five sellouts and an almost 13 percent increase in attendance per game.  
The student section was clearly present as the Wildside won the Big Ten Network Home Court Challenge for lowest in conference free throw percentage by opponents on its court and was presented with $5,000 to donate to a charity of its choice.  As big-name teams came to Welsh-Ryan, the student section was rocking and unquestionably showed promise for the future. 
In the end, Northwestern finished the season as only Northwestern knows how. 
They say heartbreak is good every now and then so you know you are human.  They are not Northwestern fans.  For those who bleed purple, heartbreak is a constant thing.  A true Northwestern fan is a true sports fan. 
Maybe next year…