5 NBA Coaches That Will Be out of Work Before the Season Ends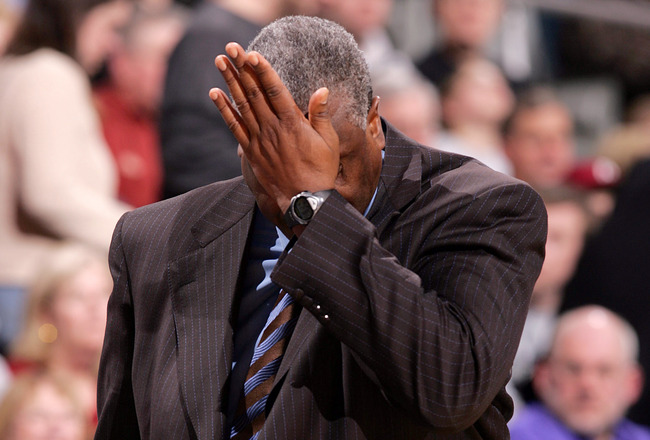 Jonathan Daniel/Getty Images
Between the disappointment of a losing season and the desire to start anew, it's an annual tradition in the NBA to see head coaches go from the hot seat to the chopping block. In the summer of 2012, don't expect anything different.
With Mike D'Antoni stepping down as the coach of the New York Knicks, as well as Flip Saunders and Paul Westphal being fired by their respective teams, the tone has been set. For those whose job requirements have yet to be fulfilled, it's act fast or leave quickly.
In some cases, the chance of such a turnaround is so out of the question that their bags should already be packed.
Here's who they are.
5. Erik Spoelstra, Miami Heat
Drew Hallowell/Getty Images
This one gets an asterisk as it really depends on whether or not the Miami Heat win an NBA championship. If they do, clearly Spoelstra will be safe moving forward.
Even if the Heat were to lose a seven-game series on a buzzer beater in Game 7, the first Filipino-American head coach could be looking for a new home. While he won't have much of a problem finding that landing spot, it would be tough to know he let the Big 3 slip away.
After all, any team under Pat Riley is title or bust.
Season Record: 34-11
Overall Record with Team: 182-109
4. Avery Johnson, New Jersey Nets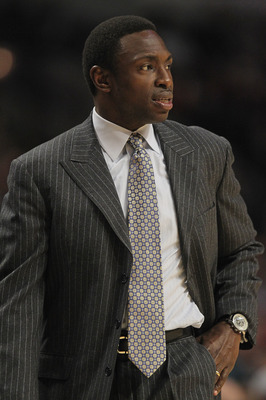 Jonathan Daniel/Getty Images
It's unfortunate but true.
Avery Johnson will fall victim to the relocation of a team, something that will call for a cleaning of house and new faces all around. Chances are a high-profile name will be brought in, and Johnson will be out. If Deron Williams gets away, those chances become even greater.
While this would be a poor decision, in my eyes it's the way of the business. Johnson will likely find himself back on an assistant coaching staff and become a long-term replacement to a veteran coach.
Back to the Spurs?
Season Record: 15-33
Overall Record with Team: 39-91
3. Paul Silas, Charlotte Bobcats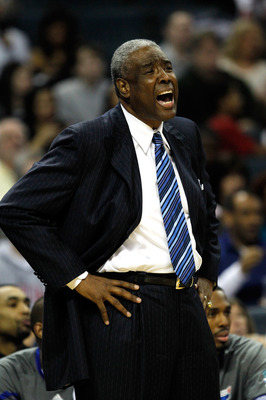 Streeter Lecka/Getty Images
Paul Silas took the Charlotte Hornets to four consecutive playoff appearances in the early 2000s. Unfortunately for the two-time All-Star and three-time NBA champion player turned coach, this is a different Charlotte team under different management.
While the Bobcats don't have much talent to begin with, it's hard to imagine they'll avoid an upbeat tempo of play with Anthony Davis coming to town. Between he, Kemba Walker and Tyrus Thomas, if he ever comes back into favor, that could create a serious threat in transition.
Rumors have already begun to surface that this will be Silas' last season, to begin with. Mike D'Antoni, anyone?
Season Record: 7-37
Overall Record with Team: 32-66
2. Monty Williams, New Orleans Hornets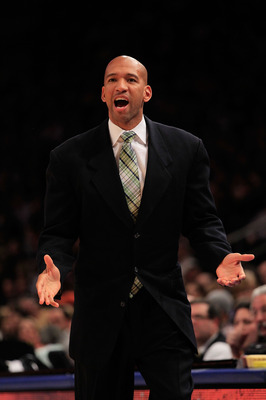 Chris Trotman/Getty Images
After leading the New Orleans Hornets to a 46-36 record in 2011, a season that included a near-upset of the Los Angeles Lakers in the first round of the playoffs, Monty Williams' time could be wearing thin—an unfortunate turn for one of the league's most promising young coaches.
Considering his best two players are playing elsewhere, it's hard to blame him for this level of failure. Paired with management's failure to adequately replace Chris Paul and David West, it only becomes that much more difficult. After all, their best acquisition, Eric Gordon, has been injured for all but two games.
Unfortunately, that's the way the NBA works and Monty Williams is likely to see his tenure as Hornets' head coach come to an end. Don't think he'll be out of a job for long, though, as Williams' upside as a coach will be met elsewhere.
Season Record: 11-34
Overall Record with Team: 57-70
1. Randy Wittman, Washington Wizards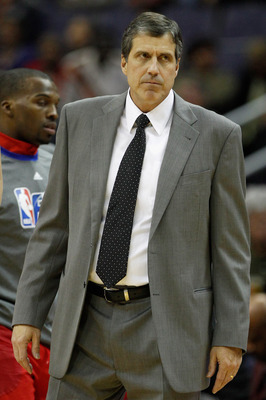 Rob Carr/Getty Images
Considering Randy Wittman is in his sixth year as a head coach and has yet to put together a winning season, it's hard to imagine we'll be seeing his name in many coaching carousels once this season is all said and done.
While Wittman has raised the Wizards' level of play, going 9-19 after a 2-15 start under previous coach Flip Saunders, there is very little to be excited about. In fact, there's nothing to be excited about.
The Wizards showed that they were ready to start over by trading JaVale McGee and Nick Young and bringing in Nene Hilario. The next logical step would be to clean house with the coaching staff and replace Wittman with a new face.
A candidate should be the guy listed before Wittman, Monty Williams. After all, he had brilliant success with a previous elite point guard.
Season Record: 11-34
Overall Record with Team: 9-19
Keep Reading