2012 NFL Free Agents: Peyton Manning Holding Teams Hostage
March 17, 2012

Joey Foley/Getty Images
I read a tweet the other day that said, and I am paraphrasing here, "Manning saga equals Linsanity and The Decision combined."
I couldn't agree more.
Just wait until the future Hall of Fame quarterback actually makes his decision. Albert Breer over at the NFL Network indicates that he will do so by Monday.
Until then, three teams are being held hostage by his decision, or lack thereof. While Manning may have a major impact on the future of all three teams involved, some are being held hostage more than others. This article is going to focus on the three team pony race for Manning and who it affects the most.
Denver Broncos
They had nearly $45 million to spend when free agency started Tuesday, but haven't really added anyone of substance over the course of the first few days if the new league year. Well, unless you count Mike Adams.
This is a team that could have used multiple upgrades on both sides of the ball. Instead, they have been handicapped by the Manning situation. In the meantime a lot of the best free agents on the market at positions the Broncos needed to upgrade found homes. They could have gone after a top-tier corner, help at center and maybe even a safety.
If Manning decides against going to the Broncos, John Elway and Co. are going to have egg on their faces. First, they will have to turn to Tim Tebow and pretend to show him that they have confidence in his ability to lead the franchise moving forward. Second, they will be forced to look at second-tier options as they relate to the open market.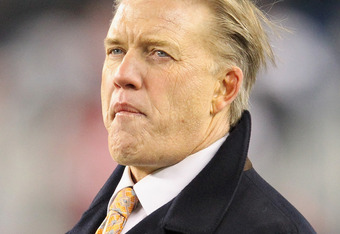 Jim Rogash/Getty Images
This could be a dramatic fail for Denver because they have put all their proverbial eggs in one basket. Of course, if Manning signs with the defending AFC West champions, the risk would have paid off.
Tennessee Titans
Tennessee is probably in a less precarious position than Denver because they currently have two quarterbacks that could competently lead the team heading into 2012. They also made a great under-the-radar signing in bringing in Steve Hutchinson as an upgrade along the interior of their offensive line.
Still, Tennessee was forced to watch Cortland Finnegan leave via free agency on a contract that they could have matched if it weren't for the Manning situation. Of course, this presupposes that the Titans had interest in retaining the veteran cornerback in the first place.
Either way, they have an opportunity to contend in 2012 without Manning. Matt Hasselebeck did a decent job in his first season with the franchise, while Jake Locker really does look like he is the real deal.
You still have to wonder if they could have made a play for a top-tier wide receiver, a replacement at cornerback and help along the front seven of their defense. Pure conjecture here, but it seems like they are expecting to sign Manning due to the fact that the rest of their priorities have taken a back seat.
San Francisco 49ers
The Niners have been less affected by the Manning situation than either of the other two teams on this list.
The MO of the 49ers has been to play it cool and be patient when it comes to free agency. This is one of the reasons that they made some great valued additions during the shortened 2011 offseason. Donte Whitner and Jonathan Goodwin were brought in on small contracts, while Carlos Rogers came cheap on a one-year deal.
This offseason has been no different. San Francisco retained Rogers on a cap-friendly four-year deal, while locking up Ahmad Brooks to a long-term extension. They also have Alex Smith as a fallback option in case they miss out on Manning as there seems to be no interest in his services in the free-agent market.
They also signed Randy Moss to a one-year incentive-laden deal. This gives San Francisco about $20 million left to spend in the free-agent market, obviously enough to sign Manning.
If not, it really isn't that big of a deal for this franchise. After all, they were an overtime loss away from going to the Super Bowl with Smith at the helm. If Manning does decide to come to the Bay they will probably be considered clear-cut favorites to win the Super Bowl. If not, they are still going to be contenders for the title. Pretty much a win-win situation if you ask me.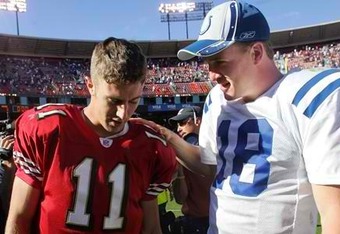 Conclusion
There is a reason why the Arizona Cardinals made the decision to jump out of the Manning sweepstakes. They just couldn't afford to let the free-agent market bypass them with the understanding that they were a long shot to acquire Manning in the first place.
At the very least they have a couple extra days to scour the market. The same thing really cannot be said for the three teams that are finalists for Manning.
Ha has held them all hostage. The reward is great, but so is the risk.