Arizona Cardinals: A 5-Step Plan to Save Their Offseason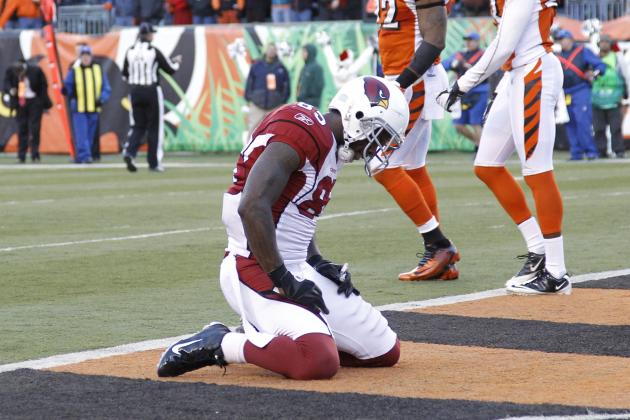 Joe Robbins/Getty Images

With Ken Whisenhunt finally confirming that the Cardinals' pursuit of Peyton Manning has come to a close (see story here), the next step for he and the rest of the Cardinals front office is to begin salvaging what has thus far been a disappointing offseason.

But don't worry, Cards fans, because this offseason can turn into a complete success with the right moves over the coming days.

Remember, this is a Cardinals team that showed a ton of promise at the end of the season, and the loss of Manning should by no means stunt our expectations for the Cardinals' 2012 campaign.

With the right moves in free agency, the Cardinals can rescue their offseason and confirm they will be legitimate contenders come December.
So allow me to present my five-step plan to save the Cardinals' offseason.
Note: Now, before I begin, let me note that I am going to refrain from introducing salary cap numbers into the equation. The reason is that I am simply unable to give you adequate (in terms of accuracy) figures, so bear in mind that the situations I present are wholly hypothetical and subject to…well, impossibility.
Begin Slideshow

»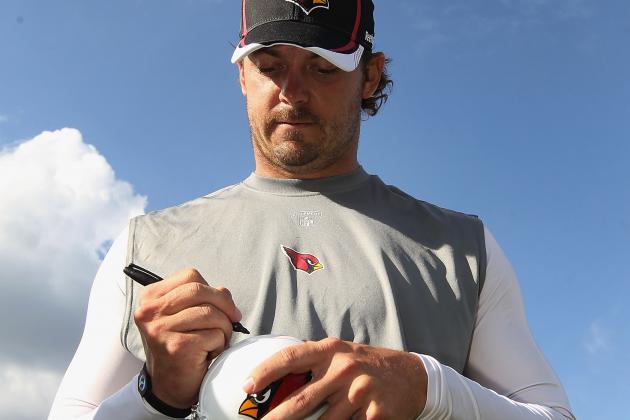 Christian Petersen/Getty Images

The first step to salvaging this offseason is to clear cap space so the Cardinals can become real contenders in free agency.

The first target should be Kevin Kolb. Rumor has it that the Cardinals immediately will work toward restructuring his contract. If doing so means that Kolb will have a new tackle protecting his blindside, I imagine Kolb would be more than willing to do so.

The second target should be Stewart Bradley. I'm not sure how much Bradley's contract counts against the cap, but given that he is set to earn more than $6 million this season, I assume it's quite a bit. Considering that Bradley is playing second fiddle to Daryl Washington and Paris Lenon, it's far too much to pay for a rotational player (albeit one who has loads of promise). With a restructured contract, we can give Bradley one more year to truly prove his worth to the organization.
To go along with Kolb and Bradley, Todd Heap has a contract that could be worth manipulating to free up some cap room.
Regardless of how it is all done, changes will have to be made in order to make way for the steps that follow.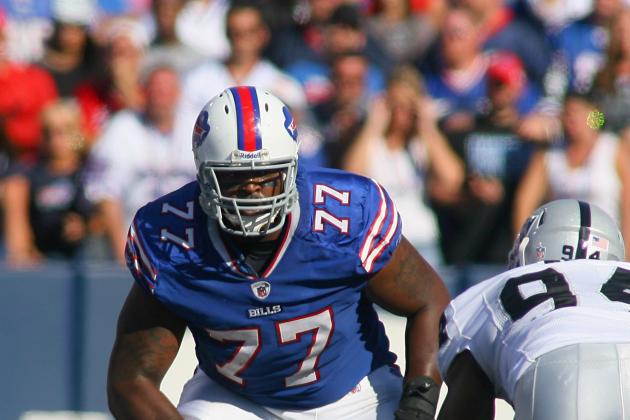 Rick Stewart/Getty Images

With Levi Brown returning and Brandon Keith likely heading out the door, the Cardinals have a great opportunity to move Brown back to right tackle, where he has excelled. He improved dramatically over the last few games of the season, and if that form continues, he will quickly become an above-average right tackle (although it is worth noting that Brown has stated that he'd like to stay on the left side of the line).
The problem at left tackle remains unsolved. While Brown proved he is capable of playing there at a reasonable standard, there is plenty (and I mean plenty) of room for improvement.
Two very good (albeit injury-prone) left tackles are still on the market, those being Demetrius Bell and Marcus McNeill. The pair are both 28 and both have proven that they are capable of becoming franchise left tackles, but each has a rough injury history.
Bell, in particular, takes my fancy and has for some time now. He only played in the Bills' first six games last season before finding himself on injured reserve, but in that time he conceded just a single sack while Buffalo started the season an impressive 5-1.
At the same time, Fitzpatrick was being crowned as one of the league's better quarterbacks. Is it a coincidence that it all started going downhill for Buffalo after Bell's injury? (Well, it probably is…but shhh.)
If the Cardinals could lock up a franchise left tackle within the next few days, complete faith in the organization would be restored. This would be the ultimate key toward salvaging this offseason.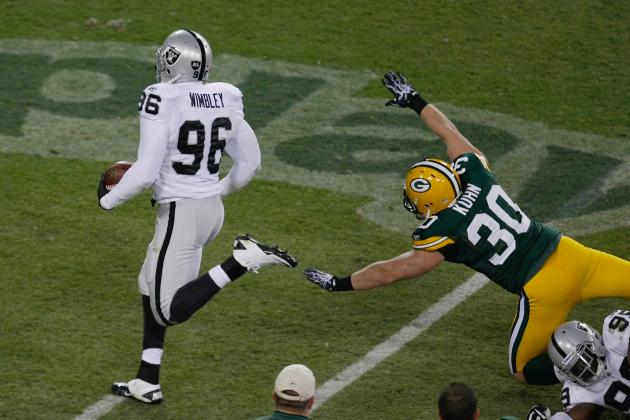 Scott Boehm/Getty Images

I'm sure you all heard the news that the Raiders released DE/OLB Kamerion Wimbley. Upon doing so, Wimbley quickly became the hottest pass-rusher on the market. It would be a huge victory for the Cardinals if they could sign him. He would add some serious grunt to our pass rush.
Sam Acho proved to be a fine player, and O'Brien Schofield still shows tons of promise. Combined with the veteran presence of Clark Haggans and Joey Porter, you have a decent set of pass-rushers. Add Wimbley to the fold, and you have a ton of depth at one of the most pivotal positions in the modern game.
Oh, and did I mention that Wimbley is also very polished when it comes to defending the run?
With the addition of Wimbley, I would dare you to look me in the eye and tell me that the Cardinals don't have a top-10 defense. We just need to hold out hope that we are not priced out of a potential deal.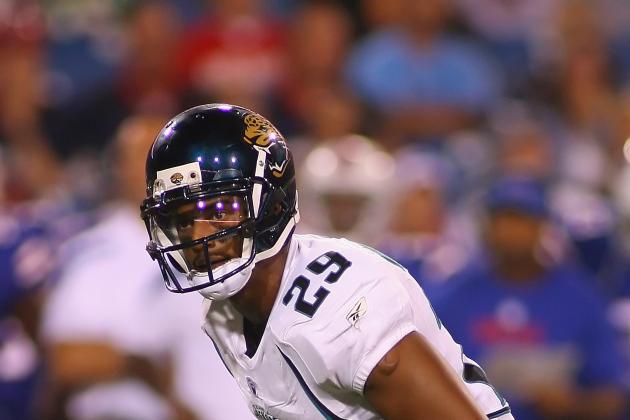 Rick Stewart/Getty Images

Outside of the offensive line, there are really no gaping holes on the Cardinals' roster. Although without Richard Marshall, there is a need at cornerback (although the return of Greg Toler and Crezdon Butler may help bridge that gap), and there is a relatively large need for a receiver to pair with Larry Fitzgerald.
It may not be financially possible to address both these issues during free agency, but there are a few talented players who the Cardinals may be able to bring in on the cheap to help address some of these holes in the roster.
If there was money left, going after a player like William Middleton would prove to be a huge success. The young Jags cornerback played well last season and was a worthy replacement for the likes of Perrish Cox and Robert Mathis when they were injured. Middleton may be on the smaller side (5'10"), but he could well become a stud nickel cornerback, much like Marshall was last season.
He'd likely come cheaper than the Marshall deal and could prove to be the better long-term alternative.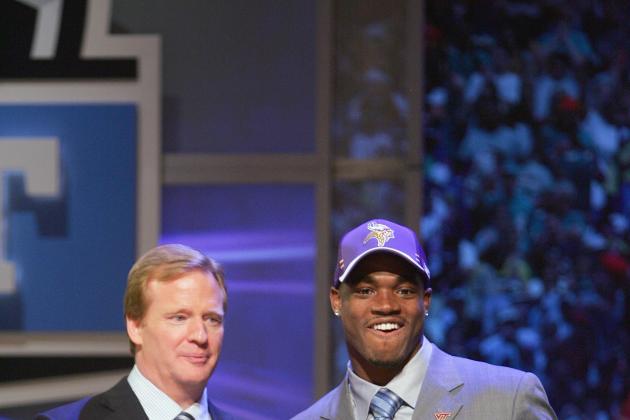 Chris McGrath/Getty Images

Let's imagine that we do sign Bell (or McNeill), and the tackle spots are no longer a major issue.
All of a sudden, what is our next biggest need? Whether you consider it to be receiver, corner or outside linebacker, none sticks out as a hugely pressing issue in itself.
So if we cannot identify one extreme flaw, what harm would be done in ensuring that we draft for talent over need?
This organization knows firsthand that it is seemingly a consensus amongst fans that talent over need is generally the path to follow. So, by ensuring that we snag the best player where possible, the front office can work toward ensuring that Cardinals fans everywhere are rejuvenated by a successful offseason.
If these five steps could be completed, all of a sudden this offseason will turn into a huge success, and I will have no doubt that this Cardinals outfit will not fall anything short of playoff-bound.