Tiger Woods: 20 All-Time Greats We'd Have Loved to See Go Toe-to-Toe with Tiger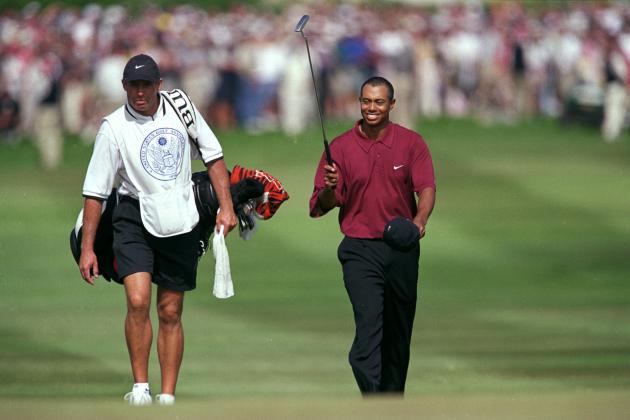 Jamie Squire/Getty Images

In the history of the game of golf, Tiger Woods may be the single toughest competitor to beat. Woods can hit the ball a mile, has a magnificent iron game, putts at a level few have ever reached and possesses a focus on the golf course unmatched by his present-day peers.
So, it seems fair to wonder, how would the 36-year-old legend have fared against the golfing legends of years past?
This list will at least attempt to answer that question.
Let's be clear, though, this is not a tally of the greatest 20 golfers not named Tiger Woods. This list combines a player's skill level with the amount of excitement the player brings to the golf course.
Greg Norman may have never been as great as Nick Faldo (at least in major championships), but would people really rather see a methodical Woods-Faldo match-up than a heart-stopping one between Woods and Norman?
It would seem the obvious answer is no, and with that in mind, here are the top 20 greats we wish Tiger Woods could've battled toe-to-toe.
Begin Slideshow

»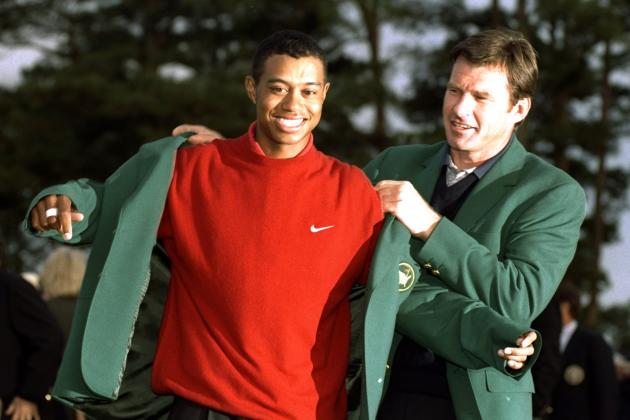 Stephen Munday/Getty Images

Nick Faldo was a great player in the early part of his career, but between 1987 and 1996, he was at his best.
During this period, Faldo finally started to win major championships (a whopping six in just a decade) and became famous for his ice-cold demeanor down the stretch. Nothing seemed to bother Faldo in the most pressure-packed moments, a quality that would've suited him well against Woods, a man renowned for his clutch play under pressure.
Of course, Faldo was the recipient of a few gifts from his opponents over the years (see Scott Hoch's missed two-footer at 1989 Masters, John Cook's missed two-footer at 1990 British Open and Greg Norman's collapse at 1996 Masters). But he capitalized on these breaks, doing what his opponents couldn't: close out a tournament.
Faldo was a precise player who rarely talked on the golf course. In other words, he was certainly a man with minimal creativity and flamboyance, making him a less than exciting player to watch Tiger take on.
Yet, with Faldo's steely reserve and ability to close, he could give Woods a serious run for his money. Faldo may not have Woods' talent, but with his ability to handle pressure, he definitely could've challenged Woods more than a few times in his era.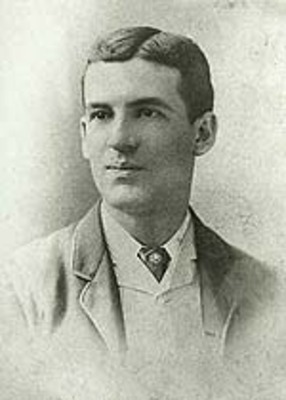 Walter Travis didn't have the greatest ball-striking at times, but boy, could he putt. Even if he seemed in trouble, Travis seemed to always escape the danger through his Schenectady putter.
Travis, a man who won three U.S. Amateurs and one British Amateur, is definitely a player underappreciated in the history of golf, but that doesn't mean he wouldn't have produced stellar theater against Woods.
"The Old Man," as Travis was known, bewildered many a man before with his amazing putting skills, so Woods may have been no different.
Granted, in his prime, Woods had a putting game at least close to Travis' and had a far stronger long game, but it would've been interesting to see just how well Woods could've held up against a man who didn't seem to miss on the greens.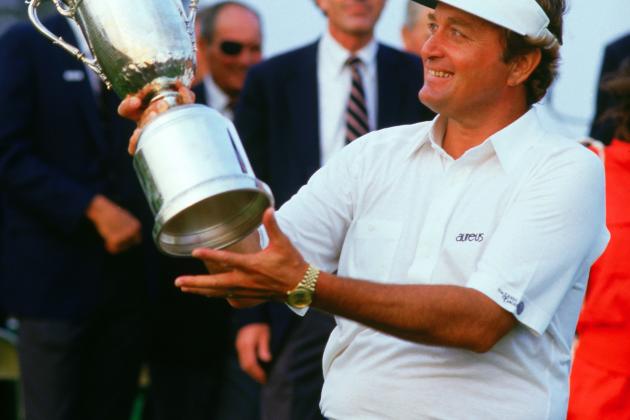 David Cannon/Getty Images

Raymond Floyd might have had a swing only a mother could love, but it brought him great success.
Floyd was a star of his time, recording 22 PGA Tour victories and winning four major championship en route to the World Golf Hall of Fame.
Floyd was far from the player Woods has been in his career, though. In number of victories and in talent, Floyd is far inferior to the greatness of Mr. Woods.
Nonetheless, this could've been a great duo to watch. Floyd, like Woods, could dominate a field at his best, most exemplified by his eight-shot victory at the 1976 Masters. When on his A game, Floyd could simply play at a far higher level than any of his competitors.
With Floyd's ability to raise his game to such heights, he may well have proven a less than simple opponent for Mr. Woods. These two could've possibly produced some great matches from time to time.
And even when Floyd couldn't give Woods a good match, it would've at least been entertaining to see whether Woods could stand watching Floyd's herky-jerky swing for a full 18 holes.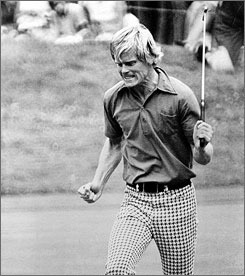 The California boy was an interesting player to say the least. He was one of the game's greatest ball-strikers, using his irons to hunt pins and search for birdies.
In one stretch in 1974, Miller hit 142 of 144 greens in regulation, missing just two greens in two whole golf tournaments!
That being said, Miller always struggled with the putter. He secured 25 PGA Tour victories (including two major championships) in his career and dominated the tour at times, but he never found true dominance without a solid short game.
Miller was a fun player to watch—he could go low quickly and could sneak up leaderboards that other players forgot he was on.
Miller might have proved quite a quandary for Woods if they had faced off. The game's most focused player has rarely given in to distractions, but Miller's ability to light up a golf course was tough to ignore.
Woods, an overall better player, would've beaten Miller in a majority of their head-to-head battles, but on the occasions Miller got hot, it would've produced must-see golf.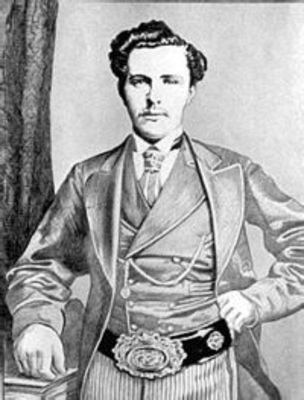 In order to tie Tiger Woods to Young Tom Morris, it takes well over a century.
That doesn't stop this list, though!
Morris was a stellar British player who dominated the Open Championship back in the mid-19th century. He was—and still is—the championship's youngest winner at age 17, and he captured four Open titles in his first six attempts.
Sadly, Morris died at the young age of 24 of a pulmonary hemorrhage, yet his short time in the game was long enough to prove his golfing greatness. He could hit the ball with great strength and also had a deft touch around the greens, a deadly duo for any opponent.
It's tough to know exactly how much Morris could've challenged Woods, especially with mid-19th century British golf being far different from its present-day American counterpart. But with all of the tools there and the will to win, Morris could've been a very difficult opponent for Woods.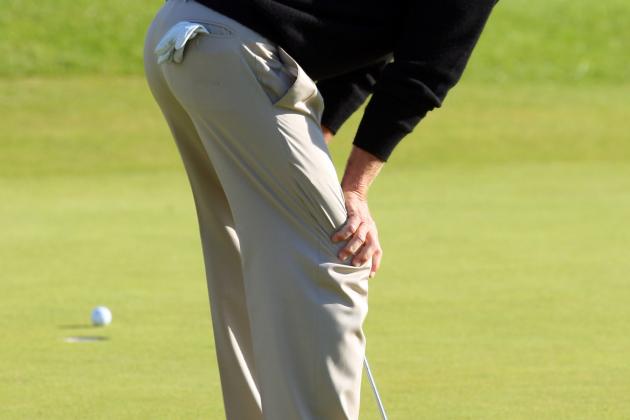 Andrew Redington/Getty Images

"The Shark," ironically, got bit quite a few times in his career. Whether it be a miracle shot by an opponent or an epic collapse by his own doing, Greg Norman felt the pain of defeat many times throughout his career.
Norman was still one of the greatest players of the 1980s and 1990s, though. His two major championships may not say greatness, but his 88 total wins and 331 weeks as the world's No. 1 ranked golfer surely do.
With an even more dominant player around like Woods, things possibly would've been far different. Would another top player have pushed Greg Norman and made him produce better golf (and more major championships), or would he have crumbled further under the heightened pressure?
Of course, nobody knows the answer to this question. But the Norman-Woods rivalry had the potential to be an exciting fight between two of the top players in the world.
Maybe in this scenario, Norman steps up to the plate and wins more, or maybe he collapses under the pressure. Either way, Woods and Norman would provide great theater if given the chance.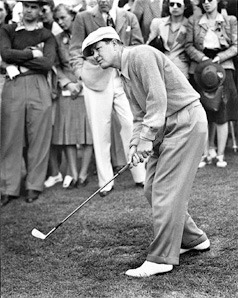 Despite retiring from the PGA Tour in his mid-30s, Byron Nelson put up quite a career. He won 52 PGA Tour events and brought home five major championship titles.
Nelson could attribute much of his success to an impeccable iron game. "Lord Byron" was one of the game's greatest iron players and was so accurate with his approach shots that hitting a flagstick was not a rare occurrence for him.
Nelson likely would've been one of Woods' toughest opponents if they had faced off. Nelson handled pressure situations well and was always up for a challenge against the cream of the crop, whether it be Ben Hogan or Sam Snead in his day.
This is not to say that Nelson would beat Woods 100% of the time (or 50% for that matter), but when his irons were on and balls were sticking close to the pins, Byron Nelson was almost impossible to beat.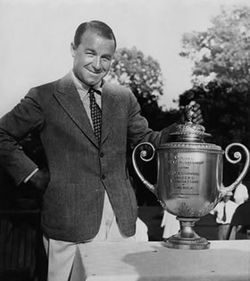 Gene Sarazen left quite a mark on the game back in the 1920s and 1930s.
Sarazen won 39 PGA Tour events and seven major championships in his illustrious career, becoming the first man to achieve the career Grand Slam with his Masters win in 1935.
The New Yorker was a feisty player who wasn't intimidated by anyone. An unfazed Sarazen actually defeated Walter Hagen in the 1923 PGA Championship final, an incredible accomplishment considering Hagen's mastery of the match-play format.
Although players over the past decade have expressed feelings of intimidation at the hands of Woods, Sarazen would not have felt the same way. With Woods' (although overstated) intimidation factor completely wiped out, Sarazen could've given Woods quite some battles.
They likely would have been great spectacles to watch—too bad we'll never get to see them.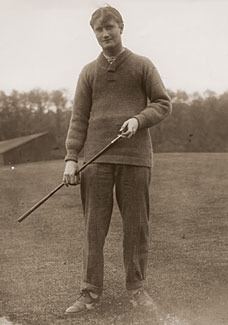 The high-class bachelor from New York partied a lot in his free time, but when he got to the course, Jerry Travers had a focus that even Woods might be envious of.
Travers was one of America's early great golfers. He won four U.S. Amateurs between 1907 and 1913 and added on a U.S. Open title in 1915.
Travers wasn't always the greatest ball-striker, but he made up for it with his exceptional putting, using the flatstick to roll home putts at key junctures in matches.
Like Faldo and Woods, Travers and Woods would be a boring group to watch if you're looking for chatter on the golf course. But that's what makes Travers vs. Woods such an exciting match—two men focus their intentions solely on victory and fight it out to the end.
Travers was far worse at stroke play than at match play, meaning Woods wouldn't have much trouble disposing of him when all the strokes were counted. In match play, though, Travers was awesome—he could win or halve holes that he seemed destined to lose.
With this ability to turn around holes, Travers would've given Woods all he could handle in the match play format.
If Woods' match-play battles with Trip Kuehne, Buddy Marucci and Steve Scott were great, those against Travers would've been legendary.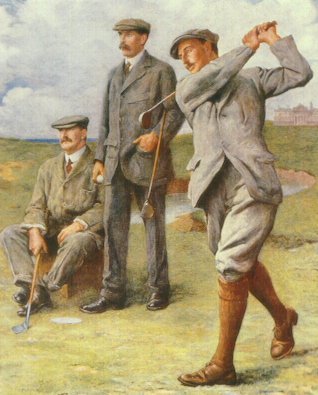 The man who popularized the overlapping grip was the king of British golf in his day.
Harry Vardon remarkably escaped childhood poverty and became the brightest star in the "gentleman's game," winning six Open Championships (a record) and one U.S. Open in his career.
Vardon's golf swing was the modern-day model—it was upright, got the ball high up in the air and, most importantly, was deadly accurate. Few men can say that they struck the ball as well as Harry Vardon.
Unfortunately, in 1903 Vardon contracted tuberculosis, a disease that interfered with his game for years and caused his short putting to deteriorate permanently. Vardon still won two British Opens after 1903, but he was never the same player he was before the disease.
Still, we don't want to see a weakened Vardon go toe-to-toe with Woods at full strength. We'd have loved to see Vardon at his best (pre-tuberculosis) against Woods at his best.
Vardon is certainly one of the game's greatest players, and he would've been a handful for Woods. Woods probably wins a majority of their head-to-head matchups, but Vardon likely holds his own against the modern-day legend.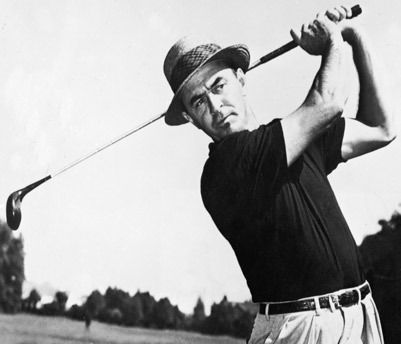 One of Byron Nelson's greatest rivals, Sam Snead, would likely have proved the same for Woods.
Snead was not afraid to go for victory—he won a record 82 PGA Tour titles and seven major championships. The Virginian could hit the ball a mile, and he consistently found the fairway, a combination that Woods has only occasionally put together.
Like Vardon, Snead had a meltdown late in his career with the putter. Snead lost so much confidence on the greens that he first resorted to croquet-style putting and then to a side-saddle style (to say the least, neither of these techniques were very pretty or screamed great putting).
Again, though, Woods-Snead in their primes would've been fun to watch. Watching the long-hitters launch drives into the stratosphere would be thrilling, and seeing whether or not Snead could hit the ball well enough to overcome his putter (which was pretty average even before his late-career swoon) would've been interesting.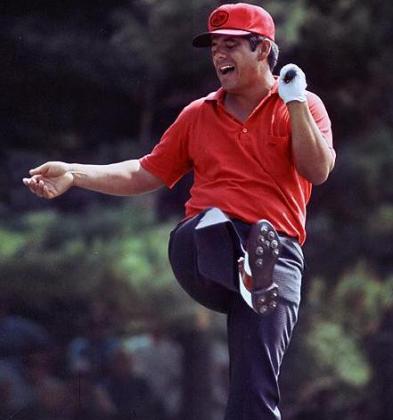 "The Merry Mex" was far from a quiet person, but he was an even better golfer than a talker.
Lee Trevino captured 29 PGA Tour titles in his career and won six major championships. He had a homemade swing, and it was ugly, but it did serve him well on the professional circuit.
One of the most effervescent personalities in golf, Trevino entertained the crowd when playing. He had jokes and surprises, including a rubber snake that he satirically threw at Jack Nicklaus at the opening tee of a playoff at the 1971 U.S. Open.
Trevino's battles with Woods definitely would've been exciting. A number of elements are there—the contrast of the chatter-box Trevino and the hyperfocused Woods; the ability of Trevino to take down the game's best, as he did to Nicklaus on multiple occasions; and the knack of both men to pull off miraculous shots.
How could you not watch that?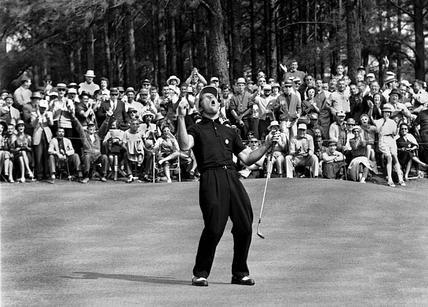 Part of a trio that included Arnold Palmer and Jack Nicklaus, Gary Player was a competitor for the ages.
The fiery South African won 24 PGA Tour events (and over 100 others on various tours) and nine major championships in his Hall of Fame career and is one of just five players to obtain the career Grand Slam.
A Woods-Player duel would be something worth watching. If getting to view Player's amusing swing isn't enough for you, watching a pair of greats duke it out should be.
Player was always ready for a good fight on the golf course, and considering that his skill level is close to that of Woods, this would be a fantastic duo to watch.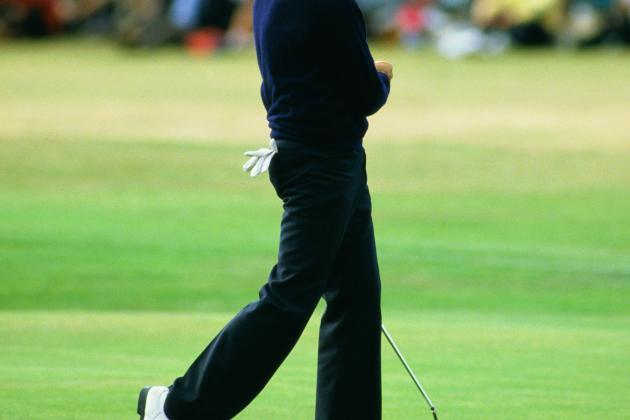 David Cannon/Getty Images

The great Seve Ballesteros may have passed away recently, but he won't soon be forgotten.
The Spaniard had a brilliant career, winning 50 European Tour titles (most all-time), five major championships and the adoration of many fans.
Ballesteros was the antithesis of a fairways-and-greens player. He hit the ball into trouble often and extracted himself from these sticky situations before fascinated crowds. The man was simply the best scrambler of his time (and one of the best ever) and was impossible to ignore when he got up and down from the most unlikely of places.
Ability-wise, Ballesteros probably isn't the No. 7 golfer of all-time, so his head-to-head duels with Woods may not be as close as, say, those of Player and Woods. But it's the excitement of Ballesteros' game that merits him such a high spot on this list.
Getting to watch Ballesteros pull off miraculous recovery shots to keep up with Woods would definitely be a sight worth seeing.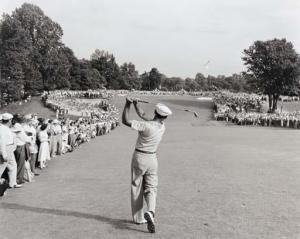 Sam Snead, Byron Nelson and Ben Hogan may have been the big three of the 1950s, but there's a reason why Hogan is far and away the highest on this list: he was the best golfer of the three.
Hogan secured 64 PGA Tour titles and won nine major championships in his amazing career, earning the nickname of "The Hawk" for his unwavering focus on the golf course.
Hogan, like Snead and Nelson, was a preeminent ball-striker and more often than not found much more comfort on the tee and in the fairway than on the green.
Also, like Snead, Hogan's putting deteriorated at the end of his career, and he was only an average putter to start with. So don't expect a Hogan-Woods match to be a duel of the flatsticks.
This would still be one of the most exciting pairs to watch—two of golf's coolest characters fighting it out for golfing supremacy. Would Hogan (who some say is the game's greatest ball-striker of all-time) hit the ball too well for Woods to handle? What about putting—would the advantage on the greens for Woods be too much for Hogan to overcome?
This easily would be one of golf's most anticipated matches.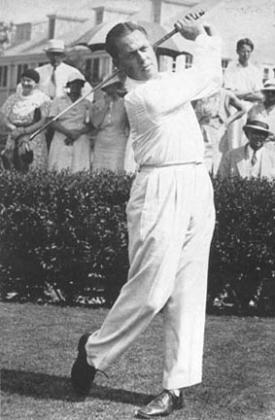 The Georgia amateur never won any money from golf tournaments, but his career was about far more than that.
Bobby Jones ruled the golfing scene in the 1920s, winning 13 major championships in his career. Jones had a slow start to his career, failing to win a major in his first seven years, but once he started winning, he did it quickly, capturing all 13 of his major championship titles between 1923 and 1930.
Jones had a beautiful swing and a calm demeanor (well, in the second half of his career) and was the model of a true amateur golfer.
Jones retired from golf at the age of 28. Yet even in that short time, Jones won quite often and dominated golf between 1923 and 1930 to an extent only with which Woods is familiar.
Jack Nicklaus may have the most major championships, but Jones and Woods had higher peaks. With that in mind, it would be awesome to see some head-to-head matches between Jones and Woods. The ability of their games to go to such heights would produce some incredible golf.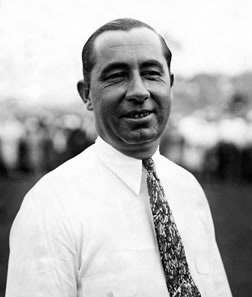 Although Walter Hagen was never the one to decline a party invitation, that lifestyle never hurt him on the golf course, where he made his living.
"The Haig" was a monster on the professional golfing circuit in the 1910s and 1920s, amassing 45 PGA Tour wins and 11 major championships in his time.
Hagen was not the model of an ideal ball-striker by any means, as he used his short game to save himself from many a bad situation. Hagen was also known to use psychology to trip up his opponents during matches.
Clearly with these short-game and psychology skills, Hagen much preferred match play, as exemplified by his 22 straight match victories at the PGA Championship between 1924 and 1928.
Woods has also proven to be a master of match play, so this would be a very intriguing duo to watch do battle. It would be two of match play's best duking it out for supremacy, and with Hagen, anything can happen.
We already know that his ability to hit poor shots and then scramble out of trouble could confound even the great Bobby Jones. Seeing him do it to Woods would be even more interesting to watch.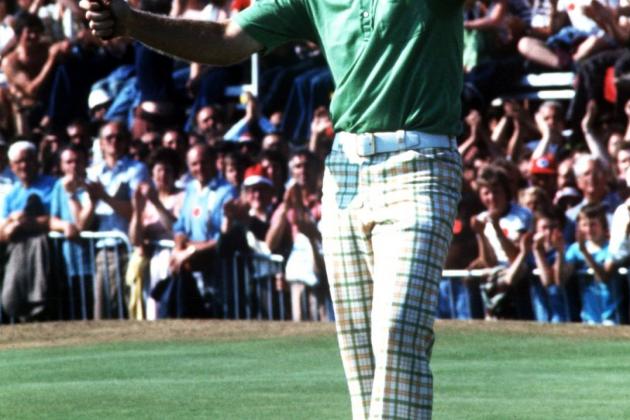 Getty Images/Getty Images

Tom Watson is probably a golfer Jack Nicklaus wishes had never entered the game.
The Kansas City product amassed 39 PGA Tour wins and eight major championships in his career and made a habit of stealing majors away from Nicklaus. On four occasions, Nicklaus finished runner-up to Watson in a major championship, meaning Nicklaus could have wound up with 22 majors instead of 18.
Along with his giant-killing ability, Watson had a supreme short game. He was an excellent scrambler and putter, especially under pressure. He had the ability to hole chips and make long putts at crucial points in the tournament.
Although Watson lost his putting touch in his mid-30s, halting his ability to be one of the game's best, his previous golfing résumé shows perfectly well that he would've been a formidable opponent for Woods.
Watson, like Woods, was the best player on tour in his prime and had the exciting short game to bring some added flavor to any match-up they had. Most importantly, he showed that he could take down Nicklaus, who, as arguably golf's greatest player of all-time, is a lot like Woods.
Unfortunately, nobody knows for certain that Watson-Woods would've become a tremendous rivalry, but considering what happened between Watson and Nicklaus, it seems pretty likely.
With moments like Turnberry in 1977 and Pebble Beach in 1982 to look back on in the Watson-Nicklaus rivalry, it's exciting to imagine what Watson-Woods could've been.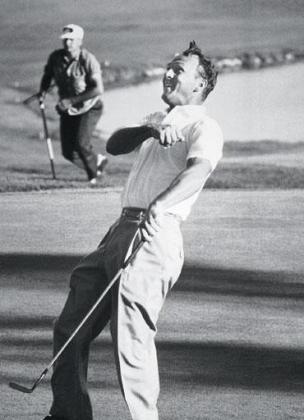 Arnold Palmer, almost a half-century later, is still revered as one of the game's greats.
The Pennsylvania boy captured 62 PGA Tour titles and seven major championships in his time playing. He had an unorthodox swing that included some convulsions, and like many other greats, it worked.
But there was more to him than just his stellar play—he also became a selling point for the game.
Palmer was one of the most important figures in the history of golf because he came along right as television and golf collided, giving viewers a handsome and charismatic character to watch charge down the stretch to win tournaments.
Having Palmer on television raised golf's status immensely, driving new viewers to watch the sport and bringing in more money for the golfers on tour. His impact on the game clearly was not just on the course.
For that reason, Palmer vs. Woods goes from exciting to must-see. Like Palmer, Woods has attracted a great deal of popularity to the game and increased purses significantly in the process.
Watching these two titans of golfing popularity face off head-to-head would be a spectacle few would want to miss.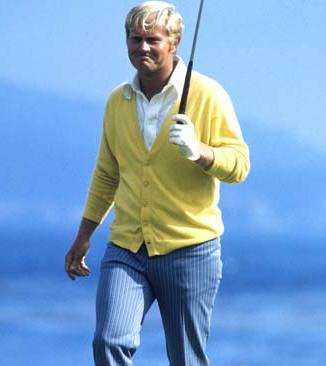 This is no surprise. Jack Nicklaus sits at No. 1 on this list because he is widely considered the game's greatest player.
Nicklaus won 73 PGA Tour events in his career and a record 18 major championships to boot. His rhythmic swing was a thing of beauty, especially on the long irons he was legendary for. Nicklaus also was very good on the greens and was one of the best in the business at sinking putts when he needed to.
He is the most comprehensive opponent that Woods could have in this hypothetical tour of match-ups. Nicklaus has the skill, the confidence and the will to be just as good as or better than Woods.
It's useless to guess who would be the better player if they had played in the same era. They each only have one weakness—chipping for Nicklaus and driving accuracy for Woods. It's likely that whoever controls their weakness better comes out on top, but who knows which of the two would do that.
Anyway, that's how we end, with Tiger vs. Jack. Although none of these possibilities will never come to fruition, they are still fun to contemplate.
With no true rival to Woods, we have to look for them in the past, an interesting and imaginative exercise.
Although if Rory McIlroy continues to progress, we may be talking about present-day rivals soon enough.