20 NFL Players as Star Wars Characters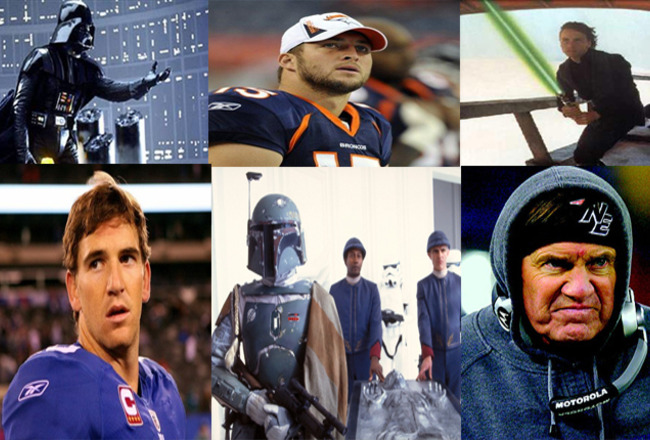 The Star Wars universe and NFL may have more in common than you think.
Every year in the NFL, different storylines emerge and the league becomes ripe with heroes and villains in a battle of good vs. evil.
Some players take starring roles, while others appear for just a fleeting moment, but somehow are remembered by all.
There are old, reliable players and coaches who serve as mentors for the young.
There are some who just flat-out wish they had the power to rule the galaxy.
The following slideshow casts 20 NFL players as Star Wars characters.
I chose some players based on looks, some on behavior, some on circumstance and even one because of assumed stink.
Because of the depth of the Star Wars universe and the infinite number of people in the NFL community, the possibilities are endless.
Bill Belichick: Emperor Palpatine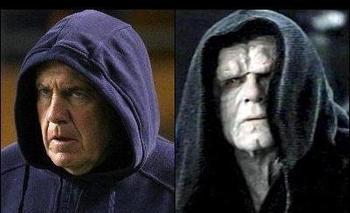 We'll start with the most obvious. Not only is Bill Belichick the head of the NFL's Evil Empire, he dresses the part too.
Belichick is such a perfect fit as Emperor Palpatine that it almost seems that he is a huge Star Wars fan intentionally trying to become Palpatine.
The match is so perfect that you can picture Belichick using some of Palpatine's quotes verbatim from the movies.
Next time the Patriots handle the Jets, just picture Belichick leaning in to Rex Ryan during the postgame handshake and saying, "Your feeble skills are no match for the power of the Dark Side."
Rex Ryan: Jabba the Hutt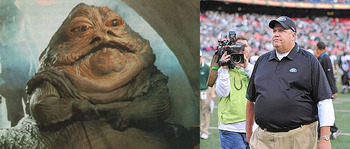 Another perfect choice directly out of Central Casting is Rex Ryan as Jabba the Hutt.
It would be taking the easy way out just to put Ryan in the role because his physique is comparable to Jabba's, but it goes beyond that.
Jabba is a blustery, overconfident leader who has no trouble expressing his opinions. He also fails to follow through on his threats that Han Solo, Chewbacca and Luke Skywalker will die.
Remind anyone of a certain coach whose mouth writes checks he doesn't end up cashing?
Let's just hope that Ryan's career doesn't go down in the spectacular explosion in the middle of the desert in the same way Jabba's did.
Tim Tebow: Luke Skywalker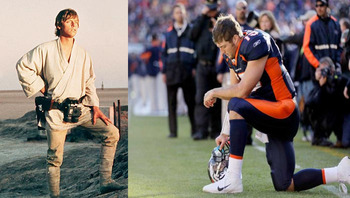 Finally, there is a logical explanation for Tebowmania: It was The Force after all.
Want an explanation as to why Marion Barber ran out of bounds while trying to kill the clock against the Broncos? How about why Eric Smith of the Jets decided to blitz Tim Tebow, leaving an entire side of the field vacant for a game-winning touchdown?
There is no other explanation besides Tebow playing Jedi mind tricks on opposing players.
The likelihood of Luke Skywalker leading the Rebel Alliance in a successful attack on the Death Star was just about the same as Denver beating the Pittsburgh in the playoffs in 2011.
But against all odds, both were successful.
Tebow's persona even fits the Skywalker character, as both played the squeaky-clean good guy in a world full of riffraff and thugs.
The only thing missing is an angry Urban Meyer lopping off Tebow's hand in an effort to get him to join his new staff at Ohio State.
Chad Ochocinco: Han Solo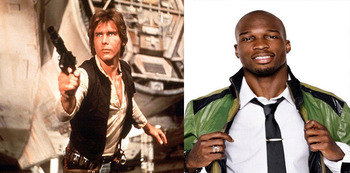 This might be a controversial choice, but the only person who can match Han Solo in swagger and cockiness is Chad Ochocinco.
Like Solo, Ochocinco loves his individuality, but works well as part of a team.
Solo was originally not part of the Alliance, but instead worked as an independent smuggler. He eventually came around and joined the Alliance as a key part of the team.
Ochocinco was labelled as a "me-first" diva wide receiver early in his career, but by all accounts, was a great teammate.
If those connections aren't enough for you, imagine Han Solo with a Twitter account. It would probably end up being very similar to Ochocinco's.
Now we just have to hook up the Millennium Falcon's hyperspace into Ochocinco's Prius, and we'll be all good.
Brett Keisel: Chewbacca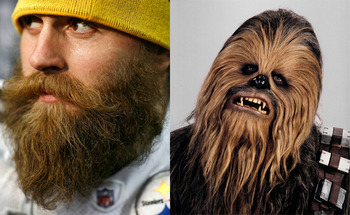 I based some of these decisions on looks, while attitude shaped other choices.
But I can just imagine that Brett Keisel would smell like Chewbacca.
While Keisel doesn't stand 7'3" like Chewbacca actor Peter Mayhew, his 6'5" frame would be imposing enough.
There are plenty of other players in the NFL who have beards and long hair, but when it comes to the percentage of skin covered by hair, nobody beats Keisel.
Keisel also seems like he would be able to match Chewbacca's strength and also looks like he would be comfortable wielding the Wookie's patented bowcaster weapon.
At the very least, Ochocinco piloting the Millennium Falcon with Keisel as first mate sure would be something to see.
Wes Welker: Boba Fett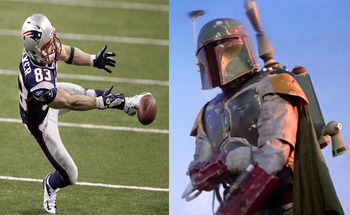 Like Boba Fett, Wes Welker is a cool-looking guy whose talent places him at the top of his profession.
Boba Fett is one of the top bounty hunters in the Star Wars universe, and Welker is one of the top wide receivers in the NFL.
The one thing they both have in common that makes this match perfect is that they both choked in a huge spot.
Welker could have delivered a Super Bowl championship to New England if he pulled in a difficult, yet catchable pass from Tom Brady with four minutes left in the game.
The opportunity was there, but Welker twisted to the ground helplessly as the ball hit the turf.
Like Welker, Boba Fett choked in the big spot as well.
In the epic Return of the Jedi desert battle scene, when Luke and his crew took down Jabba the Hutt's barges, Boba Fett was the Wes Welker of the operation.
During the battle, he launched himself off Jabba's barge onto the ship carrying Luke and Han. He landed and pointed his gun, only to have it sliced in half immediately by Luke's lightsaber.
Boba Fett then went to his backup plan and wrapped up Luke with a rope shot from his wrist. Instead of unleashing his fury at that point, Boba Fett fell flatly to the deck when the barge was shot at.
For the final act in his bumbling turn of events, Boba Fett regained his footing and misfired two shots at Luke. As he was lining up his final shot, a blind Han Solo knocked into Boba Fett's jetpack, sending him flailing through the air, screaming and waving his hands. He crashed into the side of Jabba's barge and tumbled to his alleged demise into the Sarlacc.
Talk about your epic choke jobs.
Boba Fett's performance in the clutch ranks right up there with Bill Buckner. Since this is a football theme, we'll settle for Welker, the most recent scapegoat who came up small in a big spot.
Warren Moon: Lando Calrissian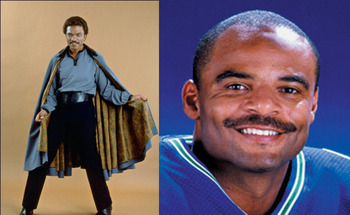 Warren Moon as Lando Calrissian is a casting call based strictly on looks.
Calrissian is the smooth-talking administrator of Cloud City and good friend of Han Solo.
Calrissian became one of the most reviled characters in Empire Strikes Back when he betrayed Han Solo, but he gained a measure of redemption when he helped break Han and the gang away from whatever Jabba the Hutt had in store for them during Return of the Jedi.
Moon would be perfect as Calrissian mostly because nobody but a slick-looking, mustachioed cool guy could pull off Calrissian the way Billy Dee Williams did.
Even though Moon did change teams multiple times in his career, nobody considered him the turncoat Calrissian was.
Moon would look tremendous in both the trademark blue cape and poorly constructed "disguise" Calrissian wore on Jabba's barge.
His casting as Calrissian is as much a no-brainer as Bill Belichick as Emperor Palpatine.
Jenn Sterger: Princess Leia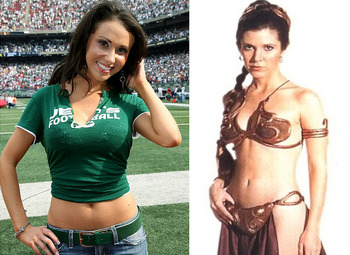 Jenn Sterger in the Princess Leia gold bikini?
Yes please!
There is an extreme and unfortunate shortage of women in both the Star Wars universe and in the NFL, so the choices are slim here.
Any number of sideline reporters not named Lesley Visser could provide Sterger competition here, but ultimately, Sterger's edginess wins her the spot.
She's already dealt with Brett Favre's sleazy advances, so she should easily be able to handle whatever Han Solo has in store.
She also won't let Darth Vader push her around, or the Ewoks for that matter.
Roger Goodell: Darth Vader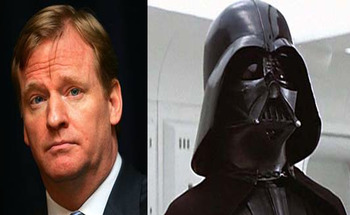 Like Darth Vader, Roger Goodell rules the NFL with an iron fist.
Don't believe me? Ask Sean Payton and the New Orleans Saints what happens when Goodell believes he was lied to (as reported by ESPN's Adam Schefter).
Since becoming NFL commissioner in 2006, Goodell has thrown around some major fines and suspensions, including suspending Pacman Jones and Donte Stallworth for entire seasons.
You get the feeling that if Goodell could use The Force to choke out Jones the way Darth Vader did on Admiral Motti, he would jump at the chance.
Bill Walsh: Obi Wan Kenobi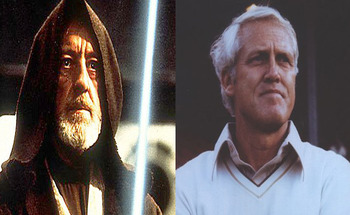 While the Obi-Wan Kenobi mentoring tree isn't as extensive as the Bill Walsh coaching tree, both Walsh and Obi-Wan had a profound impact on the course of the galaxy.
A young Obi-Wan served as a mentor to Anakin Skywalker, giving the future Darth Vader the Jedi fighting tools he needed to eventually rise to the top of the Empire.
Obi-Wan redeemed himself, though, by rescuing Luke Skywalker from the Sand People and setting him on course to realize his fate as the last remaining Jedi Knight.
Walsh not only mentored coaches like Mike Holmgren, Sam Wyche and Dennis Green, but also helped turn Joe Montana from third-round draft pick to arguably the best quarterback of all time.
While Yoda was the Jedi Grand Master and worked directly and individually with Luke, it was Obi-Wan who was out in the field still fighting until his death.
Plus, if Walsh grew his beard out and walked around in a robe, he would have the perfect look as Obi-Wan.
Now, if the 49ers win another Super Bowl and Walsh's ghost shows up for the celebration the way Obi-Wan's did in Return of the Jedi, that would really be something.
Ndamukong Suh: Tusken Raider
The Tusken Raiders—or Sand People, as they are also referred to—are some of the most dangerous beings in the Star Wars universe.
Every single time Sand People make an appearance, they are angry and agitated.
Basically, the Tusken Raiders roam the desert on Tatooine much the same way Ndamukong Suh plays defense for the Detroit Lions.
Their first appearance came in the original Star Wars in 1977, when they knocked Luke Skywalker unconscious for no good reason. Luckily, Obi-Wan Kenobi was there to scare them off, saving Luke from whatever fate they had in mind.
While Suh doesn't bring weapons onto the field of play (at least he hasn't yet), he did push the Packers Evan Dietrich-Smith's head into the turf and stomp on him in a game last Thanksgiving.
I could imagine Roger Goodell evoking Obi Wan's quote upon saving Luke from the Tuskens when addressing Suh's discipline for the violence:
"Ndamukong Suh is easily startled, but he will soon be back."
Eli Manning: Jar Jar Binks
Eli Manning might have won multiple Super Bowls, but even his biggest fans have to admit that he is quite a goofball.
Manning's "aw shucks" persona and bumpkin demeanor would drive Star Wars fans insane, much the way the bumbling Jar Jar Binks did in The Phantom Menace.
Jar Jar and Manning are very similar because despite their clumsiness, they eventually both emerged as leaders among their kind.
During his first few years in the NFL, Manning underwent tremendous scrutiny from fans, media and former teammates who felt he was incapable of leading his team to the promised land.
Two Super Bowls later, the doubters are silent.
In Phantom Menace, Jar Jar nearly bumbles his own life away, but eventually redeems himself by leading his troops to victory as a general in the Gungan Army.
The only major difference between Manning and Jar Jar Binks is that Giants fans now want Eli to stick around and Star Wars fans will always want Jar Jar erased from their memories.
Calvin Johnson: General Grievous
While the original Star Wars trilogy had to be creative when it came to special effects, the final three chapters George Lucas made relied heavily on CGI for effects, and even for entire characters.
One such character was the spectacular General Grievous.
Grievous was a secondary villain in Star Wars III: Revenge of the Sith and presented a major challenge to anyone he battled. Grievous was not just a physical specimen as a cyborg warrior, but had an advantage because he was able to wield lightsabers with each of his four arms.
When it comes to NFL players who are superior beings that seem to be all arms and legs, nobody fits the bill better than Calvin Johnson.
Johnson has earned the nickname "Megatron" because his imposing size and freakish abilities compare to the leader of the Decepticons in Transformers.
A more accurate nickname, however, would be "Grievous."
After the season Johnson had in 2011, it has become blatantly obvious that there isn't a catch on the field he can't make. At times, it does seem like he has an extra set of arms helping him out.
Terrell Owens: Darth Maul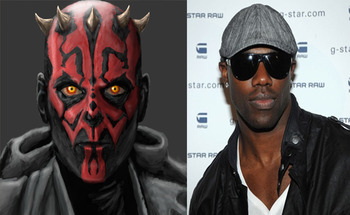 When George Lucas released Star Wars Episode I: The Phantom Menace in 1999, early buzz surrounded a flashy villain with skills on a dual lightsaber that would blow you away.
That villain was Darth Maul.
Darth Maul sure delivered in the flashiness and cool departments, but didn't quite realize his ultimate goal in the film, which was to capture Padme and kill Qui-Gon Jinn and Obi-Wan Kenobi.
Darth Maul succeeded in killing Qui-Gon, but subsequently got himself sliced in half at the hands of Obi-Wan.
While Terrell Owens was never cut in half by a lightsaber, he does have other similarities to Darth Maul.
The flashiness certainly is there, and the hype around T.O. in his prime was at least equal to that surrounding Darth Maul.
What makes this match perfect is that Owens never fully delivered the goods either.
Owens got close in 2005, playing a courageous game against the Patriots in the Super Bowl on a severely injured ankle.
But in the end, he never was a Super Bowl champion.
Blaine Gabbert: Stormtrooper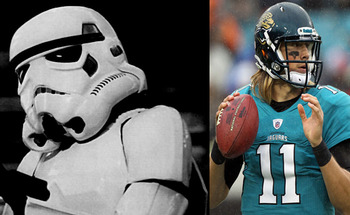 Blaine Gabbert lands the role of a Stormtrooper based on his awful passing accuracy.
Throughout the series, Stormtroopers miss so many clear shots at Luke and the gang that you wonder if they are really trying to shoot them at all.
In fact, the entire phenomenon that Stormtroopers can't shoot accurately is commonly referred to as "stormtrooper aim" by many in the Internet community.
Gabbert missed so many receivers during his rookie year that you wonder if he was taking accuracy lessons from the Stormtroopers.
Gabbert's completion percentage in 2011 was 50.8 percent, which ranked 33rd among full-time quarterbacks—ahead of only Tim Tebow.
Other Characters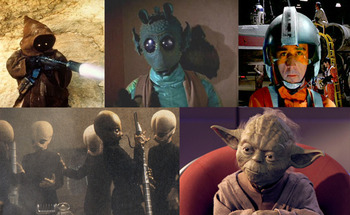 Maurice Jones-Drew: Jawa
Like Maurice Jones-Drew, the Jawas are among the smallest beings in their realm. Jones-Drew and the Jawas are working-class people who are not afraid to get their hands dirty.
Rex Grossman: Greedo
It's not that we want Rex Grossman to meet the same fate Greedo did in the Mos Eisley Cantina, but his play on the field lands him in this spot. Grossman is one of the worst decision-makers at the quarterback position. He threw 23 interceptions in 2011 and averages more than one interception per game during his career.
One of the worst decisions made during Star Wars was Greedo deciding to have a conversation with Han Solo instead of just shooting him. If Greedo wanted Han dead so bad, just shoot him! Instead, he sat at the cantina table like he was going to enjoy a sandwich and watch the game with him.
His procrastination ended up costing him his life. Han shot first!
Vonta Leach: Wedge Antilles
Vonta Leach and Wedge Antilles are underrated, yet essential people in their worlds. Leach does the dirty work as a devastating blocking fullback for the Texans. He carved a path for Ray Rice and Arian Foster in each of the past two seasons, both of which ended with Leach in the Pro Bowl.
Wedge is an outstanding fighter pilot who helped pave the way for Luke on his Death Star attack in the original Star Wars. He also supported the cause in Empire Strikes Back and Return of the Jedi.
1985 Chicago Bears: Cantina Band
The 1985 Bears are known for domination, Coach Ditka, Walter Payton and the "Super Bowl Shuffle." The song is awful at its core, but so campy that it remains a favorite of fans across the NFL.
The cantina scene in Star Wars is one of the classic moments in the series, with a ton of cameos from memorable characters and legendary quotes that have lived on for decades. However, watch that scene one time, and you will have the music of the Cantina Band stuck in your head for days.
Leon Hess: Yoda
Leon Hess was the lovable owner of the New York Jets and one of the pivotal figures in the AFL-NFL merger. In his later years, he basically looked like Yoda. If he really wanted to play the part, he could have gone out into the Meadowlands parking lot and borrowed some green face paint from crazy Jets fans as well.
Ships, Vehicles and Inanimate Objects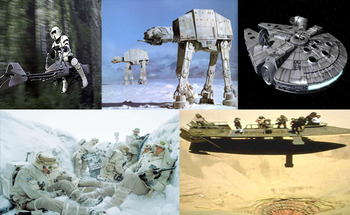 Devin Hester: Speeder Bike
It's easy to cast Devin Hester in Star Wars. Just think of the fastest, most agile thing in the series. It boiled down to either a podracer or speeder bike. The speeder bike wins out, as Luke zipping through Endor, darting around trees, is most similar to Hester weaving in and out of kickoff coverage.
Ben Roethlisberger: AT-AT
Big Ben might put up decent rushing numbers as a quarterback, but it is not because of his blazing speed. Roethlisberger is big, lumbering and dangerous, just like the four-legged walkers in Empire Strikes Back. But what makes this a perfect fit is that when a smaller cornerback brings down Big Ben by the legs, he resembles an AT-AT crumbling to the ground in the Battle of Hoth.
John Kasay: Millennium Falcon
The Millennium Falcon and John Kasay are old, reliable and basically held together by duct tape and chewing gum. The 42-year-old John Kasay seems like he could break down at any moment, but keeps producing late into his NFL career. Aside from a balky hyperspace system, the Falcon gets the job done as well.
Lambeau Field: Hoth
Take a look in the stands during a Green Bay Packers home playoff game. Fans are basically dressed the same as Luke and Han as they traipse around the ice planet in Empire Strikes Back. Please alert stadium security if you see fans slicing open a Tauntaun's stomach for some extra warmth.
Sarlacc: Joe Thomas
For those who don't know Sarlacc by name, it is the toothy pit in the desert that Jabba the Hutt intends to feed with Luke Skywalker and his friends during Return of the Jedi. Joe Thomas, the Cleveland Browns All-Pro lineman, is similar to Sarlacc because he devours defensive linemen the way Sarlacc swallowed Jabba's inept army of thugs as they were thrown from his barge.
Your Cast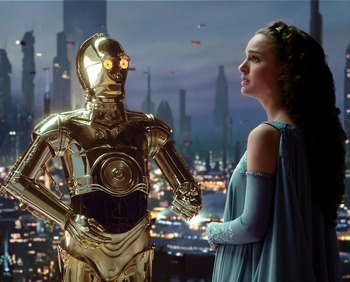 One of the great aspects of the Star Wars universe is that there are hundreds and hundreds of characters spanning all six films.
Even if a character appears on screen for three seconds without making a sound, you can bet he has a name, an action figure and an Internet fan club (Hammerhead, Lobot and Yak Face: I'm looking at you).
This slideshow only mentions 20 characters, leaving out mainstays like C-3PO, Mace Windu, Padme Amidala and Anakin Skywalker (before he became Vader).
Who would you cast for the characters left out? What other casting choices would you have made?
Keep Reading