A Tribute to Ron Bartell: Ex-Rams Cornerback Is California Bound
March 17, 2012
Otto Greule Jr/Getty Images
In 2005, the St. Louis Rams used their 50th overall pick in the second round to pick up cornerback Ron Bartell. 
As a product of Division I-FCS Howard University in Washington, D.C., no one knew what to expect out of a physically gifted defensive back who had yet to lineup against a single wide receiver with legitimate talent.
Clearly, the pick was a bit of a gamble, but one that steadily began to pay off as the years progressed. 
As a rookie, Bartell started seven games at cornerback as an injury replacement. He failed to record an interception, but he racked up 34 total tackles.
Bartell's anticipated promotion into a starting role was delayed in 2006 after the Rams used a first-round draft pick on cornerback Tye Hill, which forced Bartell to play nickel back.
In a limited role, Bartell picked off three passes and even returned one 38 yards for a touchdown.
The Rams entered the 2007 season with Fakhir Brown and Tye Hill as the starting corners, but a four-game suspension for Brown and multiple injuries sustained by Hill allowed Bartell to start 12 games. 
During the 2007 season, Bartell had 67 tackles (remains a career high) and two interceptions. 
In 2008, Bartell started all 16 games for the first time in his career.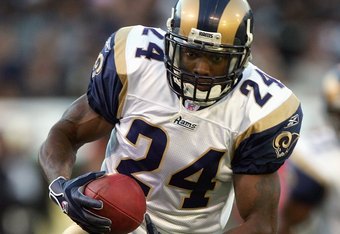 Jed Jacobsohn/Getty Images
Following the 2008 season, head coach Steve Spagnuolo took over the team and immediately recognized the importance of Bartell, who had just entered free agency and was attracting interest. 
Bartell was wined and dined by the New Orleans Saints, who were desperate for help at defensive back at the time. But rather than signing with a team that would ultimately win the Super Bowl the following season, Bartell decided to stick it out with the Rams, for better or for worse. 
Bartell signed a four-year deal with the Rams worth $28 million. 
Over the next two seasons, Bartell had 127 combined tackles and four forced fumbles. 
The Injury and Departure
In the 2011 season opener against the Philadelphia Eagles, Bartell was removed from the game with a neck injury. 
It was later revealed that the injury was actually a fractured neck that was potentially career-threatening. However, Bartell rehabbed towards a full recovery and did not hide his plans to play football again in the future.
Unfortunately for Bartell, Spagnuolo was fired following the season, and the team hired Jeff Fisher as the new head coach.
The situation was unfortunate because Fisher did not see the point in paying $6.2 million to a player returning from a serious injury, so the team released Bartell towards the beginning of free agency. 
Legacy
Bartell is a classy player who chose to stick it out with the Rams. The effort was futile and the results were undoubtedly frustrating for him, but recognition is deserved. 
In his March 15 interview with the Fastlane on ESPN 101 radio in St. Louis, Bartell made the following comments when asked about turning down a contract with the Saints in 2009 to stay in St. Louis, only to be cut in the end: 
I took a chance, I rolled the dice, I don't have any regrets. I really enjoyed my time in St. Louis. And like I said, St. Louis drafted me and welcomed me back with open arms, so there's nothing bad I can say about the Rams or the city.
Bartell was signed by the Oakland Raiders on Friday to a one-year contract worth up to $3 million. 
In St. Louis, he'll be remembered as a capable player who never had the chance to taste the fruits of his labor due to the modern-day Rams being a black hole that absorbs nothing but failure and ineptitude.
Like Steven Jackson and many Rams veterans of the past and present, Bartell deserves a shot at success, which he'll hopefully achieve with Oakland.