2012 NFL Mock Draft: Teams That Need Immediate Impact from 2012 Draft Class
March 17, 2012

Joe Robbins/Getty Images
Certain teams depend more on the draft to find immediate upgrades than other teams do. These teams are the ones that fell short the previous season and don't seem to be attractive destinations for free agents.
Other teams rely on the draft a great deal due to a philosophy embedded within its front office.
This is a league built on young players, who need to step up and perform immediately. We are not talking about Major League Baseball, where prospects sit in the minor leagues for years before making an impact on the pro level.
Instead, we are talking about prospects that are put in the unenviable position of having to contribute immediately from day one.
This mock draft is going to focus on teams who need to have their first-round pick show progress early on and make an instant impact as a rookie.
1. Indianapolis Colts: Andrew Luck, Quarterback, Stanford
2. Washington Redskins: Robert Griffin III, Quarterback, Baylor
The Redskins gave up an unprecedented three first-round picks in order to acquire RGIII. They need him to have an immediate impact for a franchise that usually is narrow in its focus. Even more so than Luck with the Colts, they need this quarterback to step in immediately and electrify a dormant fanbase.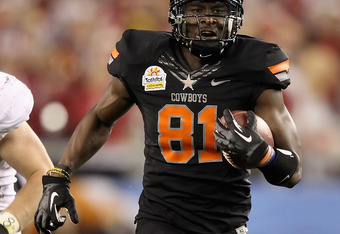 Christian Petersen/Getty Images
If that happens, this entire trade will end up working to the Redskins' favor. If RGIII is able to provide a Cam Newton type of punch to this lackluster offense, he will have done what the Redskins had hoped for. If not, this trade could come back to bite this franchise in the backside.
3. Minnesota Vikings: Matt Kalil, Offensive Tackle, Southern California
4. Cleveland Browns: Justin Blackmon, Wide Receiver, Oklahoma State
Whether it is Colt McCoy or Matt Flynn starting the 2012 season as the Browns quarterback really isn't the point here. No matter who is dropping back for this franchise, they need to have reliable targets on the outside.
In short, Cleveland just cant afford to wait for Blackmon to hit his stride in two or three years. If that happens, it will set this franchise back a great deal.
5. Tampa Bay Buccaneers: Morris Claiborne, Cornerback, Louisiana State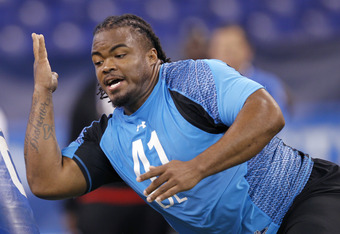 Joe Robbins/Getty Images
6. St. Louis Rams: Michael Floyd, Wide Receiver, Notre Dame
Mario Manningham might be close to a contract with the Rams. If that is the case they just got a really valuable target on the outside for Sam Bradford. However, this will not change the Rams draft plans. By now it is common knowledge that they need multiple upgrades at wide receiver.
Michael Floyd has the ceiling to be a No. 1 receiver in the NFL. In fact, he is my top player at this position in the draft.
With all that said, the Rams need him to pay immediate dividends if they were to go this direction in the draft. Manningham is fine and dandy, but he isn't the type of player that will carry a receiving corps.
7. Jacksonville Jaguars: Riley Reiff, Offensive Tackle, Iowa
8. Miami Dolphins: Ryan Tannehill, Quarterback, Texas A&M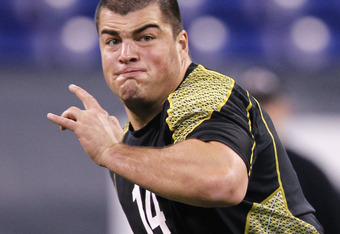 Joe Robbins/Getty Images
9. Carolina Panthers: Dontari Poe, Defensive Tackle, Memphis
The Panthers were absolutely horrendous against the run, absolutely dreadful. This is a defense that gave up 100 or more yards rushing 11 different times during the 2011 season, including 200 or more yards two separate times.
If they want to contend for a playoff spot in 2012, which is their end goal, Carolina needs to upgrade along the defensive line immediately.
The good news is that Poe has the strength and technique to be a dominating run-stuffing defensive tackle out of the gate.
Carolina won't have to wait for him to add bulk to that massive frame or get acclimated to the nuances of the NFL. Instead, they can expect him to start immediately and this is something they need.
10. Buffalo Bills: Melvin Ingram, Defensive End/Linebacker, South Carolina
11. Kansas City Chiefs: David DeCastro, Guard, Stanford
Whenever you select a guard this high in the draft you expect him to be really good out of the gate. Otherwise, you are getting nowhere near the value with the 11th pick that you should be getting.
The former All-American guard at Stanford has the capability to be dominating right out of the gate. He has the technique, size and frame to make an instant impact. Considering that the Chiefs were forced to go with Ryan Lilja last season, I guess anyone would be considered an upgrade.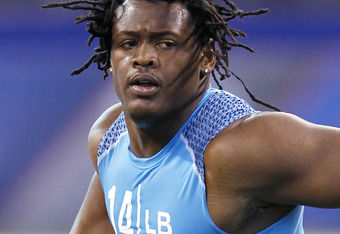 Joe Robbins/Getty Images
12. Seattle Seahawks: Trent Richardson, Running Back, Alabama
13. Arizona Cardinals: Jonathan Martin, Offensive Tackle, Stanford
14. Dallas Cowboys: Dre Kirkpatrick, Cornerback, Alabama
15. Philadelphia Eagles: Dont'a Hightower, Linebacker, Alabama
To say that the Eagles were absolutely atrocious in the tackling category last season would be putting it lightly. This aspect of the the game cost them a few wins in 2011. They need to find immediate upgrades if they hope to contend in the NFC East.
If Hightower is healthy, he will provide that. This is a player who can go sideline-to-sideline in order to cut off the edge for the running back. He is a tremendous tackler and already has NFL-ready technique between the hashes.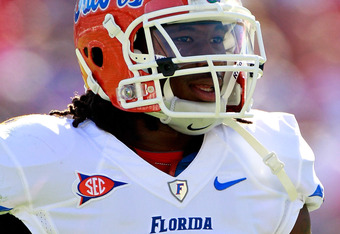 Sam Greenwood/Getty Images
16. New York Jets: Stephen Hill, Wide Receiver, Georgia Tech
17. Cincinnati Bengals: Lamar Miller, Running Back, Miami (Fla.)
18. San Diego Chargers: Courtney Upshaw, Linebacker, Alabama
19. Chicago Bears: Mike Adams, Offensive Tackle, Ohio State
20. Tennessee Titans: Janoris Jenkins, Cornerback, North Alabama
The loss of Cortland Finnegan makes this selection all that more important. The Titans really do not have anyone that they can rely on to stop opposing receivers on a consistent basis.
The bad news is that Jenkins will have to adjust from playing at a small school to the nuances of the National Football League. This means the learning curve will just be that much more. Then again, he did play well at Florida before getting kicked off their team.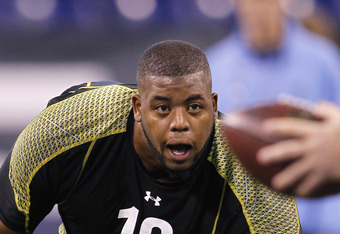 Joe Robbins/Getty Images
21. Cincinnati Bengals: Mark Barron, Safety, Alabama
22. Cleveland Browns: Doug Martin, Running Back, Boise State
23. Detroit Lions: Peter Konz, Center, Wisconsin
24. Pittsburgh Steelers: Michael Brockers, Defensive Tackle, Louisiana State
25. Denver Broncos: Alshon Jeffery, Wide Receiver, South Carolina
26. Houston Texans: Kendall Wright, Wide Receiver, Baylor
27. New England Patriots: Stephon Gilmore, Cornerback, South Carolina
If goes without saying that pass defense was the Patriots' Achilles heel last season  They just couldn't stop opposing receivers on the outside on a consistent basis. This needs to change in short order for New England to capture their second consecutive AFC Championship.
The good news is that Gilmore played against top competition in the SEC and already has pro-ready man coverage ability. He plays with extremely fluid hips, doesn't get turned around too often and is a sneaky play maker. The Patriots need this.
28. Green Bay Packers: Vinny Curry, Linebacker, Marshall
29. Baltimore Ravens: Bobby Wagner, Linebacker, Utah State
30. San Francisco 49ers: Cordy Glenn, Guard, Georgia
No matter who is throwing the ball around Candlestick next season, they need to get better play from this side of the offensive line and it starts at the guard position. Adam Snyder was serviceable in 2011, but he isn't a starting-caliber player. He also left for the Arizona Cardinals in free agency.
Glenn has the ability to step right in and be a really good player early in his career. However, he might struggle with technique early getting caught playing too high against top competition. This is something to watch.
31. New England Patriots: Nick Perry, Defensive End, Southern California
32. New York Giants: Luke Kuechly, Linebacker, Boston College