Lehigh vs. Duke: Has Austin Rivers Played His Final Game for Blue Devils?
March 17, 2012

Streeter Lecka/Getty Images
Lehigh shocked the basketball world and destroyed brackets worldwide with a shocking 75-70 win over No. 2 seed Duke, becoming the sixth 15-seed ever to advance beyond the round of 64.  And with that, the career of a fabulous freshman may have come to an inglorious end.
Austin Rivers finished with 19 points on 5-for-14 shooting in Friday's loss, showcasing a few flashes of brilliance along the way.  He also failed to assert himself in the clutch and do what many Blue Devil fans expected him to do more of during his freshman campaign--take over the game.  
The 6'4" son of Doc Rivers has been very tight-lipped about his future, but his inconsistent play throughout his first season in Durham should help make his decision easier.
If he wants to be remembered as anything but a failure, he must return for his sophomore season.
Rivers is currently rated as a mid-first round pick by ESPN draft guru Chad Ford.  Many other draft services, including NBADraft.net, have him rated a tad higher, but it's unlikely he would crack the top 10 in what figures to be a top-heavy 2012 NBA Draft.
For basketball reasons, Rivers should stay in school.  For legacy reasons, Rivers must stay in school.
Though he's not a true point guard, Rivers handled the ball extensively during his freshman season. His shoot-first mentality is a concern, and averaging only 2.1 assists per contest should give NBA scouts pause when analyzing his fit at the next level.
At a wiry 199 pounds, Rivers will need to add muscle before being able to do what he does best--get to the rim and finish--at the next level.
His 3-point shot has improved, but he is much less effective as a spot-up shooter.  At just under 37 percent for the season, he will make defenses honest with the ball in his hands.
But beyond that, his skill set lumps him into a long line of NBA combo guards who are destined to be tweeners.
Right now, Rivers would be a player without a true position, which would scare away many teams with top-10 picks.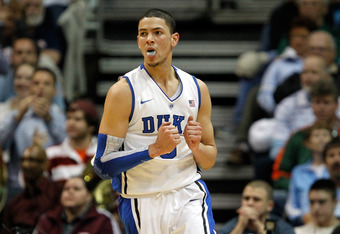 Streeter Lecka/Getty Images
From a legacy standpoint, Rivers has even more work to do.  He came to Duke as a brash McDonald's All-American, boldly said he wanted to destroy LeBron James in one-on-one and wasn't scared of competing against NBA players.
After his freshman campaign, it's clear he would eat those asinine words in the NBA.
Rivers has an immense amount of talent, but talent doesn't always translate into results.  In what is a fairly watered-down talent pool, he failed to dominate.  He showed lapses in discipline and judgement on the court.
He was under the microscope and failed to deliver.
Austin Rivers must return to Duke and give college hoops fans and NBA general managers alike a reason to love his game.  If he dares to declare for the draft, he will be met with complete failure.
Do the smart thing, and stay in school.