EPL: 3 Keys for Every Club to Have a Successful Final Quarter of the Season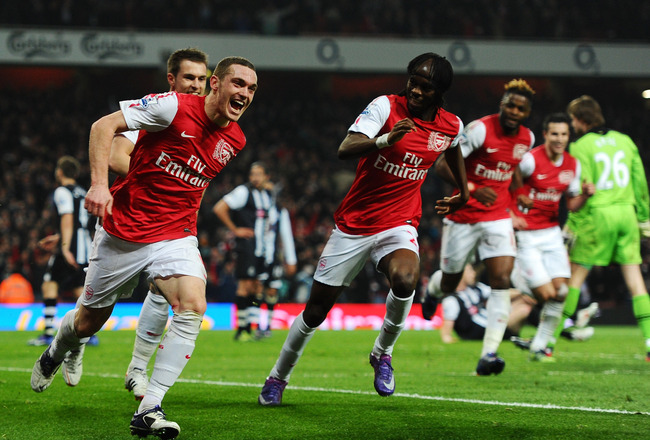 Mike Hewitt/Getty Images
After seven months of exhilarating play, the Premier League is now in its final ten matches of the season.
Even though the title race will be decided between Manchester United and Manchester City, there are some extremely interesting races to follow, such as who will claim the final Champions League berth in the league and, of course, the fight to ensure survival.
In this final quarter, there will be stories that will amaze us and stories that will cause misery for others. These matches will define careers for some players and can mean the world for some of these players.
Lets see what each side needs to ensure success.
Wolverhampton Wanderers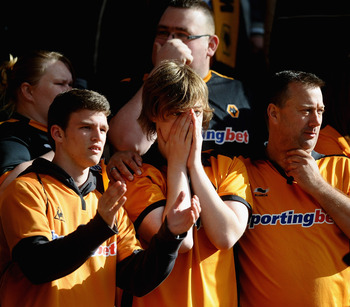 Laurence Griffiths/Getty Images
1. Improve on home form
Last year, Wolves had an effective home record that balanced out their weak performance away from Molineux. Overall, Wolves won eight matches at home last year, including a win over eventual league champion Manchester United.
This season, Wolves have only won three times at home and have secured 11 points at home.
Wolves have four more matches at home this season, with both Arsenal and Manchester City among the sides that will need a win at Molineux.
Wolves must win at least two of their remaining matches at Molineux if they are to stay up.
2. More offensive creativity
Wolves have not been that creative of a side offensively during this season. Wolves have scored 30 goals this year, yet ten of those goals have come from Steven Fletcher.
Fletcher has been great this year, but there will need to be at least one more Wolves player that tallies some goals over these final matches in order to secure EPL safety.
3. Improve defensively
This season, Wayne Hennessey has conceded a Premier League leading 63 goals. Yet the young Welsh keeper has also made 147 saves, by far the most of any keeper in the EPL.
This stat solidifies the fact that Wolves have been awful defensively this season. In order to stay up, Wolves will need to register much stronger defensive performances and add onto the two clean sheets that they have achieved this year.
Wigan Athletic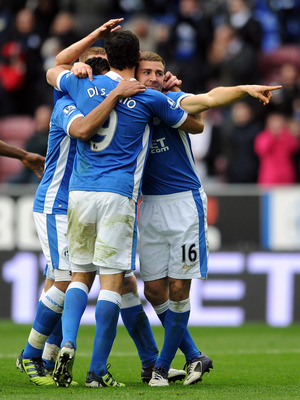 Chris Brunskill/Getty Images
1. Score more goals
This sounds relatively easy for many Premier League clubs, yet Wigan have been plagued from their lack of goal scoring.
Wigan have scored a paltry 25 goals this season in 29 matches, by far the fewest in the Premier League. The Lactics have failed to score in 11 of their 29 EPL matches this year.
The only way that Wigan will have a chance to stay up is if they finish their chances. Wigan scored 40 goals last year, but four of those goals came in their final two matches, which ensured that the Lactics stayed in the top flight for this season.
That finishing touch must come back soon.
2. Don't give up against the EPL's giants
Wigan have not been blessed with an easy fixture list over their final nine matches of the season. Wigan will have to face the likes of Liverpool, Chelsea, Manchester United, Arsenal and Newcastle during this span.
The Lactics will need to put on their best performances of the year to make sure they don't allow themselves to get easily beaten against these sides.
3. Improve their home form
Wigan's form at the DW Stadium has been awful. They have only picked up ten points so far this season there, including just one home victory.
Wigan have four more matches at home to end the season. They will need to win at least one of them in order to find safety.
Queens Park Rangers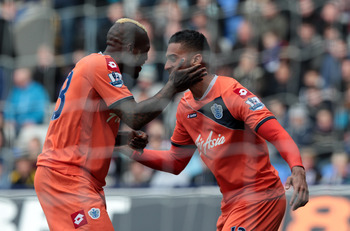 Ross Kinnaird/Getty Images
1. Zamora and Cisse need to play better together
At the end of the winter transfer window, Bobby Zamora and Djibril Cisse were both bought to help provide more goalscoring for one of the lowest scoring sides in the EPL.
However, Zamora and Cisse have not been able to make a big enough of an impact in order to help QPR get out of the drop zone.
QPR have only 29 goals this year and will need to get plenty of goals if they are to survive this season.
2. Beat at least one EPL giant left on their schedule
QPR don't have an easy fixture list left. With Liverpool, Manchester United, Arsenal, Manchester City and Tottenham all among their final matches, QPR don't have an easy road to survival.
At the very least, QPR will need at least one win over any of these sides in order to stand a chance of survival.
3. Play better at Loftus Road
At home this season, QPR have recorded 11 points in 14 matches. This is not going to be enough for QPR to stay in contention in this relegation battle.
QPR have five remaining matches at Loftus Road. QPR can win at least two of these matches, but if they fail to capture those wins, they will be in the Championship next year.
Bolton Wanderers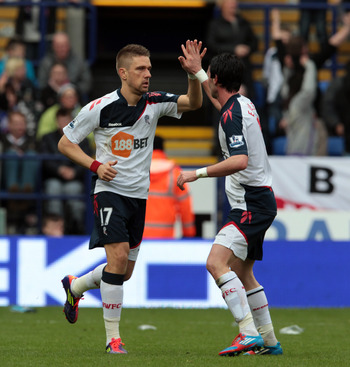 Ross Kinnaird/Getty Images
1. Take advantage of their "weak schedule"
Unlike many of their relegation rivals, Bolton will have a relatively easy run-in to end their season. With the likes of Blackburn, Wolves and Aston Villa left to face, Bolton will feel confident of getting the best of these sides to ensure they will stay up.
The two toughest sides that Bolton will face are Tottenham and Newcastle, both of which Bolton can handle and ensure they will stay up.
2. Get stronger defensively
Bolton's defensive record this year has been awful. They have allowed 57 goals (third most in the league) and have only three clean sheets this year.
Bolton's defense has been awful all year, but a strong defensive performance should ensure that they will remain in the EPL for at least another year.
3. Secure more draws
This may sound bizarre, but Bolton have the fewest draws in the EPL this year. Bolton have only two draws this year.
The lack of draws has hurt Bolton, but the Wanderers have a fixture list that should allow them to get several draws.
If Bolton can get these draws, they will stand a much better chance of advancing into next season in the EPL than if they fall into the bottom definition.
Blackburn Rovers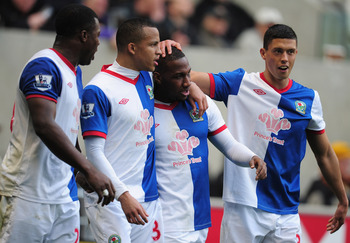 Jamie McDonald/Getty Images
1. Play better defensively
Blackburn did lose their best defender Chris Samba this year to Russia, but that is no excuse for the awful defending that is displayed by Blackburn Rovers on a constant basis.
So far this season, Blackburn have conceded 60 goals, which is the most in the EPL by any side that is not currently lagging in the relegation zone.
Blackburn still have to face some tough opposition to close out their season and will need to improve tremendously in the back in order to stay up.
2. Survive by stunning another top side
With Manchester United, Liverpool, Tottenham and Chelsea among their final opponents this year, Blackburn do not have an easy road in order to stay up.
That being said, Blackburn will need to take points against these strong sides like they did in December, when they drew with Liverpool and beat United.
3. Remain unified
This season has seen friction exist at Blackburn, especially when it comes to manager Steve Kean and the fans.
This disunity can hurt Blackburn in the long-run, so making sure that they remain a unified side will be important to survive.
Aston Villa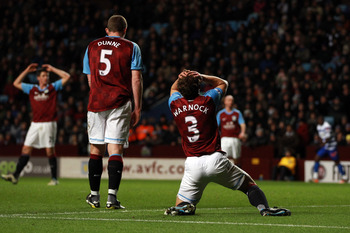 Richard Heathcote/Getty Images
1. Start winning matches
When you have 12 draws in a season, it means that you are probably doing something wrong. This is certainly true for Aston Villa, who are capable of finishing in the top half of the table yet have a hard time winning matches.
Villa are just four points away from the top half of the league table yet have only nine losses, fewer than any other side that is below seventh in the league.
If Villa had won five of the 12 matches they drew, they would be in sixth place with 48 points. Instead they are in the bottom half of the table in what has been a relatively disappointing season.
2. Have another striker adequately replace Darren Bent
Darren Bent is one of the marquee players at Aston Villa, yet he will be out for the remainder of the season after rupturing ankle ligaments a month ago against Wigan.
Bent has scored nine of Villa's 31 Premier League goals this year and is among the most gifted goalscorers in the league.
But considering how few goals Villa have scored, they will need a player who can replace Bent's goalscoring record for the remainder of the season.
3. Stronger performances at home
Throughout the last several years, Villa have been one of the best sides in the EPL at home. In fact, Villa's winning percentage at Villa Park is at 29 percent, the lowest it has been since the 1994-1995 season.
With a negative goal differential at home along with only four wins, Villa will need to win at least two of their four remaining matches.
This is not going to be easy with the likes of Tottenham and Chelsea coming to Midlands, but Villa have defeated these sides at home before and could certainly do it again.
Stoke City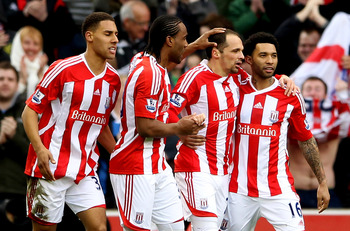 Scott Heavey/Getty Images
1. Don't allow the FA Cup overshadow the EPL season
Last year, Stoke City reached their first ever domestic cup final when they reached the FA Cup final, where they fell to Manchester City. Of course, Stoke had a weak campaign despite their cup final. They finished in 13th place and had an away record that was reminiscent of the worst sides in the league.
This year, Stoke have the fewest goals in the league and will finish in the bottom half of the table again. It is important that Stoke put a strong performance together—not only in the FA Cup—to increase their qualify and get better as a side overall.
2. Score more goals
Stoke are known for their strong defensive style, yet they have been abysmal in the goalscoring department. This year, Stoke have registered just 27 goals, the fewest of any side that is not in the relegation zone.
Scoring is a skill, yet Stoke has not shown that they do possess it. If Stoke can score more goals, they will be a much tougher side than they are already, considering their defensive strategy and strong play at home.
3. Finish in the top half of the Premier League table for the first time
Stoke have been in the EPL for only four years, yet they have never been able to finish in the top half of the table.
Despite qualifying for Europe in the past year and a performance that has only continued to get better, Stoke have not finished in the top half.
If Stoke can increase their goal totals and win a match away from home, they will have a good chance of accomplishing this goal.
Norwich City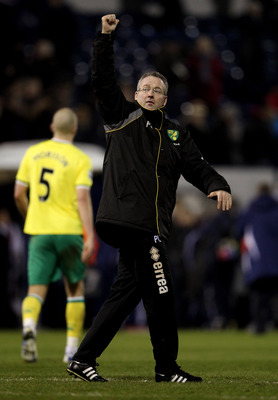 Scott Heavey/Getty Images
1. Get stronger defensively
This season has seen Norwich put up a strong offensive performance with 39 goals, the second-most of any side of any team that is seventh or lower in the table.
Yet their defensive performance has been awful. Norwich have conceded a goal in all but two matches—only Blackburn have conceded goals in more matches than Norwich.
Norwich can become a much more legitimate side in the league once they fix their defense.
2. Strong performances against midtable sides

Norwich's remaining fixtures include games against Fulham, Everton, and Aston Villa. These three matches could be a determining point to see if Norwich can finish in the top half of the table.
Considering the strong sides that Norwich still have to play, this could completely seal their fate in the top flight for next year.
3. Keeping Paul Lambert for at least one more season
Paul Lambert has been one of the top managers in the EPL this season after helping to steer Norwich to consecutive league promotions.
Norwich look like they will spend their second straight year in the top flight for the first time in two decades.
If Lambert stays for another year, Norwich will probably be in the top half of the table next year. If not, they may no longer be in the EPL.
West Bromwich Albion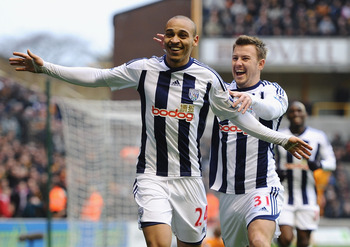 Laurence Griffiths/Getty Images
1. Finish in the top half of the table
This has been the most exciting season for West Brom in the Premier League, with some impressive performances against the likes of Manchester City, Chelsea and Sunderland (among others).
Considering that the Baggies have never finished in the top half of the table during the Premier League era, having a finish in the top half of the table would be a major accomplishment.
2. Improve their home record
Last season, West Brom had a fantastic record at The Hawthorns during the Premier League era, registering eight wins and 30 points from their home performances.
That certainly was a crucial factor for the Baggies staying up considering their less than stellar away record.
This year, West Brom have registered 14 points at home compared to a strong away record that includes six wins.
If West Brom are to finish in the top half of the table, they will need to pick up their production at home.
3. Allow Peter Odemwingie to continue his strong offensive play
Last year, Peter Odemwingie had an impressive first season in the EPL. Coming over at the end of the summer transfer window, the Nigerian international had 15 goals and seven assists to help propel West Brom to an 11th place finish.
Yet this year has been completely different. Odemwingie had a slow start and has nine goals and only one assist. Yet Odemwingie was named the Premier League's player of the month for February and is showing signs of a strong finish.
For West Brom to ensure a top half finish, they need Odemwingie to play as well as he did last year.
Fulham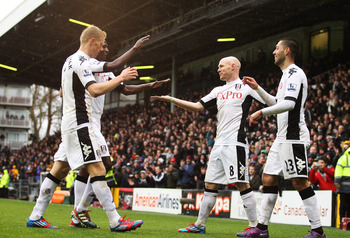 Scott Heavey/Getty Images
1. Improve away from Craven Cottage
Whenever you have a record of 2-5-7 away from home, odds are that you are inside of the bottom half of the table.
That is exactly where Fulham find themselves right now. Even with a decent home record that is comparable to the likes of Liverpool, Fulham's road record continues to be a major buffer that the club needs to overcome.
Fulham have five more matches away from Craven Cottage, and a win or two would in this situation would be a major benefit for everyone.
2. Continue to give Clint Dempsey opportunities
Clint Dempsey has been outstanding this season. He is seventh in the league in goals with 12 and has played with his heart on his sleeve during every single match.
Dempsey's great season is typical of players who are among the best in England. Considering that Dempsey has scored or assisted on 43 percent of Fulham's goals, it is safe to say that the club should continue to give Dempsey opportunities to score.
3. Can't drop matches to inferior opponents
Out of their remaining nine matches this season, Fulham will play five opponents that they will have a legitimate chance of beating.
If Fulham can get the best of these sides, they should be able to finish in the top half of the table and reside with some of the EPL's giants.
Everton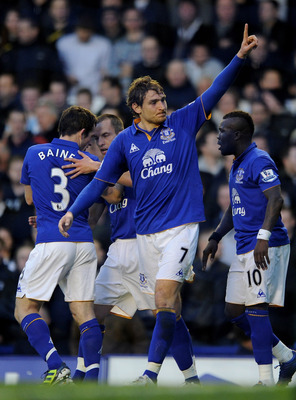 Chris Brunskill/Getty Images
1. Show more consistency
This season has shown us two completely different sides of Everton. We have seen the side that has defeated Tottenham, Chelsea and Manchester City, but we have also seen Everton lose points to Bolton, Blackburn and QPR.
Everton are known for being a strong squad and will need to get better against weaker opponents if they are to seal a spot in the top half of the table.
2. Strikers need to score more goals
Everton only have 28 goals this season (the fewest of any side that isn't in the relegation zone), but their goalscoring has been pretty well distributed.
In fact, 15 outfield players have at least one goal this year (along with Tim Howard scoring against Bolton in January), but no player has more than three goals this season.
Everton do need to score goals, which points at the club's need for a goal poacher to take this side to the next level.
3. Don't shy away from a workman-like effort
It is customary for Everton to put on a blue-collar effort during each of their matches, something that the club has never moved away from.
Everton are known for getting stronger as the season progresses due to that effort. They must continue to play this way in order to ensure a top half finish.
Sunderland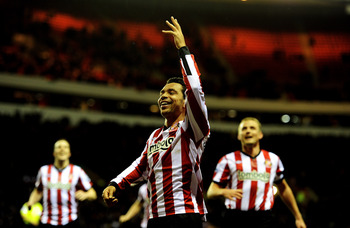 Laurence Griffiths/Getty Images
1. Continue to play well under Martin O'Neill
Martin O'Neill was a good manager for Aston Villa when he was in charge of the Villans several years ago, and that has not changed this year with Sunderland.
Since taking over a Sunderland side that was fighting relegation, O'Neill has recorded 26 points in 14 matches, moving Sunderland into ninth in the table and giving the club a chance to win every single match.
Sunderland did lose to Blackburn last night, but don't expect that to continue in subsequent matches for the club.
2. Beat weak Premier League opponents
Outside of the Blackburn match, Sunderland do have a strong chance to get some easy points in their remaining matches.
With clubs like QPR, Wolves and Bolton among their final matches of the year, Sunderland can ensure a spot in the top half of the table before the end of the season.
3. Allow Stephane Sessegnon to continue his amazing season
Stephane Sessegnon was bought by Steve Bruce during the 2011 winter transfer window and has become a star with Sunderland.
Sessegnon is among the leaders in assists in the EPL this season and is a great playmaker.
Sessegnon may leave the club this summer, so O'Neill is probably doing the right thing by just telling the Benin international to "go out and play."
Swansea City
Mike Hewitt/Getty Images
1. Improve on their weak away form
Swansea have surprised nearly everyone this year with their remarkable run of form and their takedowns of some of the best sides in England. Yet Swansea have had a problem winning away from Wales this season.
Out of the 15 matches that they have played this season in England, Swansea have lost eight of them, picking up just 15 points in the process (compared to the 24 points they have gotten at home).
Swansea have a chance to overtake Liverpool in the points department and can do so with strong results in their final four away matches.
2. Improve defensively

Throughout this season, Michel Vorn has been the best goalkeeper in the top flight. Vorn has made 108 saves (one less than Joe Hart for the most in the EPL) and has 12 clean sheets.
Vorn has been outstanding, but the defensive effort must get better. Vorn will not continue to put up outstanding efforts like this forever, and a stronger defensive effort will make everyone better.
3. Play without pressure
Swansea have already eclipsed all expectations. The Swans will be in the top flight next year and have a team that can beat anyone.
Taking a relaxed approach will help this club end the season on a high note and accomplish even more next year.
Liverpool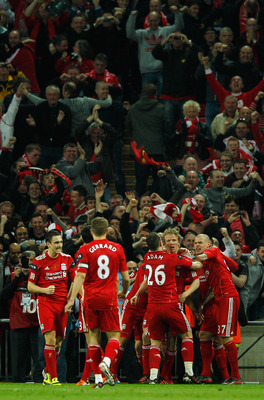 Paul Gilham/Getty Images
1. Avoid drama
This season has been filled with drama at Liverpool, with the entire Luis Suarez case and the dips of form of some key players.
Liverpool will always get more attention than other clubs due to their strong global image, but making sure that no problems ensue from dumb decisions will be a great place for Liverpool to start.
2. Score more goals
Liverpool have scored 33 goals this season. This is due in part to subpar years from their strikers. Right now, Craig Bellamy is the leading scorer for Liverpool with six tallies, which is a stat that no one wants to be reminded of.
Liverpool have been kept off the scoresheet nine times this season, comparable to the likes of Wigan and QPR.
To put it simply, Liverpool's strikers need to pick up their games and start to play like the players that we know they could be.
3. Focus on winning the FA Cup

Liverpool will not be finishing fourth this season unless a miracle happens. With that in mind, the club should solely focus on winning the FA Cup.
Winning the cup would complete a nice double of the Carling Cup and the FA Cup and will be a strong point that the club can build on for the future.
Newcastle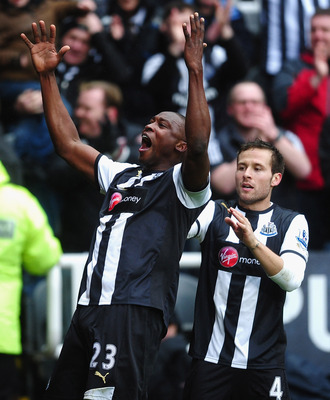 Laurence Griffiths/Getty Images
1. Allow Demba Ba to get back into goalscoring form
Demba Ba had an incredible start to the season. Going into the African Cup of Nations, the striker had contributed on over half of his teams goals.
But since Senegal bowed out early from the tournament, Ba has not been the same player. Ba has scored just one goal in the last two months, which came against Aston Villa in his first match back from the tournament.
Newcastle are a completely different team with Ba in his best form and could contend for the Champions League assuming they get back to the level they were at when Ba was scoring boatloads of goals.
2. Defeat beatable opponents
In their remaining fixtures, Newcastle will get to face some of the weakest sides in the Premier League.
With the likes of Bolton, Stoke and Wigan still left to be faced, Newcastle will be able to increase their point total tremendously and can end their season on a high.
3. Don't put too much of an emphasis to qualify for the Champions League
Due to some bad results over the past several months, Newcastle find themselves five points out of the final Champions League spot, and Arsenal have a game in hand on Newcastle.
With this in mind, Newcastle should not put too much of an emphasis on qualifying for the Champions League. It will allow the club to end the season on their own terms and focus on what should be a productive 2012-13 season.
Chelsea
Mike Hewitt/Getty Images
1. Continue to play well for Roberto Di Matteo
Roberto Di Matteo probably did not envision himself being the Chelsea manager several weeks ago, yet the former Italian international was pushed into a fire during the beginning of the month and has responded with flying colors.
Chelsea now find themselves in contention to get the final Champions League spot in the Premier League and are the only English side that is alive in European competition.
If Chelsea's players continue to respond to Di Matteo like they have already, they will have a great end to their season.
2. Don't remain fixated on the Champions League
Chelsea are the last English side that are still playing in Europe, and considering the strong fixation that Roman Abramovich has on winning Europe's biggest club prize, you can expect that the club will do whatever they can to win it.
Despite the strong aura of winning the Champions League, Chelsea should remain focused on still performing well in the league, knowing that European success is not a guarantee by any means.
3. The players need to remain unified
One of Chelsea's biggest problems under Andre Villas-Boas was the lack of unity that the squad had. This was due in part to a transition that the club had to go through, yet it was too much for the players to handle.
This movement has not continued as much under Di Matteo, which means that Chelsea's established players will probably keep their spots until the end of the year.
Chelsea's players should try to solely focus on winning a certain competition in order to keep the squad unified. If Chelsea's players remained unified, they will be hard to beat.
Arsenal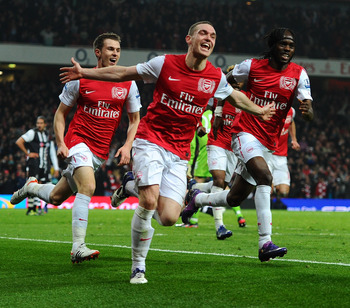 Mike Hewitt/Getty Images
1. Allow "The Ox" to continue starting
This season may not have been a dream season for Arsenal, but the Gunners fans have been treated to a new fan favorite in Alex Oxlade-Chamberlain.
Affectionately known as "the Ox", Oxlade-Chamberlain has been a revelation during the last several weeks and has helped to bring more energy to an Arsenal side that has lacked throughout this season.
That energy will be a major part in determining where Arsenal will finish the season and can help the club secure that Champions League spot.
2. Continue to replicate their strong form of the last few weeks
This merges with the strong play that Arsenal have displayed since Oxlade-Chamberlain has started to play more, but the play that Arsenal have displayed recently has been a major reason why there is more optimism with Arsenal.
The match against AC Milan in the Champions League gave us a glimpse of what Arsenal can do and has become a building block for Arsenal to continue their strong form.
3. Remain fixated on finishing fourth
Despite a disappointing year, Arsenal are now in the fourth position in the league with ten matches left.
Arsenal now have to keep that goal of finishing fourth as their main goal for the season. If Arsenal don't finish fourth, they won't be in the Champions League next year, which will make it harder to retain players like Robin van Persie for next season.
Arsenal can finish fourth. Getting there is in their own hands, and they have to deliver in order to ensure Champions League football next year.
Tottenham Hotspur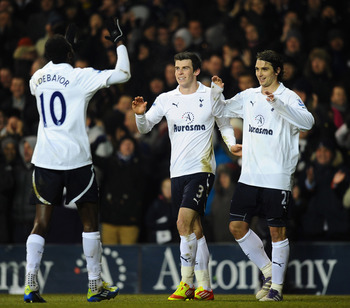 Mike Hewitt/Getty Images
1. Play strong attacking football
Throughout the first half of the season, Tottenham continued to champion attacking football. With the likes of Rafael van der Vaart, Luka Modric and Gareth Bale all playing well, Spurs were in contention to at least challenge for the league title.
However, the last several weeks have seen Spurs start to fall apart. So much so that they are now teetering on following out of Champions League contention for next year.
Tottenham have not played their strongest football in recent weeks, and they will certainly benefit if they start to go back to that play.
2. Don't remain fixated on the FA Cup
Tottenham are still playing in the FA Cup for now due to the unfortunate heart attack that Fabrice Muamba suffered during their quarterfinal match last weekend.
Tottenham can easily advance to Wembley if they beat Bolton whenever it is appropriate that they face each other again.
The FA Cup does matter to Tottenham this season, but it is important that Spurs remain focused on getting a Champions League spot before focusing on the FA Cup.
3. Don't slip up to give up third place in the EPL
Tottenham are now just one point above Arsenal for the final Champions League automatic qualifying spot in the EPL.
Spurs cannot afford to give up this spot to their biggest rival, and they need to clinch that spot in order to complete what is arguably their most successful season in the Premier League.
Manchester City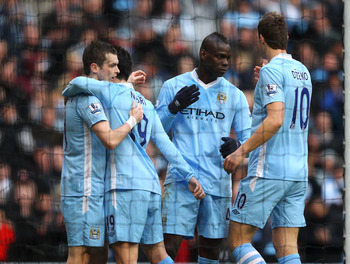 Alex Livesey/Getty Images
1. Don't Carlos Tevez to have another temper tantrum
Carlos Tevez has been the most controversial player in the Premier League this season. Now that his temper tantrum at least appears to be over, Tevez will rejoin Manchester City's squad for their match tonight against Chelsea.
Tevez supposedly is behaving well, but it is still too early to determine if this "good behavior" will continue.
If Tevez acts out again, City will have even more negative attention put onto their squad, and their chase to win the league will be even harder.
2. Don't lose matches to inferior opponents
Even though 2012 is young, Man City have lost too many points to sides that they should beat. With losses to Sunderland, Everton and now Swansea City, City have put themselves into a position that they did not want to be in this season.
City still have tricky matches like a match at Stoke and at Norwich, but those are matches that City must win if they are to win the Premier League.
3. Win the Premier League
Winning the EPL is the number one goal for Manchester City. Defeating Manchester United to win the league is a goal that City have aimed for under their new ownership group, and it shouldn't be a surprise that City are so close to the top of the table.
City are in no other competitions and will need to win the league to make up for a disappointing season outside of the EPL.
Winning the EPL would make everything that happened this season worthwhile.
Manchester United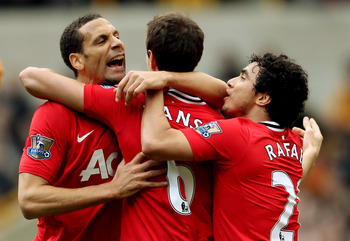 Scott Heavey/Getty Images
1. David de Gea putting on more consistant performances
David de Gea has been baptized to the Premier League by fire this year. Despite some bad performances and weak goals, de Gea has seven clean sheets this year and 79 saves, the ninth most in the EPL.
It looks like de Gea will be the number one keeper for the remainder of the season, and he will be a much bigger deciding factor than it was originally expected to be when the young Spanish keeper moved to United last summer.
2. Don't slip up against weaker opponents
Everyone who has studied the Premier League race know that the match between United and City on April 30 will probably decide who wins the league.
Yet United will play the likes of Fulham, Everton, Aston Villa and Sunderland throughout the remainder of the season.
All of these sides do have quality and will be tough opponents to defeat. United must not lose to these sides, for they could be the deciding factor over which Manchester club wins the league.
3. Win the Premier League
It is easier said than done, yet winning the Premier League is the only goal that Sir Alex Ferguson and his squad want to accomplish.
United have won four of the last five league titles, and this is the toughest test that United have been in to win the league in the EPL era.
Considering the rivalry between United and City, winning the league is the ultimate goal, and both sides will put all of their resources toward winning the title.
United can win the league, but they cannot accept anything but victory to do so.
Keep Reading